Celebrate the stories that connect us at The Word On The Street Toronto's 2021 virtual festival of storytelling, ideas and imagination.
About this event
The Word On The Street presents KW Writer's Alliance: Oral Storytelling
An ancient tradition that can be traced back tens of thousands of years, oral storytelling is an intimate, human connection between the storyteller and their audience. Meant to entertain and inform, it passes down cultural beliefs, family stories, or even created fantasies. The story is fluid, incorporating the personality of its teller and adapting to the environment in which it is told. Join our panelists who will discuss how oral storytelling is relevant today.
This panel will stream live Sunday, September 19 at 1pm ET.
Panelists
"Embers remember the spark, even in the dark." Though Sarah Granskou grew up hearing only swear words in Norwegian, she now shares the complex traditional music and oral traditions of her heritage as if reigniting a sense of genetic memory. With the other foot firmly planted in contemporary Canada, Sarah bridges worlds.
Bashar Lulu Jabbour is an immigrant poet! He uses simple details to give a glimpse of the complexities of leaving one home for another. Bashar is a storyteller, and his stories have been featured at Canadian Festival of Spoken Word, Naked Heart, and as opening act for Carlos Andres Gomez.
Teneile Warren is a Jamaican-born, Nonbinary and Queer immigrant artist living on Turtle Island. They hold an MFA in Creative Writing from the University of Guelph. Teneile is a 2013 Obsidian Theatre's Playwright's Unit Fellow, 2017-2018 Buddies in Bad Times Artist in Residence. Their work has been staged at the Rhubarb & Rock, Paper Sistahz Festival and Summerworks. They are the co-founder of insideWaterloo, an independent media outline, a member of the Textile Magazine editorial team and has been published in various outlets. They are the Equity and Inclusion Officer at the WRDSB, and Co-Founder of the digital publication insideWaterloo. Teneile is partner to Rebecca and parent to Kelso and three furbabies (Goop, Oopy and Rae).
Carol Leigh Wehking is a professional storyteller and writer, with a wide repertoire with which she has travelled widely within Canada and abroad. She has taught workshops from Yukon to Australia for all ages, and has directed concerts, series, and festivals in Ontario. She is Artistic Director of FRESH stories in Cambridge.
Moderated by Martin de Groot.
Shop local! Purchase books by WOTS2021 featured authors through local independent bookstores on our official bookseller page.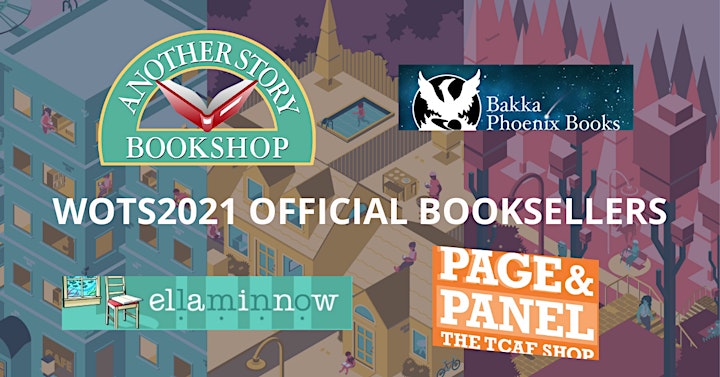 About the Festival
For 32 years, The Word On The Street has been a gathering place for authors, publishers, booksellers, and readers of all ages to celebrate the stories that connect us.
We're staying virtual for WOTS2021, so you can tune in from wherever you are to enjoy incredible programming with 100+ authors presented over 10 days from September 16th to 26th, featuring bestselling Canadian and Indigenous authors like Eden Robinson, Andre Alexis, Zoe Whittall, and Richard Van Camp.
Get insight into the year's top issues through a literary lens, with readings and panels on topics like climate change, decolonization, and how we care for one another. Poetry, memoir, mystery & more, WOTS2021 has the books you've been looking for.
Visit the 2021 Festival Homepage!
You can also subscribe to our YouTube channel for a preview of what to expect during the WOTS2021 festival, and watch (or re-watch) our year-round City Imagines and Book Talk series.
Become a Patron of The Word On The Street
We are very grateful to our vibrant and generous community for your continued support throughout this challenging period for live events. If you'd like to contribute financially, you can add a donation to your registration or visit our CanadaHelps fundraising page to learn more about how you can help to sustain Toronto's favourite book festival.
We also appreciate your support in the form of kind messages for our small-but-mighty team and helping us spread the word on social media!
On COVID-19 & In-Person Events
For the second time ever, WOTS2021 will be held virtually with programming hosted on our website and streamed live on YouTube. But that's not all! We're also collaborating with local authors and bookstore partners to offer a limited number of socially-distanced book signings. Check out the Bookstore Signing Schedule for more details on who might be coming to your neighbourhood.
If you're most familiar with our offline offerings: Hi! We miss you, and hope you are well!
Our team is doing the best we can to ensure the health and safety of our community, especially for vulnerable and younger readers who don't yet have access to a vaccine.
Staying virtual has given our team the opportunity to re-think how we can best honour our mandate as champions of literacy, and we can't wait to share our exciting news about the future of WOTS with you this September!

The Word On The Street is an annual celebration of storytelling, ideas and imagination, hosting Canada's largest FREE book and magazine festival annually since 1990 and promoting great books by Canadian and Indigenous authors year-round.
Organizer of KW Writer's Alliance: Oral Storytelling