About this Event
June is Filipino Heritage Month in Canada! Throughout the month, Cambio & Co. is hosting Kwentuhan With Cambio, a series of intimate conversations over (virtual) drinks about Filipino fashion, beauty, and culture from designers, brands, and leaders in our community.
Kwentuhan is a Filipino word meaning 'to tell stories' or 'to have a conversation'. This is part of our expanded mission to create livelihood for Filipino artisans and empower Filipinos in the diaspora to reconnect with our heritage. Learn more at www.shopcambio.co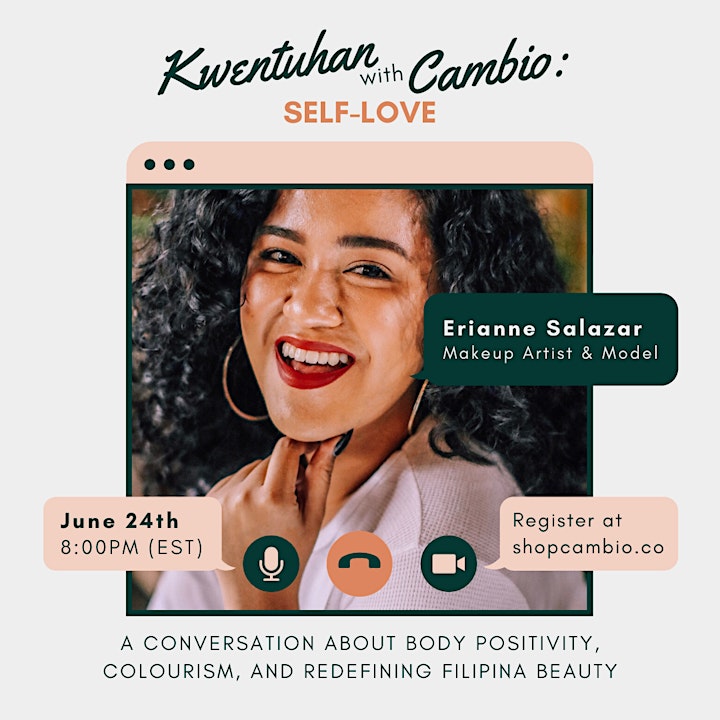 As Filipinos, how do we unlearn everything we've been taught about beauty?
We're raised from a young age to believe that thin bodies, straight hair, and white skin are beautiful. But where did these expectations come from? And how do we redefine beauty on our own terms?
The Black Lives Matter movement lends a new urgency to these questions which are important for us to tackle as a global Filipino community.
Join our co-founder Gelaine Santiago and Cambio Community Storyteller Nikki Bautista as they converse with Erianne Salazar, a Manila-based makeup artist, model, and empowerment advocate. Erianne will talk about her experience as a morena, curly-haired Filipina working within the beauty industry and what she's learned along her journey towards self-empowerment.
This talk will mostly centre Filipina/x perspectives as women, however we encourage all people to be part of the discussion!
About Erianne Salazar
Erianne Salazar is a Manila-based makeup artist and model, with her focus on makeup for film and television and commercial modeling. She earned her Broadcast Communication degree from the University of the Philippines-Diliman, and has been advocating for media literacy with regards to beauty and body messaging in the Philippines.
She is the creator of Pretty Positive, a blog that promotes the optimization of the Self with self care for the body and spirit.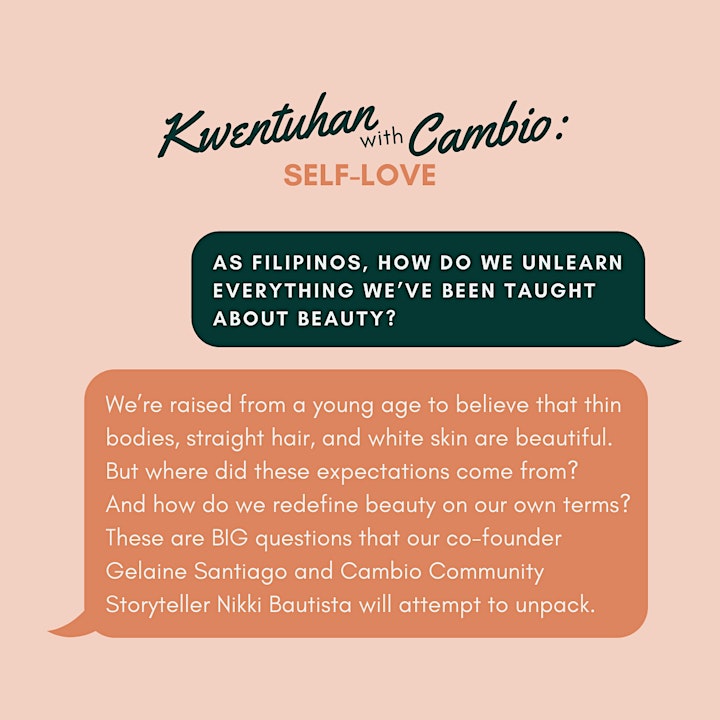 What To Expect:
An inspirational talk and mini-presentation by Erianne Salazar about her self-empowerment journey and advocacy.
Followed by a loosely moderated Q&A touching on themes of body positivity, colorism, and Filipina beauty.
Interactive audience Q&A where we get to hear from you and your experiences.
Questions from the audience.
Close out.
Brought To You By Cambio & Co.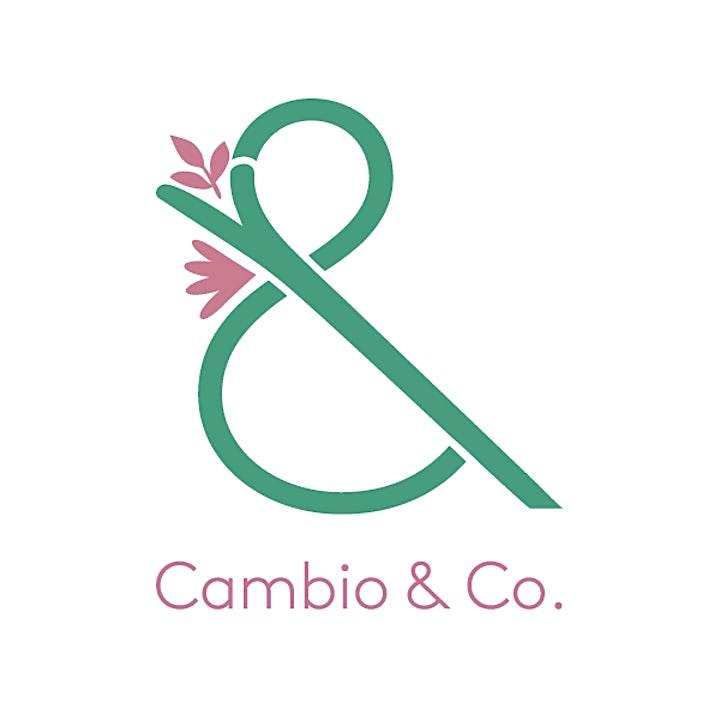 Cambio & Co. is a sustainable fashion company for accessories designed and handcrafted by Filipino artisans.
We exist to create sustainable livelihood for artisans, while empowering Filipinos in the diaspora to #WearYourHeritage and reconnect with culture through fashion.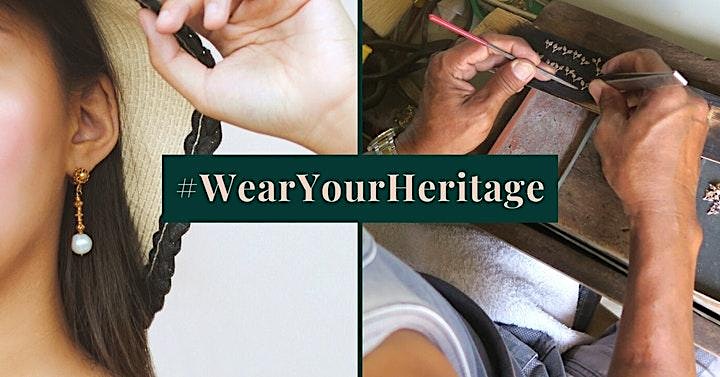 In Partnership With Kapé Philippine Coffee
Kwentuhan usually takes place over drinks with friends. So we partnered with our friends to bring you some delicious farmer-direct Philippine specialty coffee!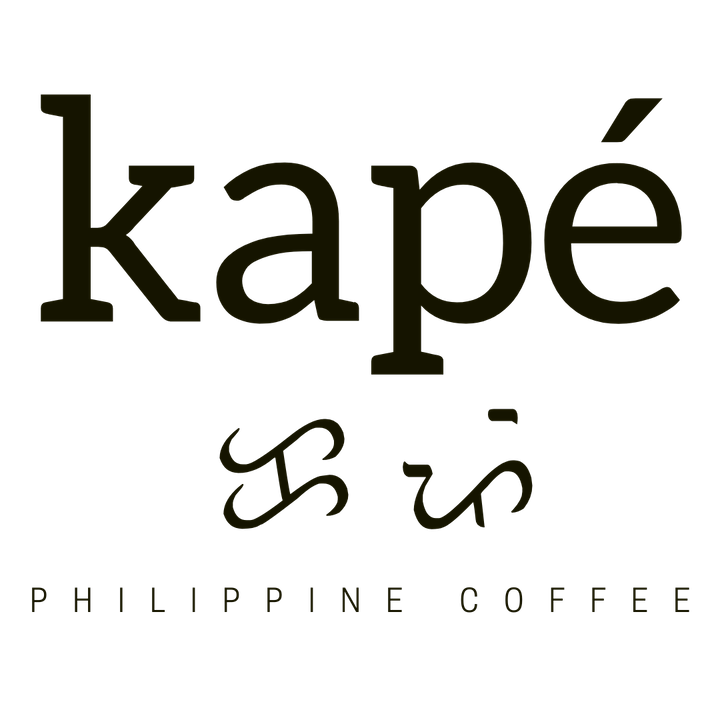 Kapé is a social enterprise promoting farmer-first coffee from Philippine Indigenous women growers, and small-batch roasted in the traditional unceded territories of the Musqueam, Squamish, and Tsleil-waututh nations (Vancouver, BC,Canada).
Kapé aims to highlight the stories behind each cup; honour strong women and families behind great coffee; and share how we can make a difference — by discovering where our coffee comes from and remembering one's roots.
Other Events In Our Kwentuhan Series: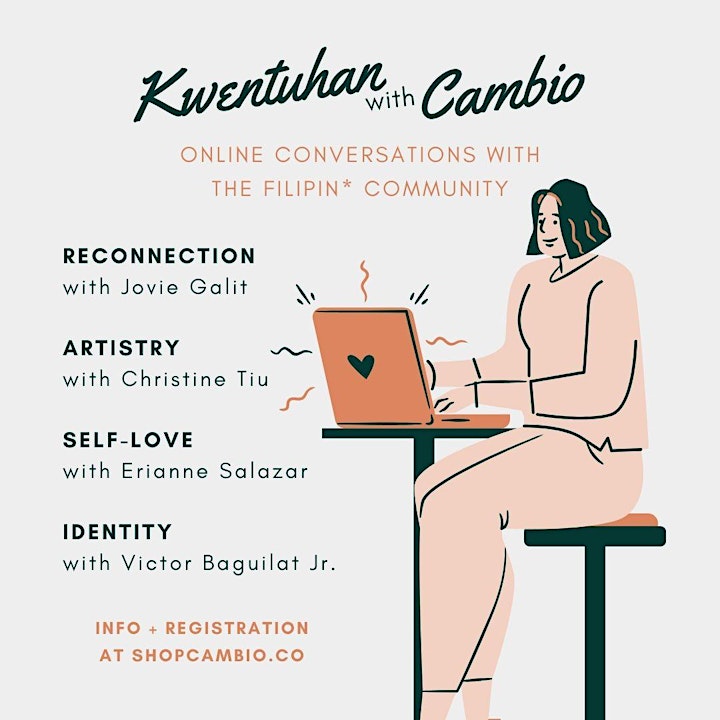 Registration and additional details will be dropping soon! Subscribe to our email newsletter and follow us on Instagram to be informed.
Currently open:
Register for our conversation on ARTISTRY with Christine Tiu, Co-founder of AMAMI. Click here.
Register for our conversation on RECONNECTION with Pinay Collection's Jovie Galit. Click here.
Register for our conversation on IDENTITY with Ifugao fashion designer & Founder of Kandama Collective Victor Baguilat Jr. Click here
Additional Details:
This event will be taking place over Zoom. You'll receive the link a few days before the event.
We will record the event. If you're not able to attend the talk, register to get access to the recording. We'll release the recording and also will be publishing a story on our blog.
If you have questions, contact us at hello@shopcambio.co