Labour Market Information Workshop by Statistics Canada
This session will help participants identify job vacancy statistics for various industries and occupations in British Columbia.
About this event
We will also explore:
What are the average wages for different occupations;
What is the average hourly rate for recent newcomers who have landed in Canada;
What does the post-pandemic economic recovery job market look like.
About Our Organization: S.U.C.C.E.S.S. FCR Loan Project
As part of the government of Canada's response to job creation and economic growth, the Foreign Credential Recognition (FCR) Loan Project, administered by S.U.C.C.E.S.S., was introduced to the public on February 22, 2012. For many Internationally Trained Professionals (ITPs), the cost of licensing exams, training and skills upgrading can present a significant barrier to credential recognition. Using a client-centered approach, the FCR Loan Project provides financial assistance to ITP's to lessen some of these burdens, making it easier for ITPs to find jobs that best suit their professional skills and experiences.
Workshop Eligibility: Internationally-trained Professionals planning on having their credentials recognized in Canada.
____
S.U.C.C.E.S.S. may use Eventbrite to collect your personal information for the purpose of managing registrations for the event as well as future communications. If you choose to use Eventbrite to register for this event, please note that Eventbrite will collect your IP address, event responses, name and contact information, and that this information will be stored and may be accessed outside of Canada. By clicking on the register button, you are consenting to your personal information being disclosed and/or potentially accessed outside of Canada with immediate effect.
If you do not want to register for the event using Eventbrite, please contact the event organizer directly at fcrloaninfo@success.bc.ca.
You can view the S.U.C.C.E.S.S. privacy statement here.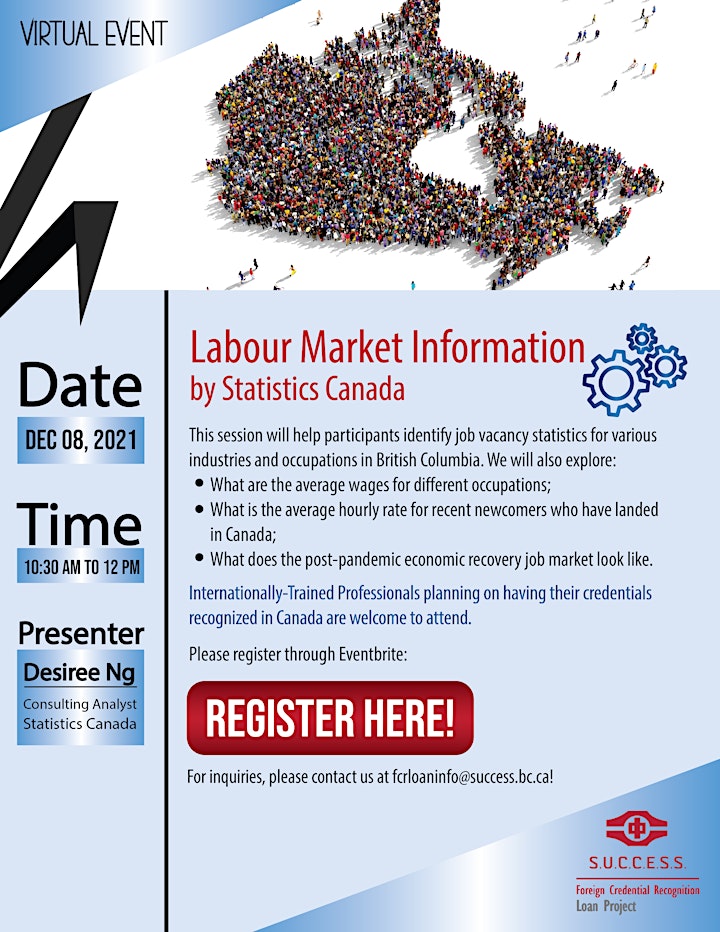 Organizer of Labour Market Information Workshop by Statistics Canada