Labour & skills shortage in the Oil & Gas industry: What future for Alberta...
Description

Skills-4-Energy,
with the support of Calgary Economic Development, is pleased to invite you for a presentation and discussion around:
"THE LABOUR & SKILLS SHORTAGE IN THE OIL & GAS INDUSTRY"
Our speakers will share their insight on the current and future labour & skills shortage situation in the world, Canada and Alberta. Their presentations will highlight some key topics in relation to this fundamental economic challenge, including:

What's going on in the world today? Are we facing a labour or skills shortage? What should we expect in the future for Alberta? How can we fill the labour/skills gap? What new regulations are in place?
About the Speakers:
Martyn Griggs, Manager, Oil Sands - Canadian Association of Petroleum Producers (CAPP)
Martyn joined CAPP in September 2007 as Manager, Oil Sands. His current responsibilities include consultation with the Government of Alberta on Oil Sands royalty matters; regulatory affairs, including Directive development with the Energy Resources Conservation Board and Oil sands environmental performance with the Alberta Department of Environment and Sustainable Resource Development. Martyn leads the Oil Sands industry position in Oil Sands Royalties, Tailings Management Framework, Reclamation Security and environmental issues consultation with the Government of Alberta, and other jurisdictions. Prior to joining CAPP, Martyn spent 12 years at Suncor Energy as General Auditor, Controller at Oil Sands plant, and Director Finance & Adminstration at the Stuart Oil Shale Project (Australia).
Chris Kasper, Barrister & Solicitor, Christopher Kasper Professionnal Corp
Christopher Kasper is a Calgary barrister and solicitor practicing in the areas of oil and gas, commercial and corporate law. He is a graduate of both the University of Calgary (1984) and Dalhousie University (1987). He has worked both directly in the oil patch on acquisitions and divestitures, and as outside legal counsel for independent producers in the oil patch. Consequently, he has experience with the growth challenges of producing companies, and a broad view of the processes that companies go through as they expand.
Stephane Blajberg, Vice President, Skills-4-Energy Corp.
Stephane joined Skills-4-Energy in February 2013 and oversees the activities of the group in Canada. He worked previously as a Trade Commissioner for France in Vancouver and helped France-based companies export to and do business in Canada with a specific focus on Environmental technologies and the Oil & Gas industry for 5 years. Before moving to Canada, Stephane gained 12 years of experience as a Project Manager in France and Switzerland. He holds a Master in Finance and Project Management certification (PMP) from the Project Management Institute.
Learn and mingle!
The presentation is free and will take place at the Global Business Centre, Terrace View Room (5th floor), accessible through the North Building of the Calgary TELUS Convention Centre at 136 8th Ave SE, Calgary. It will be followed by a complimentary cocktail and networking event.
This event is organized by: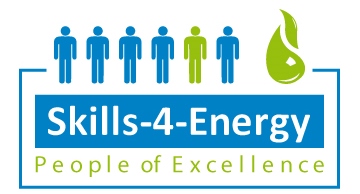 With the support of:

Organizer of Labour & skills shortage in the Oil & Gas industry: What future for Alberta?
You need an expert, you need a team now!
Skills-4-Energy, along with its parent companies (Interdevelop, Nebest Cot, and Marine Life Care) provides skilled people and consulting services to the Oil & Gas industry.  Today our recognized experience in this cutting edge industry is a platform from which we provide the same world class skilled people to other industries: civil engineering, building, industries related to other forms of energy, and more generally all activities where human skills are the keystone to success. For more information, feel free to read our website: www.skills-4-energy.com