Ladies Learning Code: Data Visualization for Beginners: An Introduction to...
Description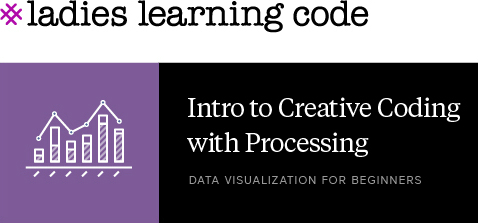 ---
In a world where there is more data than most of us really know what to do with, how do we go about displaying facts outside of a boring pie chart or common graph? Ever hear of the term "data visualization"? Data visualization not only helps us to compare and contrast information, but it also helps us understand common patterns, perceive certain outcomes, and aid in future decisions. Whether you're a part of a marketing team, or just someone who needs a good infographic for a blog post, we'll teach you how to manage collected data, and how to make it look fantastic.
What is Processing? Processing is a powerful open source language (as well as an application) that builds upon the Java language, and is commonly used to explore how complex algorithms and systems work in a visual context. Learn more about creative coding and the role that ideas such as process, experimentation and algorithm play in this creative field featuring artists, designers and code enthusiasts by watching this documentary, called Hello World.
What will you learn at this workshop? We'll take a look at large amounts of data - more specifically, hashtags from Twitter and campaign reports from Mailchimp - and use Processing to create beautiful and easy-to-understand visualizations based on our findings. We'll go over how to code simple mathematical equations and change variables, integers, colours and shapes to create unique and engaging outcomes. As a bonus, we'll also show you how to publish your live and interactive creation to the web, and how to go about collecting your own sets of data outside of the workshop. Specifically, we will cover the following:
- An overview of Processing, why it's cool, and how you can use it in the workplace
- How to import a .csv file containing large amounts of data into Processing
- How to grab data from the .csv file and visually display it using geometrical shapes
- What a variable is, an integer and a float, and how these can be slightly changed to make a simple shape look more interesting and complex
- How to integrate basic user interaction in order to navigate around your data (and be able to see some cool animations!)
- Coding in RGB colour, and the importance of colour in data visualizations.
Workshop Dates:

This workshop will be run over the course of two evenings: Tuesday, March 6th from 6:00pm-9:00pm and Thursday, March 8th from 6:00pm - 9:00pm.
Who is this for?
Our Ladies Learning Code workshops offer female-identified and male-identified, trans, and non-binary adults hands-on, project-based learning experiences that are designed to give beginners the skills and confidence they need to become digital creators.
Prerequisites:
None! This workshop is designed for absolute beginners.
What's Included: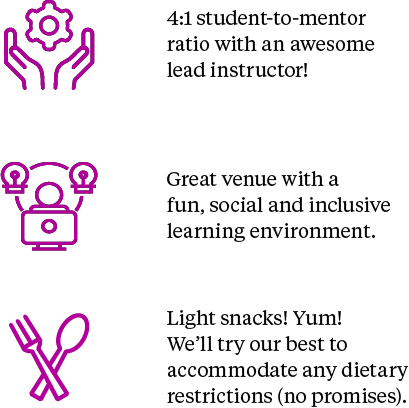 Requirements: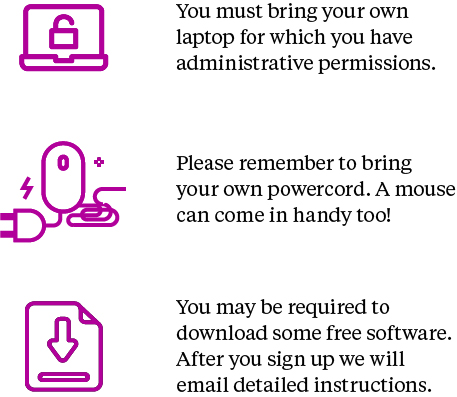 Note: If you do not have a laptop to use during the duration of the workshop, we have a limited quantity that we can loan out. The option to borrow a laptop will be included in your order form when registering.
Hey you!
Have you joined the Canada Learning Code mailing list? If not,
join here
.
Questions? Email us at info@canadalearningcode.ca
You can also find us here:







Hope to see you soon!
If for some reason you can't make it, check out our REFUND POLICY.