Ladies Learning Code: HTML & CSS: Learn how to build an Online Resume - Fre...
Description


Why learn CSS?

Have you taken our HTML and CSS workshop? Looking to expand your web-development skills? Wonder what all this CSS3 stuff is about? CSS is a powerful language used to create layout and design for web pages. Without CSS, the web would not be as pretty!

It's easy to learn, and was designed so that everyone - even non-programmers - can do it. No fancy programs are needed, just a text editor and a web browser. The Ladies Learning Code Pure CSS workshop is designed to be a hands-on experience.

In this workshop, we'll dive deeper into the fundamentals of CSS (syntax, rules, floats & positioning) and learn how to use advanced techniques such as sibling and pseudo selectors. We'll also go over how to truly unlock the power of CSS by learning to create reusable and efficient CSS and the importance of refactoring (and what it is) to create organized and maintainable CSS. To give your web pages that extra flair, we'll also cover topics such as how to add custom fonts, icons fonts and CSS3 animations.

In this workshop, you will be applying your new found CSS knowledge into creating a beautiful HTML resume. You'll also learn how to incorporate techniques for creating maintainable CSS to make it easier to keep your resume updated and looking polished.


Who is this for?
Our Ladies Learning Code workshops offer female-identified and male-identified, trans, and non-binary adults hands-on, project-based learning experiences that are designed to give beginners the skills and confidence they need to become digital creators.
Prerequisites:
None! This workshop is designed for beginners.
What's Included: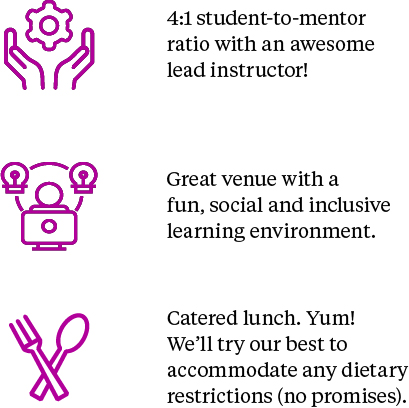 A computer will be provided for this workshop!

Note: If you do not have a laptop to use during the duration of the workshop, we have a limited quantity that we can loan out. The option to borrow a laptop will be included in your order form when registering.
Hey you!
Have you joined the Canada Learning Code mailing list? If not,
join here
.
Questions? Email us at info@canadalearningcode.ca
You can also find us here:







Hope to see you soon!
If for some reason you can't make it, check out our REFUND POLICY.