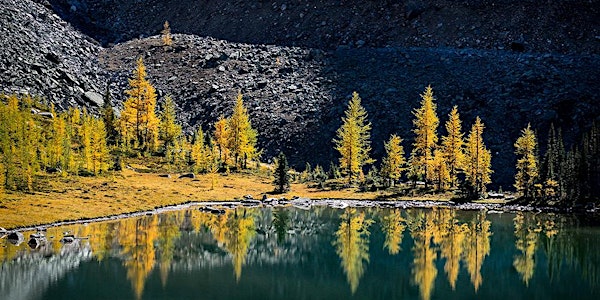 Lake O'Hara Landscape Photography Tour, 2018a Edition
When and where
Location
Lake O'Hara parking lot Elizabeth Parker Hut Columbia-Shuswap A, BC V0A 1G0 Canada
Description
The 2018 Lake O'Hara Landscape Photography Tour, 8th edition

Lake O'Hara is THE BEST place in the Canadian Rockies to photograph the Alpine larches in their brilliant Fall colours.
Location: Lake O'Hara in Yoho National Park
Start: Sunday, Sept. 23, 2018 at 7:45am
End: Monday, Sept. 24, 2018 at 6:00pm
Meeting place: The Lake O'Hara trailhead parking lot. The turn off from the Trans Canada Highway into the Lake O'Hara parking lot and trialhead is 1.5 kms East of the Great Divide Lodge, towards Calgary. If you have any questions about where to find the trailhead then please call me anytime before the day of the tour, or simply google "Lake O'Hara Parking Lot." There is a pin in google maps marking the parking lot location. On the day of the tour I will be at the parking lot/trailhead.
Read the full Description of the tour on the tour webpage here.
Note: There is no cell reception at the meeting place so you won't be able to call after about 7:00am on the day of the event!
Cost: $1275.00 + GST for non-ILPA members (ILPA members should contact me to receive their $300 refund on their regular ticket purchase after their registration process is complete.
Number of Tour Guests: 8 - The huts are designed to sleep 24 so there is lots of room to move around.
Number of Photographer leaders, Hiking Guides and Support Staff: 3
The 3 member leadership team:
Brian Merry (tour organizer, tour manager/leader, pro photographer and IGA apprentice interpretive guide)
Dr. Robert Berdan (tour co-leader and professional photographer),
Kazue Merry (professional IGA intrepretive guide and cook),
---
What's Included:
There are two professional photographer artistic leaders, a licensed guide and a cook team to prepare our meals. We'll be staying in dorm style accommodations. We have purchased your Parks Canada back country user premits and arranged for transportation along the restricted access 12 km road to Lake O'Hara. Basically, after you buy your ticket you can show up with your personal effects, sign the liability release waiver, and then we'll take care of the rest for you!
Tour Description:
Lake O'Hara is a specuacularly brilliant blue alpine lake set in a small, high mountian valley nestled up against the west side of the continential divide. The Eastern boundary of the region is Mount Victoria, whch is the same beautiful mountain seen in the World famous landscape photograph of Lake Louise, except from the oposite side. Lake Louise is about 8kms East of our base in Lake O'Hara, over Mount Victoria and the Continental Divide.
Most people who've been to Lake O'Hara agree that this is the best scenic little valley in all of the Canadian Rockies. And, it is highly competitive to get a spot on the quota restricted buses that transport visitors there.
Come and join us on our 8th annual Lake O'Hara Landscape Photography Tour based at the Alpine Club of Canada's Elizabeth Parker Hut. This beautiful log cabin Alpine Club of Canada hut It is located a mere 800m meters along a hiking trial from where the buses drop us off on the morning of Sept. 17th. The hut has one large co-ed dorm room with bunkbeds equiped with mattresses, which we lay our sleepings bags out on to sleep the night away.
The Photography:
We'll spend our time hiking around the valley at a photographer's pace enjoying the amazing landscape photography locations that the area has to offer. It seems that every few minutes I spend hiking down any of the trials in Lake O'Hara I see another world class landscape photography scene revealing itself in front of me around every other corner. They just keep on coming and coming and coming... This place is incredible!
The Lake O'Hara trial system is known as the best in the Canadian Rockies for hiking through spectacular scenery. I, for one, can't get enough of this place. I've visited the area for both climbing and photography close to about 40 times now since the late 1990s.
Your Leadership Team:
The leadership team of professional photographers, an acmg guide and IGA certified guides will use our experience in the area to maximize your time here. We'll put you in the best places to take your own landscape photographs. We will s few hikes going out each day lead by the different photography leaders covering low, medium and higher impact terrain while using the established Parks Canada hiking trials. You'll have the option to do your own self directed hiking and photography around Lake O'Hara as well if you would to photograph solo. The 3 km hike around Lake O'Hara is beautiful, and it has about 50m of elevation gain/loss around the entire loop.
What to expect:
Expect to hike 3-10 kilometers a day in terrain varying from 3 kms of flat terrain around Lake O'Hara to 8-10 kms with 1000 feet in elevation gain/loss return into some of the high glacial cirque valleys surround Lake O'Hara.
Be prepared for all possible mountain weather including early fall snow/rain to bright, warm and sunny weather. Bring your down jacket, rain gear AND your sunscreen.
Dorm style co-ed accommodation at the Elizabeth Parker Hut, the Alpine Club of Canada's most beautiful alpine log cabin complex. The hut is warmed by a wood burning stove. A three season sleeping bag rated for about -10 C will be fine.
Gormet meals prepared by Kelly Mager - former head chef in a trendy Toronto restaurant - turned full time professional backcountry caterer.
Landscape Photography. We'll be photographing the famous grand landscapes of Lake O'Hara.
Night sky photography session.
And most of all,.. be prepared to be blown away by the beauty of this place! And, I'm not kidding either. Lake O'Hara is incredible!