LAL Teacher Network Meeting: LAL Numeracy Courses - April 16, 2020

Thursday, 16 April 2020 from 9:00 AM to 3:30 PM (CDT)
Event Details
The LAL Teacher Network Meeting is scheduled on Thursday, April 16, 2020 at 1567 Dublin Avenue, Winnipeg, from 9:00 AM-3:30 PM. Coffee will be set up at 8:30 for you to connect with other teachers. This professional learning network is intended for teachers and others who work front-line with newcomer students who have interrupted or limited formal schooling. 
The goal of the network is to support professional learning for educators who work with LAL students, to provide opportunities for educators to meet with others who are similarly involved, and to enhance local capacity of teachers and schools to work with LAL students. Teachers can benefit from new insights, capacities, and familiarity with resources specific to this specialized area of education.
Target Audience: LAL teachers or teachers interested in LAL Programming, Math teachers, Administrators
Participants will become familiar with the new LAL Numeracy curricula. This interactive and engaging session will include scope and structure of the LAL Numeracy courses, a 'walk-through' the curricular document, literacies associated with mathematics, mathematical experiences for concept attainment, and assessment and grading.
Lunch: Lunch will be provided. Please indicate any food accommodations when registering.
Agenda (tentative):
LAL Student demographics

Manitoba Education Updates

Unpacking the LAL Numeracy Curricula
Facilitators:
Peter Andres, Middle Years Mathematics Consultant

Kari Bergmuller, Senior Years Mathematics Consultant

Jayesh Maniar, EAL and Newcomer Education Consultant
Registration: By the end of the day on Friday, April 10, 2020.
There is no registration fee but schools/school divisions will be responsible for substitute costs and any other related expenses.
As we get closer to the date, I will send more information (such as an agenda, an article for discussion, information about parking, etc.) to registered participants.
If you need more information about our meeting, please contact me at jayesh.maniar@gov.mb.ca.
Jayesh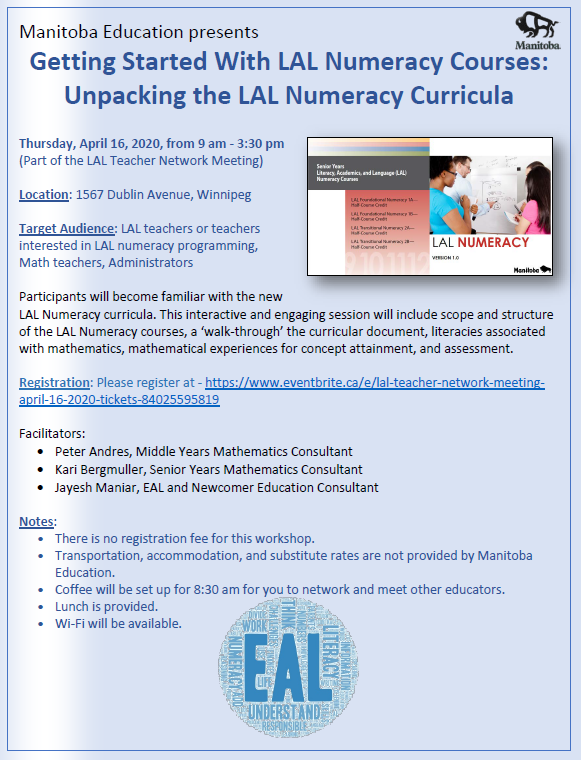 Save This Event
When & Where

Manitoba Education, ICAB
1567 Dublin Avenue
Winnipeg, MB R3E 3J5
Canada

Thursday, 16 April 2020 from 9:00 AM to 3:30 PM (CDT)
Add to my calendar
Organizer
Jayesh Maniar
EAL and Newcomer Education Consultant
Manitoba Education
Instruction, Curriculum and Assessment Branch (ICAB)
email: Jayesh.Maniar@gov.mb.ca
1567 Dublin Avenue, Winnipeg, MB R3E 3J5
Cell and text message: 204-297-7801        
Ph: 204-945-7975 or 1-800- 282-8069, ext. 7975   
Fax: 204-945-1704