Description
Welcome to Lala World Blocksocial - Toronto event page.
The event is our effort to drive social entrepreneurship across Toronto & the World by engaging and educating people about the Blockchain & helping them build businesses that are decentralised and more importantly benefit all.
Toronto has long been a city fascinated with Blockchain technologies. It has also been a city of migrants with over 50% of the people new to the region. Naturally, Lala World, an ecosystem for migrants, take pride in hosting the event to educate startup & business communities about blockchain projects related to social entrepreneurship.
Lala World & TokenAsia in partnership with MLG Blockchain hopes to support businesses and dreamers who are helping the World become more decentralized and more open.
Follow Blocksocial on Twitter for more updates...
Speakers
Sankalp Shangari - CEO, Lala World - Linkedin
Sankalp is a veteran in the financial world with over 10 years of history. He started his own venture with investments in Fintech, Trade Finance, Blockchain & Crypto Trading. Also a Co-founder of Instantpay & former senior vice president at J.P. Morgan. Speaker & Author.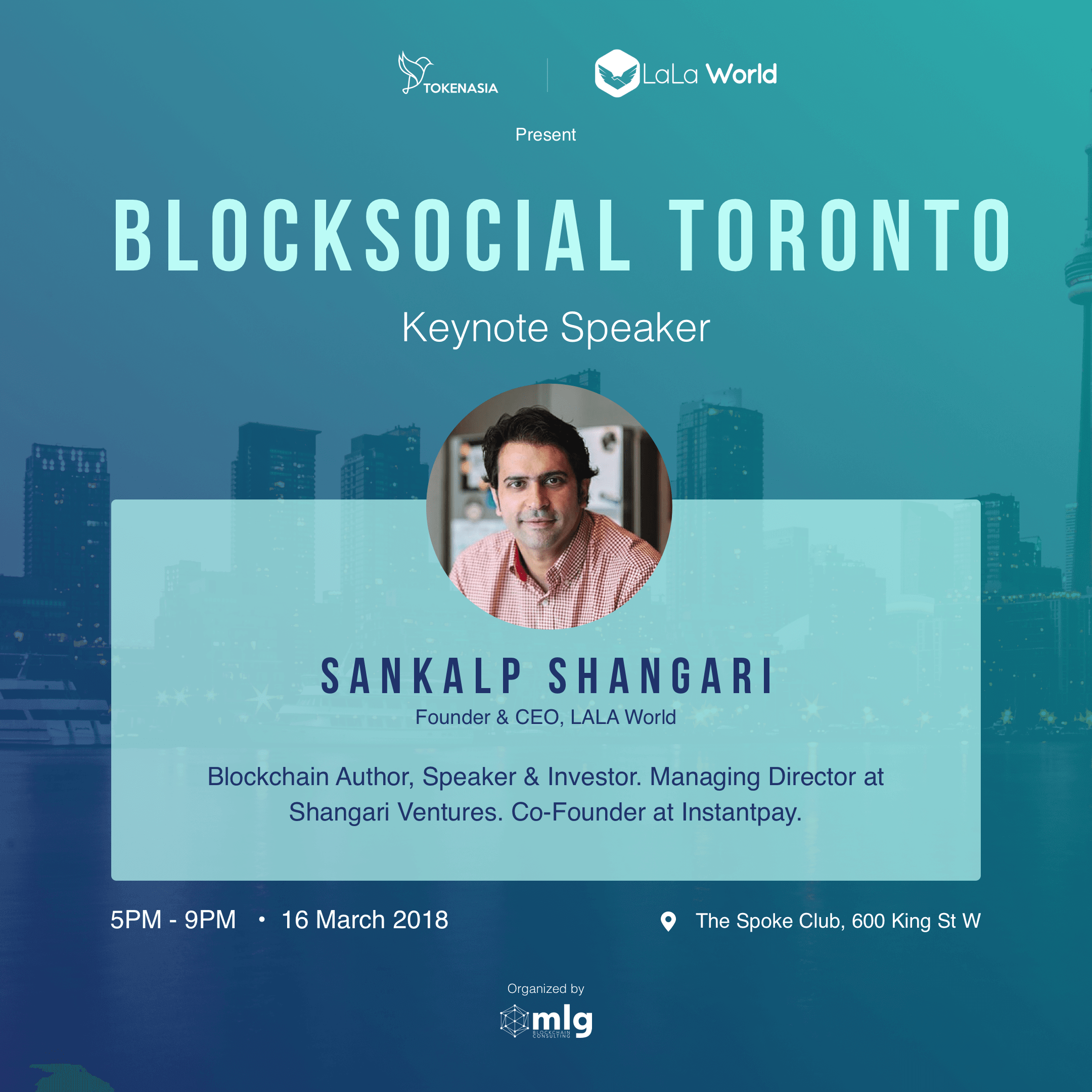 Michael Gord - CEO, MLG Blockchain Consulting - Linkedin
Michael is the founder and CEO of MLG Blockchain, an enterprise blockchain and ICO consulting and development firm, the co-founder of StratX, a global liquidity solution provider, and AirdropX, a social platform for tokens to globally distribute their tokens in with airdrops. He is also the director of the Blockchain Education Network and sits on the board of directors of the Blockchain Association of Canada.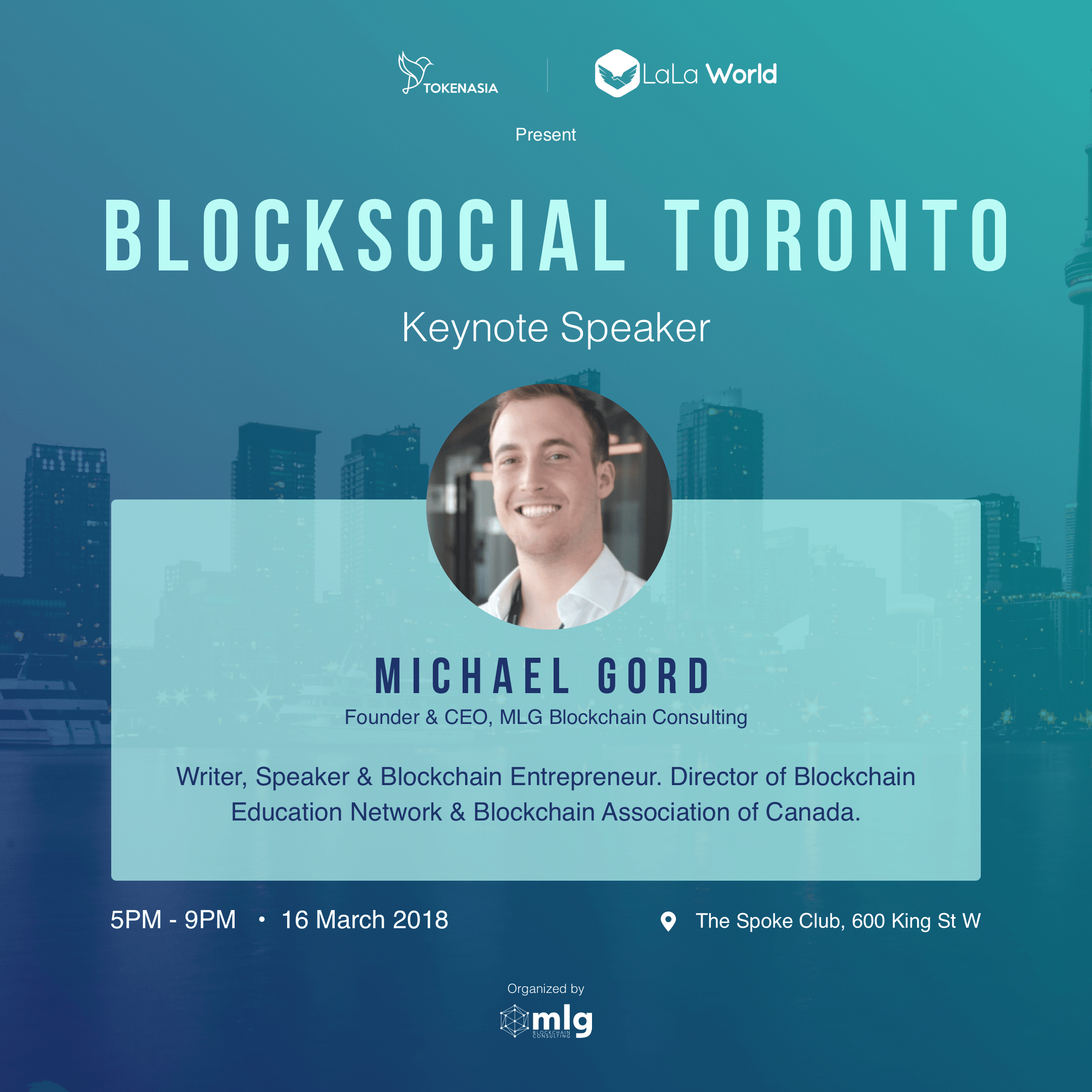 Giuseppe Gori - CEO, Gorbyte Inc. - Linkedin
Giuseppe is the CEO of Gorbyte Inc. - Gorbyte is a new generation crypto-network which will use a cooperative consensus involving all nodes, thus eliminating the need for miners or validators and their costs. He holds a doctor's degree in Computer Science, Speaker for Global Blockchain Consortium and an advisor to EMMARES.io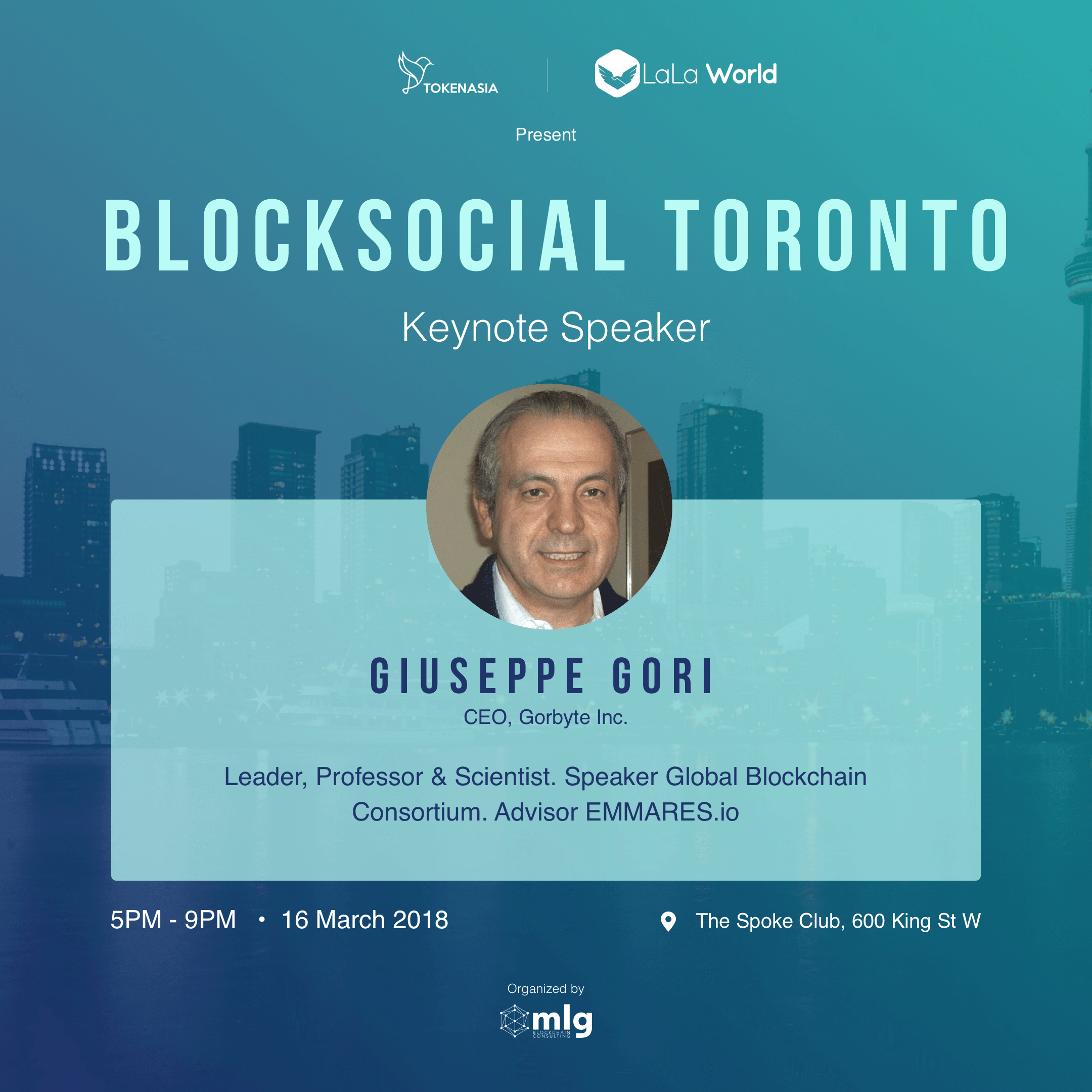 Mawadda Basir - Executive Director, ColliderX - Linkedin
Mawadda is the Executive Director of ColliderX - World's first open-source, crowdfunded and crowdsourced blockchain [+] R&D lab. A blockchain strategist and Chief of Staff at Deloitte's blockchain lab, Rubix by Deloitte. Also advises in blockchain startups with social impact missions.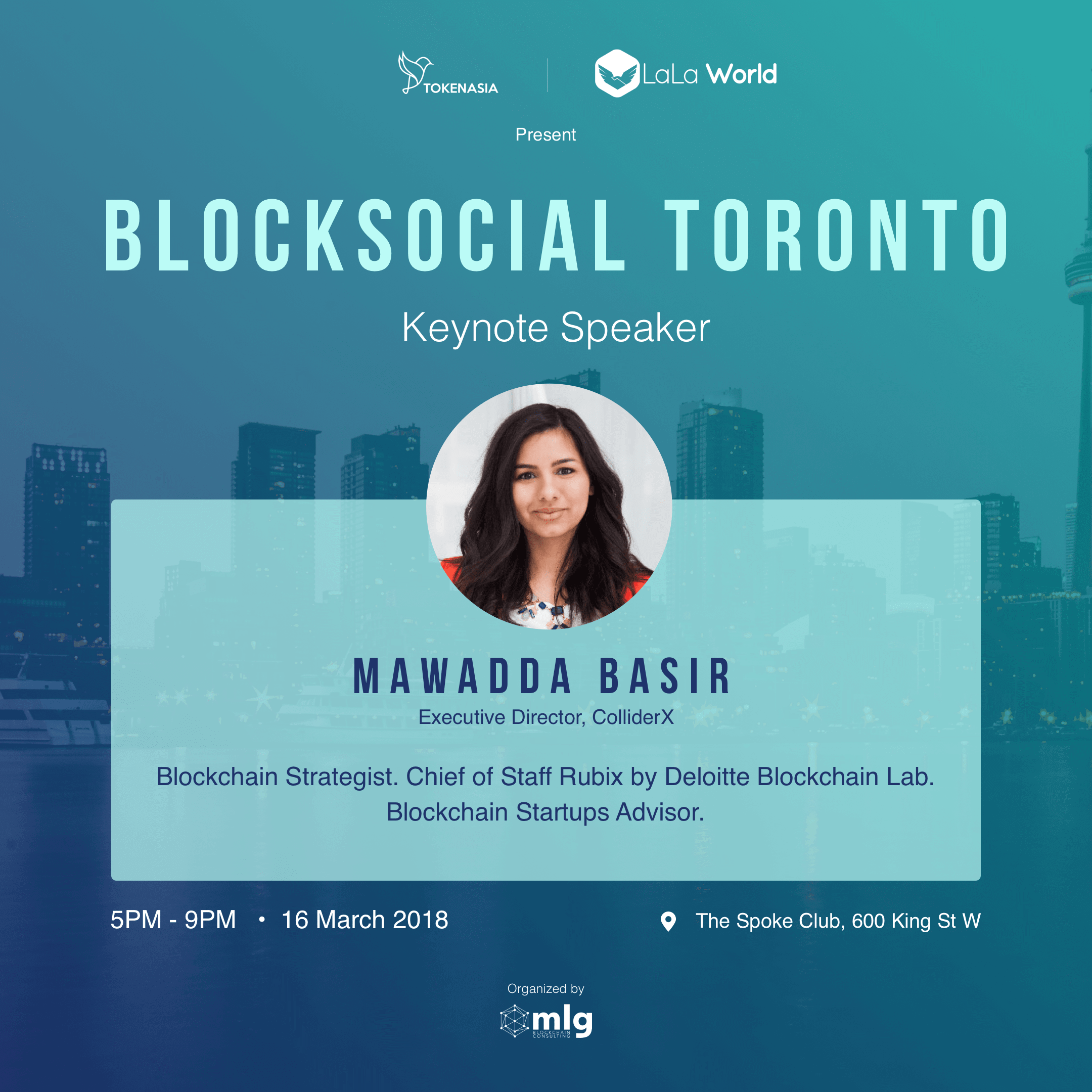 Cali Haan - Writer and Editor, CryptoChicks - Linkedin
Cali is a Writer and Editor at CryptoChicks - A community of Women who are on a mission to build a blockchain community and promote blockchain technology adoption through helping others to improve understanding of the technology and explore its application opportunities. Cali is also a Cryptocurrency Reporter and a Teacher of Public Speaking, Performance and Creative Writing.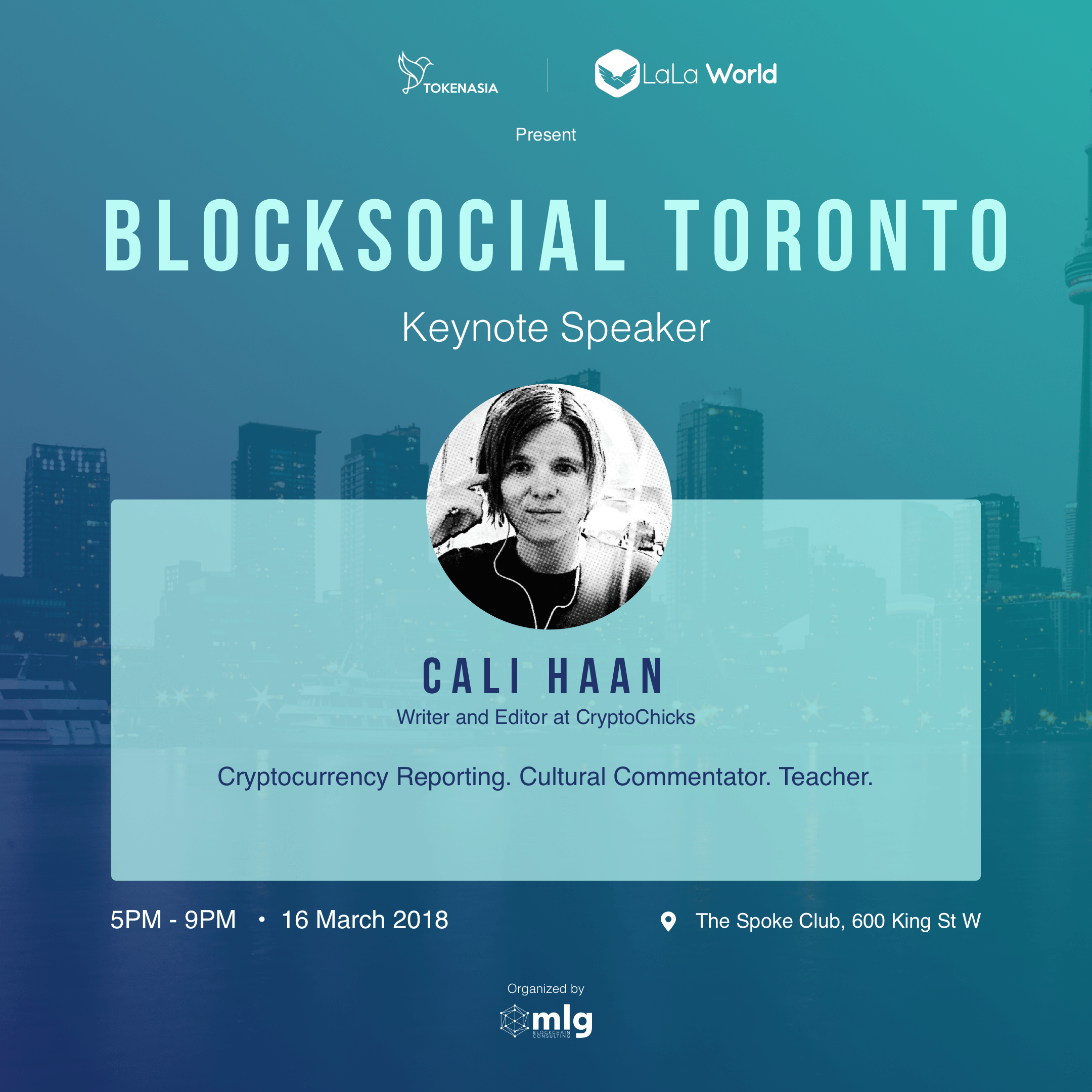 Discussion Topics:
1. Blockchain 101: What is Blockchain? Why does it want to unite us all?
2. The Shift in Power: How will blockchain technologies empower people and eliminate big corportations?
3. World Disruption: What industries will the Blockchain disrupt? What industries won't?
4. Potential: What would be the future of Blockchain 5-10 years down the line?
5. Beyond Bitcoin: What are non-Bitcoin applications of blockchain technology?
6. Migrants: How will Blockchain ease the lives for Migrants?
7. World Borders: How will Blockchain break down walls and make a more connected World?
8. The People: How Blockchain will be represented by all segments of society especially Women?
More on Lala World
LALA World ("LALA") is all about migrants and their unbanked families. Its an ECOSYSTEM enabled by the LALA Wallet as a PLATFORM, a single sign on platform revolving around their issues and problems. Employment issues, digital ID's, communities build up, government and NGO partnerships, health issues, and of course, a new financial ecosystem for the huge underbanked population by capitalizing the Blockchain revolution to bridge the gap between cash, digital world.
By creating a whole new peer to peer ecosystem, LALA aims to revolutionize the way individuals, small businesses and micro-entrepreneurs transact, make payments, borrow money and associated products like insurances, domestic and Cross-Border remittances, cards and other general banking products.
---
Assorted Hors D'oeuvres & Drinks will be provided
Seating is limited to 100 guests. Please RSVP through Eventbrite and include your name, email, company, and background/interest in blockchain in order to successfully register for the event. Without this information, we won't be able to guarantee a seat. Due to limited space, this event is open to professionals who are actively engaged in the blockchain space and registration is subject to review.