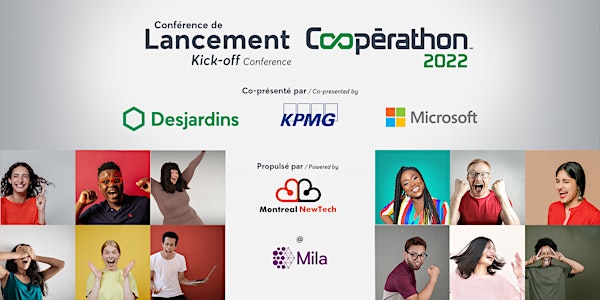 Lancement Cooperathon 2022 Kick-off | AI & Data-science for Impact Startups
La conférence marquant le lancement de la 7e édition du plus grand programme compétitif d'innovation ouverte au Canada.
When and where
Location
Mila - Quebec AI Institute 6650 Saint-Urbain Montréal, QC H2S 3H1 Canada
About this event
La conférence de lancement de la 7e édition de la plateforme de création d'entrepreneuriat d'impact et de la plus grande compétition d'innovation ouverte au Canada a lieu le jeudi 29 septembre 2022 à 17 h au Mila !
Cette année, le Cooperathon est co-présenté par Desjardins, KPMG, Microsoft, et propulsé par Montreal NewTech. Il met l'accent sur l'IA et les sciences de données au service de la santé et de l'environnement.
Que vous ayez déjà participé à nos événements du 8 et 21 septembre ou non, que vous soyez étudiant, professionnel, en solo ou en équipe, rejoignez-nous pour le lancement du Cooperathon 2022 ! La meilleure opportunité de la saison du Cooperathon pour vous permettre d'élargir votre réseau et de développer ou former votre équipe !
Desjardins, Microsoft, KPMG, Zone Agtech, Génome Québec seront présents sur place ainsi que des acteurs de renom de l'écosystème canadien des innovateurs. Une centaine de participants dont : les mentors de l'édition 2022, ceux qui vous accompagneront tout au long de votre parcours pour vous former à l'intelligence artificielle ou à l'entrepreneuriat, les incubateurs, accélérateurs, porteurs d'idées, de projets, de talents, étudiants, professionnels et startups se réuniront pour un feu d'artifice intellectuel.
L'occasion pour vous d'échanger sur les sujets qui vous passionnent, de rencontrer les personnes clés de votre parcours d'innovation et d'élargir votre réseau professionnel.
Conférences, animations, cocktail, l'agenda de cette soirée démarrant à 17h promet d'être intellectuellement stimulant et nous vous attendons pour venir l'enrichir de votre présence, de vos idées et de votre enthousiasme !
Si vous aimez les symboles, vous serez servis ! Tout d'abord, lorsque vous regarderez le logo du Coopérathon, vous verrez le symbole de l'infini. Parce que le Coopérathon, c'est une possibilité infinie d'innover et de relever les défis qui nous sont proposés par nos partenaires.
2022 est une année dédiée à l'intelligence artificielle, aux sciences des données pour l'environnement et la santé. Quel lieu plus symbolique que le MILA pour donner le coup d'envoi de cette 7ème édition ?
**Qu'est-ce que le Coopérathon ?**
Le Coopérathon c'est la plateforme de création d'entrepreneuriat d'impact et la plus grande compétition d'innovation ouverte au Canada. Le Coopérathon connecte les citoyens, les communautés, les entrepreneurs, les chercheurs ainsi que les milieux académiques et institutionnels pour développer, ensemble, un futur socialement responsable.
Le programme de formation de 6 semaines de Coopérathon comprend :
- Des ateliers animés par des experts de renom et, de plus, avec de multiples ressources pédagogiques dans le domaine de l'entrepreneuriat.
- La mise à profit des innovations scientifiques et technologiques pour la réussite d'entrepreneurs ambitieux.
- Le soutien d'un réseau de mentors exceptionnels, provenant de plusieurs provinces du Canada, et d'experts en la matière issus de différentes industries.
- Une compétition de pitch devant un jury composé d'acteurs renommés de l'écosystème provenant des meilleurs incubateurs et accélérateurs du Canada.
La 7e édition du Coopérathon : Au cœur de l'innovation pour oser autrement
Programme :
- Keynote d'invité pertinents et passionnants
- Conversation au coin du feu avec nos partenaires de défis incluant KPMG, Microsoft et Desjardins...
- Activités de réseautage pour vous aider à découvrir et constituer vos équipes
- Opportunités de rencontrer des acteurs de l'écosystème, mentors et experts de renom.
ENGLISH
The Kick-off conference for the 7th edition of the largest open innovation challenge in Canada, takes place on Thursday, September 29, 2022 at 5pm at Mila!
This year, Cooperathon is co-presented by Desjardins, KPMG Microsoft, and powered by Montreal NewTech. It focuses on AI and data science for health solutions and the environment.
Whether you've already participated in our September 8 and 21 events or not, whether you're a student, professional, solo or on a team, join us for the launch of Cooperathon 2022! The best opportunity of Cooperathon season for you to expand your network and develop or train your team!
Desjardins, Microsoft, KPMG, Zone Agtech, Génome Québec will be present as well as renowned actors of the Canadian ecosystem of innovators. A hundred participants including: mentors of the 2022 edition, those who will accompany you throughout your journey to train you in artificial intelligence or entrepreneurship. Incubators, gas pedals, carriers of ideas (or projects), talents, students, professionals or startups will meet for an intellectual fireworks.
This is an opportunity for you to discuss the subjects you are passionate about, to meet the key people in your innovation journey and to expand your professional network.
Conferences, animations, cocktails, the agenda of this evening starting at 5pm promises to be intellectually stimulating and we expect you to come and enrich it with your presence, your ideas and your enthusiasm!
If you like symbols, you're in for a treat! First of all, when you look at Cooperathon logo, you will see the infinity symbol. Because Cooperathon is an infinite possibility to innovate and to take up the challenges proposed to us by our partners.
2022 is a year dedicated to artificial intelligence, data sciences for the environment and health. What more symbolic place than the MILA to kick off this 7th edition?
**What is Cooperathon?**
Cooperathon is the platform for the creation of impact entrepreneurs and the largest open innovation challenge in Canada. Cooperathon connects citizens, communities, entrepreneurs, researchers as well as academic and institutional circles to develop, together, a socially responsible future.
Cooperathon's 6-week training program includes:
- Workshops led by renowned experts and, in addition, with multiple educational resources in the field of entrepreneurship.
- The use of scientific and technological innovations for the success of ambitious entrepreneurs.
- The support of a network of exceptional mentors from several Canadian provinces and experts in the field from different industries.
- A pitch competition in front of a jury of renowned ecosystem players from Canada's top incubators and gas pedals.
The 7th edition of Cooperathon: Innovation at heart to lead the change
Program:
- Keynote from exciting guest speakers
- Fireside chats with our challenge partners including KPMG, Microsoft and Desjardins...
- Networking activities to help you discover and build your teams
- Opportunities to meet with leading ecosystem players, mentors and experts