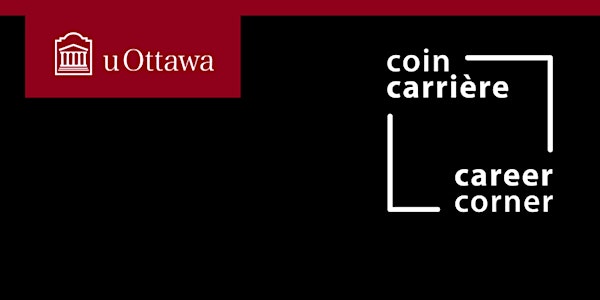 Lancement officiel de nos uOCompétences! | uOCompetencies official launch!
Participez au lancement des uOCompétences au coin carrière! | Participate in the launch of the uOCompetencies at the Career Corner !
When and where
Location
Career Corner, 2nd floor, room 216 - Jock Turcot University Centre (UCU) 85 University Private Ottawa, ON K1N 6N5 Canada
About this event
[The English follows]
Participez au lancement officiel de nos uOCompétences le 28 septembre au Coin carrière!
Jill Scott, provost et vice-rectrice aux affaires académiques, vous invite cordialement à l'ouverture officielle du Coin carrière et au lancement des uOCompétences, un ensemble de compétences transférables intégrées à toutes les facettes de l'expérience étudiante, dont l'utilité va bien au-delà du parcours universitaire.
Une table ronde animée par Jill Scott portera sur l'importance d'intégrer la formation sur les compétences à l'ensemble des programmes, spécialement à ceux fondés sur l'apprentissage expérientiel.
Grâce au généreux soutien de la RBC dans le cadre de l'initiative Objectif avenir, le Coin carrière et les uOCompétences permettront d'offrir aux membres de la population étudiante les occasions et les compétences nécessaires pour réussir leur transition vers le marché du travail.
Des hôtes de marque de la RBC participeront à ce double lancement, qui s'inscrit dans la volonté de l'institution financière d'outiller les jeunes d'aujourd'hui pour les emplois de demain.
Date : mercredi 28 septembre
Heure : De 15h à 16h30
Lieu : Coin carrière, deuxième étage du Centre universitaire (UCU), salle 216, 85, rue Université
Stationnement disponible dans le lot K du 90, rue Université
***
Participate in the launch of the uOCompetencies at the Career Corner !
Jill Scott, provost and vice-president, academic affairs, cordially invites you to the official opening of the Career Corner and launch of uOCompetencies, a set of transferable skills to be built into every aspect of the student learning experience that will add value far beyond their academic journey.
The event will feature a panel discussion moderated by Jill Scott about the importance of integrating competency training into all programs, and especially experiential learning programs.
Thanks to the generous support and contributions from RBC Future Launch, the uOttawa Career Corner and uOCompetencies will give students the experience and skills they need for a successful transition to the workforce.
Special guests from RBC will be join us to celebrate these milestones as part of their commitment to empower the youth of today for the jobs of tomorrow.
Date: Wednesday, September 28
Time: 3 p.m. to 4:30 p.m.
Place: Career Corner, Second Floor — Room 216, University Centre (UCU), 85 University
Parking available in Lot K, 90 University