Land-based learning in Mohkinstsis : An Indigenous-Led Nature Walk Series
Join us on a family-friendly, pay-what-you-can nature walk led by Blackfoot artist and environmental activist William Singer III.
About this event
Join us at Nose Hill Park for a nature walk with Blackfoot artist and environmental activist Api'soomaahka, also known as William Singer III. On this family-friendly, pay-what-you-can walk, you'll learn about Indigenous ways of knowing and being in nature.
Sunday, October 23 (12:45 PM - 2:15 PM): Siksikaitsitapi Medicine Wheel, Nose Hill Park (meeting at the Nose Hill/Winter Club parking lot).
Guest Speaker: Api'soomaahka (Running Coyote) William Singer III
Named after his great, great, great uncle who was a Blackfoot warrior, Api'soomaahka carries on his legacy through stewardship and maintaining the Blackfoot worldview. His main profession is as an artist/illustrator with over 40 years of experience. His work is deeply rooted in the Blackfoot worldview, and he uses painting to teach. Along with his art, he devotes a lot of time to being an entrepreneur and an environmental and political activist, utilizing Blackfoot Ecological Knowledge and protocol.
Other areas of interest include food security and sovereignty, Blackfoot science and physics, watershed health and grassland restoration. Api'soomaahka has been involved in many spiritual, cultural events and activities and has always been an advocate for First Nations rights, knowledge and wellness.
He currently operates Naapi's Garden and Katoyiss Seed Bank and is a member of the Kainai Ecosystem Protection Association (KEPA) and the Oldman Watershed Council (OWC).
Details: Participants will be walking on less than 5 km of trail and are recommended to come prepared with the following: closed toes walking shoes, weather appropriate clothing (warm clothing if cold) and gear (umbrella if raining), and any necessary mediation (EpiPens or inhalers) or mobility aids. Washrooms will be available at the meeting location parking lot before and after the program. This hike is family friendly, and all ages are welcome but youth under the age of 18 need to be accompanied by a guardian. All hikes will be led by experienced and certified interpretive guides that aim to ensure the comfort and experience of all participants by mitigating the environmental hazards and offering first aid assistance if necessary.
Before arriving at the event, please fill out the following waiver form below and email it to sshade@cpaws.org, or print the waiver and bring a signed copy to the event.
Please meet at the Nose Hill/Winter Club Parking Lot (see map below)
4611 14 St NW, Calgary, AB T2K 1J7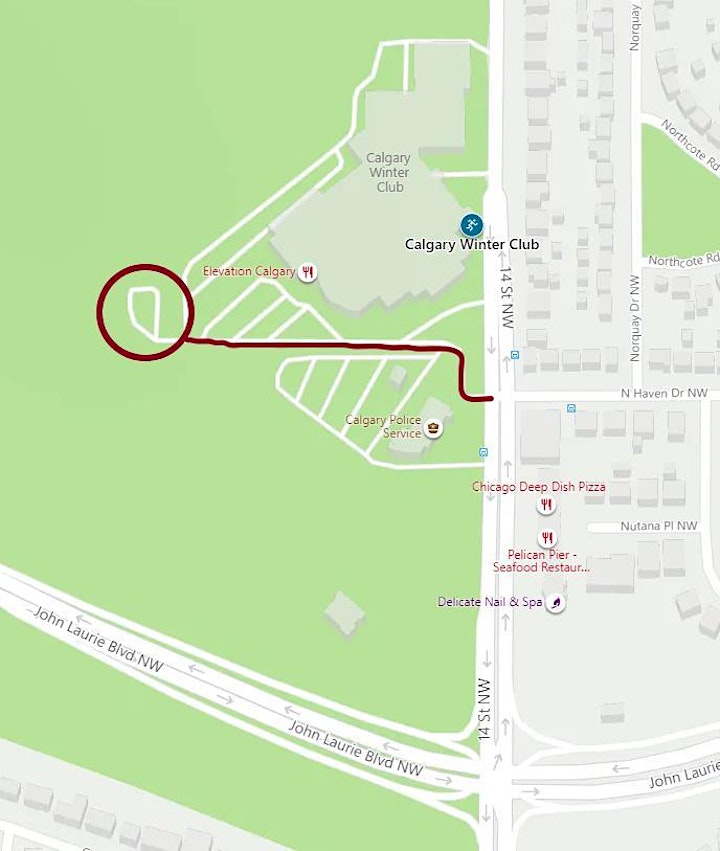 Organizer of Land-based learning in Mohkinstsis : An Indigenous-Led Nature Walk Series
CPAWS is Canada's voice for wilderness. Southern Alberta Chapter staff and volunteers have been champions of southern Alberta's wild places since 1967. Our goal is to provide landscape scale, science-based support and advice for the conservation and protection of Alberta's protected areas and wildlands.