Land-Based Youth Workshop: Food Sovereignty and Land Stewardship
Join Renfrew Collingwood Food Justice for a workshop about food justice and how to restore your local wildlife habitats!
About this event
Are you curious to know more about Indigenous food sovereignty and how to restore local wildlife habitats? If so, join us at the Norquay Community Food Forest on Saturday, July 3rd from 12-4 for the Jane Goodall Land-Based Workshop! Connect with Indigenous Knowledge keepers to learn more about land stewardship, traditional medicines, and food sovereignty while taking part in ecological restoration. This workshop will help you gain essential resume-building skills such as learning how to identify various native plant species, removing invasive plants, and developing your leadership capacity, all while making new friends in the process! Lunch and workshop materials will be provided at no cost to participants.
This workshop is a youth-oriented event intended for youth aged 14-18.
For any inquiries please contact: Food Justice Intern, Stef Urloiu (pronouns: she/they), email: communitydevelopment@cnh.bc.ca, (working days: Mondays ,Tuesdays, Wednesdays, and Thursdays).
COVID-19 Safety:
Due to COVID-19 we will contact all registered participants a few hours before the event to do a preliminary screening. Each event will begin with a reminder of COVID safe guidelines for community members. Masks are mandatory. There will be hand sanitizer and disinfectant on site for shared items.
About the Space:
The Norquay Community Food Forest was conceived as a learning space by local residents and neighbourhood associations that would demonstrate regenerative, organic and innovative growing methods. It is a native plant food forest that integrates permaculture design, and the traditional ecological knowledge of Indigenous communities.
Hosted by:
Renfrew Collingwood Food Justice is a working group based out of the Community Development department at Collingwood Neighbourhood House. We promote equitable access, intercultural learning and community leadership around sustainable growing, local food, food security, diverse food traditions, and healthy eating in the Renfrew-Collingwood neighbourhood. We believe that food is a human right and help bring neighbours together to find solutions to issues like hunger, isolation, and racism in our community.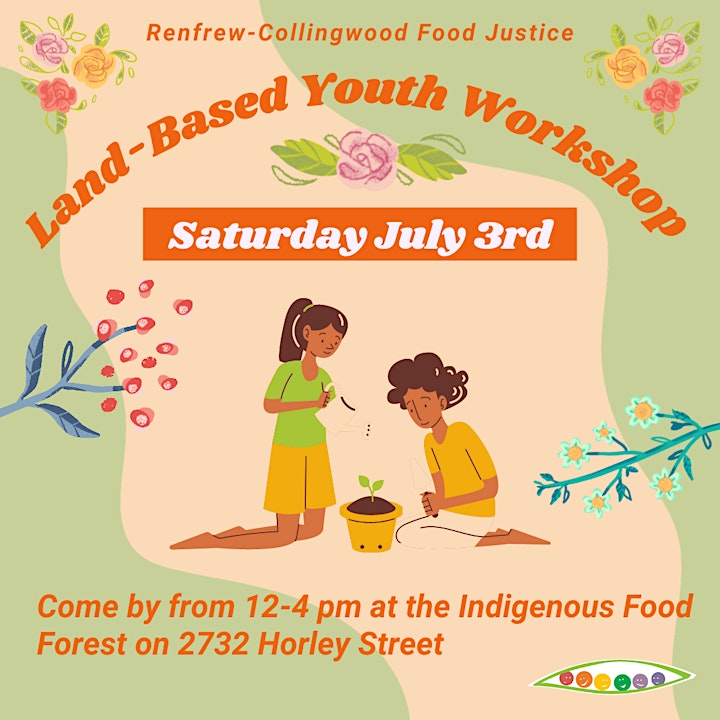 Organizer of Land-Based Youth Workshop: Food Sovereignty and Land Stewardship