Sales Have Ended
Registrations are closed
Thank you for registering!
Sales Have Ended
Registrations are closed
Thank you for registering!
The Law Practice Program is hosting a conference on strong applications and interviewing, featuring speakers across the legal profession.
About this event
If you previously registered, please ensure you check your email address for a Zoom registration link. Should you have any questions, please email lpp@ryerson.ca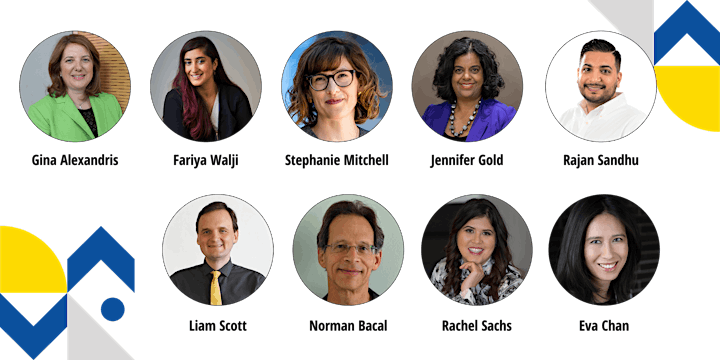 "Land Your Next Law Job" Conference, hosted by the Law Practice Program
AGENDA 
9:00 AM - 9:45 AM - Start the Conversation (Session #1)
Speakers: Gina Alexandris and Fariya Walji 
This interactive session will explore how to define success, reflect on your strengths and weaknesses, and identify the right career opportunity for you. We will also discuss how the employer perspective on hiring the right candidate is reflected in a job posting. Lastly, this session will consider how to create your own opportunity. 
9:45 - 10:45 AM - Land the Interview (Session #2)
Speakers: Stephanie C. Mitchell and Fariya Walji
This session will examine written application materials, and provide advice on point-first writing and how to best showcase your skills within a cover letter. There will be an interactive component, where we'll walk through a sample cover letter and resume, to identify common errors.
10:45 AM - 11:00 AM - Break
11:00 AM - 12:00 PM - Close the Deal (Session #3)
Panelists: Jennifer Gold (of Wood Gold LLP), Rajan Sandhu (Sheridan College), and Liam Scott (Ministry of Health, Ontario); Moderated by Fariya Walji 
This session will feature a panel of employers across the legal profession, who will identify employer expectations in an interview and provide advice on how to best prepare.
During the panel, we'll explore how to prepare for and effectively answer common (and challenging) interview questions, as well as the art of storytelling.
12:00 PM - 1:00 PM - Lunch
1:00 PM - 2:30 PM - Maintain the Momentum: Lightning Round (Session #4)
In this session, we will dive deeper with the audience into specific relevant themes that support ongoing professional career development. Four speakers (introduced by Gina Alexandris) will provide their top tips on the following topics:
1) The Benefits of Failure and Rejection - Speaker Norman Bacal
2) Networking, Outreach, and Finding Your Champions - Speaker Rachel Sachs
3) Leveraging Social Media for Your Legal Career - Speaker Eva Chan
4) Memorable Zoom Interviews - Speaker Stephanie C. Mitchell
2:30 PM - 2:45 PM: Future Forward (Closing Session) 
Speakers: Gina Alexandris and Fariya Walji 
2:45 PM - 3:45 PM – Virtual Networking Opportunity
A Zoom link will be provided to registrants shortly before the event. The agenda may be subject to change.
This conference contains a total of 3 hours and 30 minutes of Professionalism Content for Continuing Professional Development (CPD), accredited by the Law Society of Ontario.
Speakers:
Gina Alexandris
Fariya Walji
Stephanie C. Mitchell
Jennifer Gold
Rajan Sandhu
Liam Scott
Norman Bacal
Rachel Sachs
Eva Chan