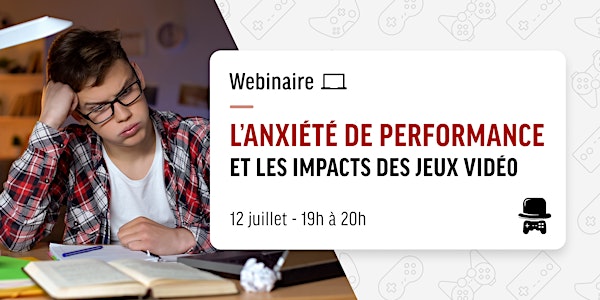 L'anxiété de performance et les impacts des jeux vidéo
.Quel est l'impact des jeux vidéos sur des jeunes pris avec l'anxiété de performance.
Refund Policy
Contact the organizer to request a refund.
Eventbrite's fee is nonrefundable.
About this event
Voici les sujets qui seront abordés lors de ce webinaire:
Introduction sur qu'est-ce que l'anxiété de performance
Ses impacts sur mon enfant : pensées, émotions, corporel
Les besoins que peut remplir le jeu vidéo dans la vie de mon enfant qui vit de l'anxiété de performance
Les impacts des jeux vidéos sur l'anxiété de performance chez mon jeune
Pistes de solutions et stratégies pour réduire les sources de stress
Travailler les attentes en trois étapes
Période de questions
**ACCÈS À LA REDIFFUSION SUR L'ACHAT D'UN BILLET**
À propos de Jean-Christophe Lagacé
Formations et Études
Détenteur d'un diplôme en éducation spécialisée.
Termine un BAC en éducation professionnelle et technique à UQAM.
Entretien Motivationnel
Cyberdépendance
Thérapie Cognitivo-Comportementale
Expérience Professionnelle
10 ans d'expérience
5 ans au CLSC de Saint-Hubert sur la Rive-Sud de Montréal
Spécialisé dans le service Familles avec des jeunes de 12 à 17 ans,
Suivi individuel ou coaching parental avec les familles.
Expérience en commission scolaire avec la DPJ
Remplaçant au Cegep Sorel-Tracy pour des cours en AEC.
Faites vite, les places sont limitées!!