Lanzamiento del libro - Book Launch party - "Quebrando Barreras" vol.2 -
Event Information
Refund Policy
Refunds up to 1 day before event
About this Event
Including the stories of 12 Authors who are Co-Authors in the book, "Quebrando Barreras" vol. 2 - "The opportunity to transcend in the mist of crisis"
Incluye las historias de 12 Co-Autores "Quebrando Barreras" vol. 2 - La oportunidad de trascender en medio de la crisis"
Lynne Herod-Deverges from/de USA, Mariana Santos from/de Argentina, Wilder Gomez from/de Peru, Ninela Sanchez from/de Venezuela, Oscar Delgado from/de Mexico, Lotus Riche from/de USA, Julia Pardo from/de Colombia, Andrea Mejia from/de Canada, Laura Vanegas from/de Colombia, Bibiana Tobon from/de Colombia, Shirley Polanco from/de Colombia, Havana Corona from/de Mexico.
Real stories of deception, triumphs, losses & empowerment.
Historias reales de decepción, triunfos, perdidas y empoderamiento.
All the Co-Authors have something in common, they are all entrepreneurs, they went from adversities to victories.
Todos los Co-Autores tienen algo en común son emprendedores de la adversidad a victorias.
Come to join us to listen and be part of this excited family who wants to give you words of wisdom, freedom and love for life.
Ven y escucha estas historias, ven a ser parte the esta maravillosa familia con palabras de sabiduría, libertad, amor y vida.
Meeting will be broadcasted in Spanish & English speaking & interpretation as well.
Reunión sera transmitida en las dos lenguas Espanol e Inglés.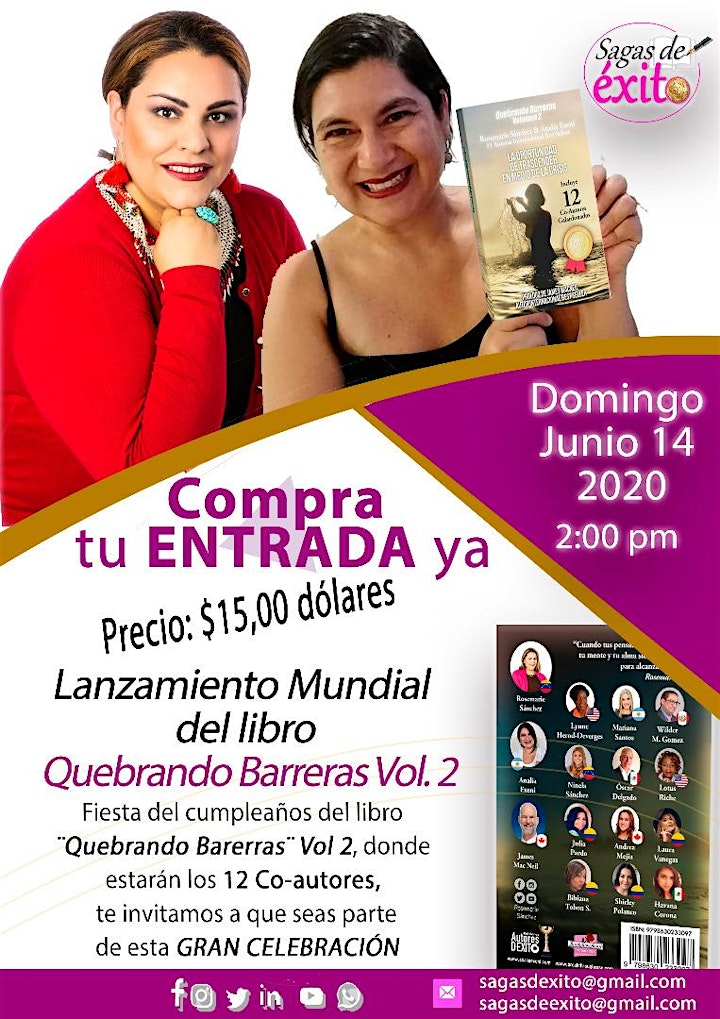 Date and Time
Location
Refund Policy
Refunds up to 1 day before event