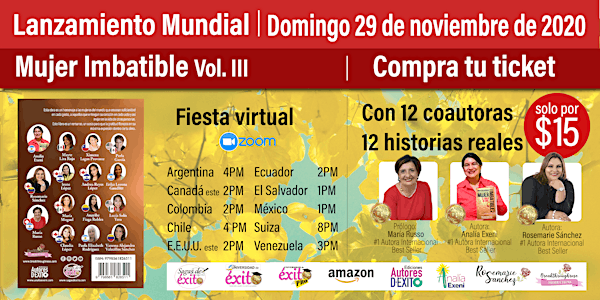 Lanzamiento mundial del libro, Mujer Imbatible vol. III "El poder de Dar"
Te invitamos a la Fiesta Virtual en honor al lanzamiento del maravilloso libro _ MUJER IMBATIBLE_ Vol.III Domingo, 29 de noviembre 2020.
Refund Policy
Contact the organizer to request a refund.
About this event
Comparte una increible experiencia en esta fiesta virtual junto a sus Autoras # 1 Internacionales Best Seller, Analía Exeni y Rosemarie Sánchez. Este libro tiene por prólogo a María Russo quien es igualmente Autora #1 Internacional Best Seller.
Son 12 Autores galardonados por Autores de Éxito Award llevandolos al máximo potencial a ser Autores #1 Internacionales Best Sellers con Sagas de Éxito.
Ellas te deleitaran con sus historias de vida y te enseñaran como estas Mujeres Imbatible con "El poder de Dar" han transformado sus vidas ✨✨
- Mayte Lira Rojo 🇲🇽
- Ximena Lagos Provoste 🇨🇱
- Perla Garcia 🇺🇸🇲🇽
- Irene López 🇨🇦🇸🇻
- Andrea Reyes López 🇨🇦🇸🇻
- Erika Lorena Gauditz 🇦🇷
- Maria Morel 🇨🇦🇲🇽
- Anayibe Figa Robles 🇨🇴
- Lucia Solis Yera 🇲🇽🇺🇸
- Claudia López 🇨🇦🇸🇻
- Paola Elizabeth Rodriguez 🇦🇷
- Vanessa Alejandra Valecillos Sanchez 🇻🇪
Te esperamos, habrá rifas, mucha emoción e igualmente un tiempo inolvidable que compartir.