Event Information
Refund Policy
Contact the organizer to request a refund.
Eventbrite's fee is nonrefundable.
About this Event
: MIGRATION :
Dive head first into The Squigley Duck's universe for Lapa's Toronto debut at the incredibly intimate Last Planet HQ
Saturday Nov 30 2019
:MIGRATION: - Lapa (Portland, USA)
Last Planet HQ
Toronto, Ontario
10pm - 3
**Please Respect the neighbourhood and keep quiet when arriving and smoking**
***Please Respect Last Planet for hosting us in their HQ, Treat it like your home***
****Last Planet HQ is a cannabis friendly environment so bring some of that fresh Harvest with you to share****
Featuring:
Lapa – (Portland Oregon, USA)
Migrating to Toronto from Portland, Lapa is synonymous to a musical adventure and experience that blurs borders and transcends boundaries, illuminating the resonance of universal forces and teleporting people to wild, dream- like places of serenity and connection.
The music creation is spearheaded by Ilya Goldberg, who is a producer and multi- instrumentalist. With a synthesis of analog, digital and found sounds, blending physical and virtual worlds, and with rooted support by Drummer/instrumentalist Brandon Warren, Lapa's music presents a diverse and captivating collection of sounds from around the world.
You may recognize Lapa's sound from his extensive list of contributions to Emancipator, and Random Rab both live and in the studio. This is going to be an incredible intimate performance of live Violin, production and mixing for Lapa's Toronto debut, 1 month before he plays 2 sets at Resonance alongside legends like Tipper, Tycho, CharlestheFirst, & The Polish Ambassador.
Skank Honto - (Toronto)
As a DJ with over 15 years in the game pushing funky beats and breaks to the masses, Skank Honto controls the dancefloor with the programming skills for any timeslot or atmosphere. As a mainstay within the Toronto ghetto funk and breaks scene, his sets will flow between tempos and genres while keeping the party vibes firmly intact with the funkiest of party jams and crisp broken beats.
2018 marked a return to the production studio, which resulted in his remix of House of David Gang becoming available alongside remixes by DJ Maars, Dephicit, and Synapps on Beatport. This was followed up by a couple of subsequent releases, including "My People Get Down" which hit #4 on the Hypeddit Breaks charts.
Milu - (Toronto)
As an organizer of Night Shift Milu might not need an introduction but he is an incredible producer/ dj that always deserves a second look (or listen). Milu creates psychedelic soundscapes that are hard to pigeon hole into any certain genre, the only thing certain about a Milu set is your going to dance, and it's going to be fun.
Ankle Mix (Toronto)
• - - ♥ - - • • - - ∞ - - •
• Audio for the Ankle •
• - - ∞ - - • • - - ♥ - - •
• Meditation for the MiX •
• - - ♥ - - • • - - ∞ - - •
Born in the caves of Yemen along the coast of the Red Sea and raised by a nomadic flock of technicolour Pelicans, Ankle MiX is a child in time.
+ + + +
Listening across flattened horizons, time perceptions are widened to tap into influences of past, present and future. The MiX is sure to include an eclectic assortment of classically futuristic & locally imported treats served with a seriously silly attitude and a deep reverence for a smooth blend in accordance with the law of the one and only cosmic groove .
+ + + +
Always collecting, always adapting, always evolving, always loving all ways . . . inspire him.
Visuals By: Vessel
~The Squigley Duck~
The Squigley Duck is your funky feathered friend, a wise quacker groovin on a sound wave. Our host for the evening is a far out flyer and tailspins his parties with a focus on artistic design and stanky bass lines. Get yourself fully immersed in the Squigley Duck's Youniverse.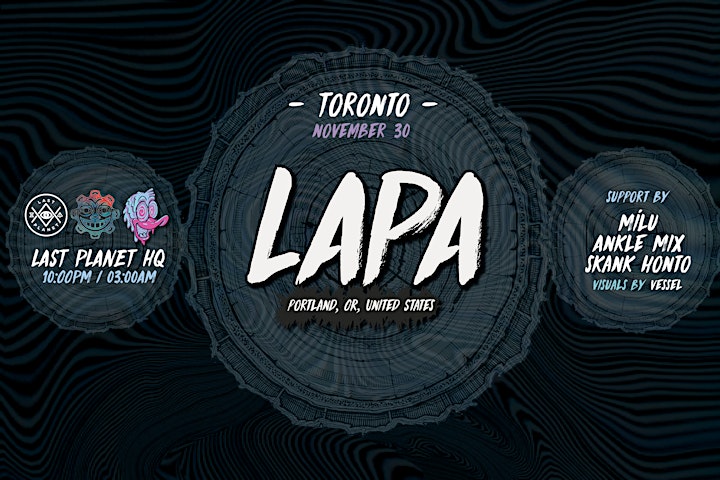 Date and Time
Refund Policy
Contact the organizer to request a refund.
Eventbrite's fee is nonrefundable.