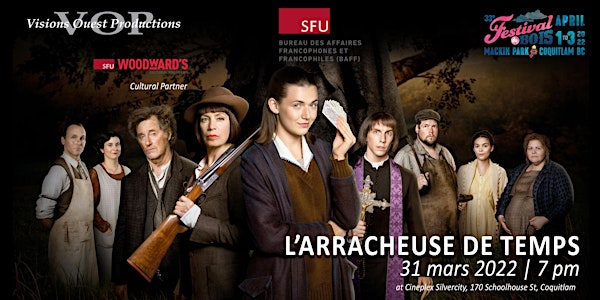 L'ARRACHEUSE DE TEMPS at Rendez-vous Film Fest/PDLF2022/Festival du Bois
Location
Cineplex Silvercity Coquitlam
170 Schollhouse st
Coquitlam, BC V3K 6V6
Canada
Le film L'Arracheuse de temps at Rendez-vous French Film Festival, Printemps de la Francophonie et Festival du Bois 2022
About this event
Thursday, March 31st at 7 pm, at Cineplex Silvercity, 170 Schoolhouse St, Coquitlam,
Visions Ouest Productions, le Bureau des affaires francophones et francophiles de l'université Simon Fraser (SFU-BAFF) et la Société francophone de Maillardville présentent L'ARRACHEUSE DE TEMPS
A film by Francis Leclerc, Québec, 2021, 114 min, avec Céline Bonnier, Jade Charbonneau, Michèle Deslauriers, Émile Proulx-Cloutier, Pier-Luc Funk, Marc Messier, Guillaume Cyr, Geneviève Schmidt.
Synopsis: Usée par la maladie, la vieille conteuse Bernadette tente de rassurer son petit-fils Fred que la Mort n'existe plus. Son récit fera revivre les personnages extraordinaires du village de Saint-Élie-de-Caxton en 1927 : le barbier Méo qui décoiffe son monde, Toussaint le marchand qui compte ses cennes au désespoir de sa femme Jeannette, la belle Lurette, fille du forgeron Riopel, qui étire son enfance jusqu'à 20 ans, Madame Gélinas qui élève ses 472 enfants, le curé neuf qui n'est pas vieux, La Stroop qui nourrit les rumeurs de sorcière à son sujet et Bernadette qui a l'âge de tous les possibles. Une nuit, un éclair s'en prend au pommier de l'église dont la cloche sonne un coup de mauvais augure. La Mort a-t-elle décidé de s'offrir un buffet d'âmes? Dorénavant, la fin de la vie coïncide avec la naissance des légendes.
Synopsis: In 1988, in Saint-Élie-de-Caxton, an eleven years old boy is worried for his grandmother's life. Worn out by illness, the old storyteller tries to convince her grandson that the Death no longer exists. Her story will bring back to life the extraordinary people from the village in 1927 who, by using rocambolesque tricks, will eliminate the Death that threatens them. From now on, death will coincide with the birth of legends.
In French with E. subtitles.
***
Visions Ouest Productions presents the 28th Edition of RENDEZ-VOUS FRENCH FILM FESTIVAL, with live events & online programs, from Feb 18th to March 31st, 2022.
***
The reservations must be done online. A confirmation email will be sent.
Please arrive 15 to 25 minutes prior to the screening, bring a photo ID and proof of Covid-19 vaccinations, as requested by provincial regulations.
***
#RVCQF2022 :
VIRTUAL CINEMA: https://watch.eventive.org/rendezvousfrenchfilmfestival
Les 28e Rendez-vous du cinéma québécois et francophone / Rendez-vous French Film Festival will show more than 50 films online on Eventive and on the big screen, as SFU Woodward's (Feb. 18-20), Silvercity Coquitlam and others locations to be announced.
Nous remercions notre partenaire culturel SFU Woodward's, ainsi que l'Alliance française de Vancouver qui est partenaire des projections de VOP en 2021-2022.
Pour le film L'ARRACHEUSE DE TEMPS, nous remercions le Bureau des affaires francophones et francophiles (Le Printemps de la francophonie - pdlf2022) et la Société francophone de Maillardville (Le Festival du Bois).
*****************************************************************************
PRINTEMPS DE LA FRANCOPHONIE (#PDLF2022) du SFU-BAFF:
Du 28 février au 31 mars prochain, vous êtes invité à participer gratuitement à une vingtaine d'activités culturelles, académiques et professionnelles. Informations: https://www.sfu.ca/baff-offa/fr/nouvelles-et-evenements/evenements/PDLF.html
Deux autres films sont présentés par VOP dans le printemps de la francophonie 2022:
5 mars - 19 h00 au SFU Woodward's : ILLUSIONS PERDUES
29 mars - 19h00 au SFU Woodward's : LA FINE FLEUR
******************************************************************************
FESTIVAL DU BOIS 2022:
Nous sommes de retour! Et nous avons hâte de vous accueillir chez nous, au Parc Mackin, LES 1ER-2 & 3 AVRIL 2022!
The 33rd edition of Festival du Bois returns live to Mackin Park in Coquitlam for a weekend of brilliant folk, roots, global and Québécois music from French Canada and beyond. After a highly successful online event in 2021, in-person audiences can expect an enthusiastic"welcome back"for concerts and more in the Grand Chapiteau (big tent) and other venues in Mackin Park, Coquitlam. Not only does the festival present some of Canada's finest music artists at a very affordable ticket price, it offers engaging entertainment especially for kids and families, on-site performers, workshops, fabulous food, a market area, and a wealth of bon esprits.
Tous les détails sur : https://www.festivaldubois.ca/fr/
« Au récit, Fred Pellerin est au sommet de son art dans les dialogues et monologues, comme lorsque le forgeron Riopel, père à la tête d'une famille monoparentale, décline ses gestes de père aimant à sa fille Belle Lurette. » (LaPresse)
***
« D'un spectacle à l'autre, le constat est resté le même : foisonnant à souhait, l'univers du conteur Fred Pellerin offre un fabuleux terrain de jeux pour l'imaginaire. Le réalisateur Francis Leclerc s'en est donné à cœur joie en portant à l'écran L'arracheuse de temps. » (LeSoleil)