LAS VEGAS ROCKTOBER 2022 MAIN NIGHT EVENT - See further below for all the details!
About this event
ROCKTOBER 2022 MAIN NIGHT EVENT
DATE: Saturday, Oct 15th from 7-10pm
(Note: there is an "after party" event too!)
WHAT: Rocktober 2022 Meetup and Party for anyone that loves Las Vegas including YouTubers, Subscribers and Locals :)
TIME: The event will start at 7pm but you can come anytime between 7-10pm
WHERE: A private indoor/outdoor Sky Lounge with views of the Vegas strip, exclusively for our group and not open to the general public. It is located inside a high end building on Paradise Road (very close to the strip). The exact address will be on your ticket purchase.
COST: $25 per person - This includes your guaranteed spot for the night as there is limited capacity and will include some complimentary light snacks, water and drinks, including vodka and malibu rum alcohol, cost of the venue rental and all taxes and fees.
There is no waiting in line, everyone that buys a ticket in advance will be guaranteed a spot to this private venue (it is unlikely there will be any tickets left to purchase that night). There is plenty of space to mingle/visit with seating, as well as pool tables, ping pong, foosball,shuffleboard, old school video game machines and a few poker tables for those that are interested. We will also be having a few giveaways & a few other fun surprises throughout the night ;)
At the end of the sky lounge event after 10pm, any of those that want to continue the night of fun can join us at Champagnes lounge on St Maryland Parkway for karaoke. There is no cover charge and drinks will be at your own cost. Limited seating available there, first come, first serve.
You are responsible for your own transportation all night - approx ride for an Uber or cab to the event from the stip will be $10 - Please drink responsibly - don't drink and drive. The hosts & venue are not liable for any incident that occurs. Lots of free parking is also available at the venue.
NOTE: You can also bring any additional alcohol or drinks of your choice to the venue. NO smoking inside the sky lounge please (there will be a designated smoking area by parking). No dress code - whatever you feel like that night :)
We (Vegas Best Ideas) will be filming a Livestream from inside the sky lounge for the "couch crew" watching from home - If anyone else is interested in livestreaming that night, please let us know. And we encourage you to take pictures and film videos/vlogs during the night for your YouTube channel &/or social media accounts.
There are limited tickets available - book now to guarantee your spot, they will sell out fast!
Please contact Vegas Best Ideas directly online via social media or on our website if you have any questions.
Thanks and we hope you can join us at Rocktober!
Tamara & Gord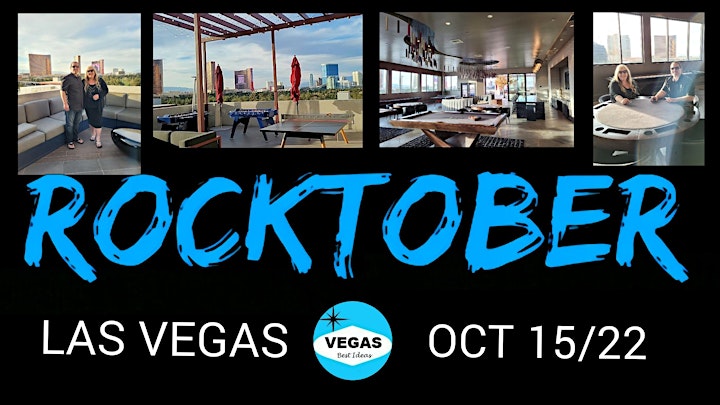 Date and time
Refund policy