Welcome to Last Aid! An International Movement educating communities about palliative and end-of-life care.
About this event
The purpose is to, create awareness, normalize conversations and share tips to empower people to prepare for and navigate grief, dying and death. In four modules we explore:
1) Dying as a normal part of life
2) Planning ahead
3) Relieving suffering
4) Final Goodbyes
Our hope is that you will leave with increased capacity and better understanding of how we all have a role to play in life and at end of life. May you continue to seek knowledge, guidance and support always! Please note, this course is not recorded, so we encourage everyone that registers to attend virtually.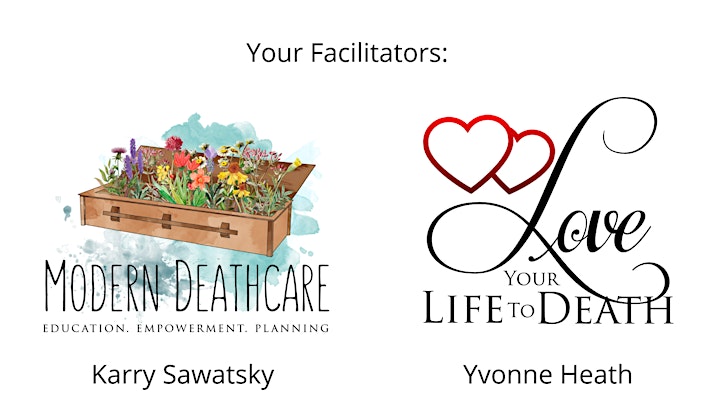 Your facilitators are:
Karry Sawatsky:
Death Doula, Death Educator and Founder of moderndeathcare.ca
Yvonne Heath:
Registered Nurse, Speaker and Founder of Love Your Life to Death
More about Last Aid
Due to demographic changes, the need for palliative care in the community and at home is expected to rise in the coming years. The care that is given by family members and general practitioners plays a vital role in basic. Knowledge in palliative care is very limited or totally absent in many communities and teaching non-professionals in basic palliative care is sparse.
Last Aid courses align with the compassionate communities movement and are well-suited to inform the public about palliative care and end-of-life care. This is critically important to ensure that we are building the public's capacity to care for one another at the end of life.
The sessions offer beginner-friendly, accessible sessions run by two trained facilitators who will engage participants and encourage more open discussion of palliative care approaches. By discussing these topics more openly at home and in their social circles we hope to normalize death and dying conversations and provide a stronger understanding and appreciation of what hospice palliative is, as well as what it is not. This broader awareness will provide more options for individuals to consider when faced with a life limiting illness.