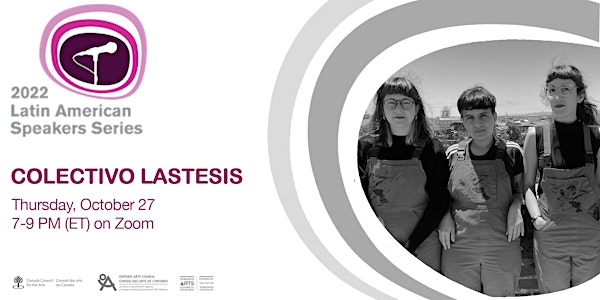 LASTESIS: Practices for Feminist Resistance
The Latin American Speakers Series Presents: Colectivo LASTESIS
About this event
Programming:
Thursday, October 27, 2022, 7PM EST via Zoom
Join us Thursday, October 27, 2022, for a special lecture with the art collective Colectivo LASTESIS.
In November 2019, the Chilean feminist artist collective LASTESIS presented A Rapist in Your Path, a participatory protest performance which sparked a wave of responses around the world, with women taking over squares to condemn patriarchal violence. The impact was such that their voices resonated in every language. Colectivo LASTESIS will talk about their artistic collaboration, their inspirations, struggles, and experiences.
ABOUT THE SPEAKER
COLECTIVO LASTESIS is an artistic, interdisciplinary, and feminist collective from Valparaíso, Chile, founded by Daffne Valdés Vargas, Paula Cometa Stange, Lea Cáceres Díaz, and Sibila Sotomayor Van Rysseghem. The collective is dedicated to spreading feminist theses and demands through performance and video performance, combining performance, sound, graphic and textile arts with history, philosophy, and social sciences. Their performances include Patriarchy and Capital is a Criminal Alliance (2018); The Rapist Is You (2020); RESISTANCE or the Vindication of a Collective Right (2021), The City of the Future alongside Delight Lab (2022) and the street performance A Rapist in Your Path, replicated in more than 50 countries worldwide. In addition, they have published several books, such as: Antología Feminista (Debate, 2021); Quemar el miedo (Planeta, 2021) translated into German (S. Fisher, 2021), Italian (Capovolte, 2022) and English (Verso, 2022); and About Wild Capitalism & its Patriarchal Performance in Our Lives (En Why Theatre? Golden Book, NTGent, 2020); among others. The collective has also participated in multiple festivals, workshops, lectures, fairs, conferences, and feminist gatherings in Chile, Chile, Argentina, the United States, Sweden, Germany, Portugal, Switzerland, France, Spain, Netherlands, Belgium, and the United Kingdom. Colectivo LASTESIS has received multiple awards including the Jaime Castillo Velasco Award from the Chilean Human Rights Commission (2020); the Design of the Year Award in the digital category The Design Museum, UK (2020); and The TIME100: Most Influential People 2020.
ABOUT THE LATIN AMERICAN SPEAKER SERIES
The Latin American Speakers Series aims to contextualize contemporary art within Canada as well as enrich our understanding of the art from both the continent and the Diaspora through lectures, audio-visual presentations, group critiques with local artists, workshops and online interviews.
The Latin American Speakers Series is presented by Latin American Canadian Art Projects
ABOUT SUR GALLERY
Sur Gallery is Toronto's first gallery space dedicated to the exhibition and critical engagement of contemporary Latin American and Latinx art and is a project of LACAP.
For information contact:
416-654-7787
info@surgallery.ca
www.facebook.com/LACAPsurgallery
www.youtube.com/user/lacapcanada/videos
LACAP acknowledges the financial support of the Canada Council for the Arts; Ontario Arts Council; Toronto Arts Council; Canadian Heritage through Community Support, Multiculturalism, and Anti-Racism Initiatives Events component; The City of Toronto through section 37; and its sponsor Ready2Post.