Sales Have Ended
Registrations are closed
Thank you for registering to LATAM 101 "Expanding Canadian Businesses into Latin America Markets" For your information this session will be recorded and photographed. Any questions or comments please be free to send us a note to Contact@GoSouthConsulting.com
Sales Have Ended
Registrations are closed
Thank you for registering to LATAM 101 "Expanding Canadian Businesses into Latin America Markets" For your information this session will be recorded and photographed. Any questions or comments please be free to send us a note to Contact@GoSouthConsulting.com
Description
Startup Canada and Export Development Canada (EDC) have partnered to present the Adam Chowaniec Memorial Fund for Global Entrepreneurship. The Fund invests in high-impact initiatives that advance the prospects of Canada's globally-oriented, entrepreneur-led companies.
The Fund has been created in memory of Dr. Adam Chowaniec, former Chairman of the Startup Canada Board of Directors and board member of EDC. Chowaniec is known in Canada's tech community for his involvement in starting, growing, and selling more than a dozen companies. He was a champion of the grassroots entrepreneurship movement in Canada, and of high-growth export companies. He passed in February 2015 following a battle with cancer.
Go South! Consulting Inc. is presenting a training session at MaRS Discovery District to help your tech company to scale into the Latin American markets focusing in Pacific Alliance countries (Mexico, Colombia, Peru and Chile).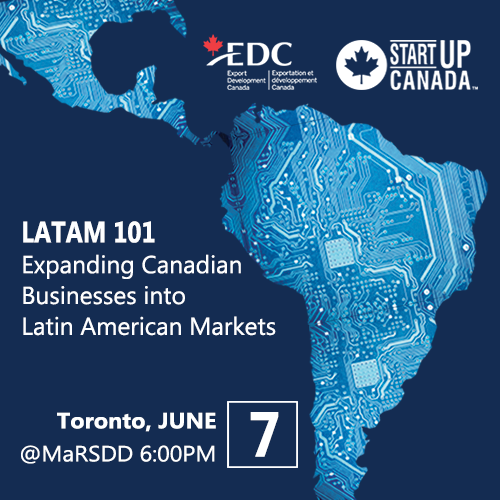 COMMUNITY PARTNERS: