Description
This exclusive event connects the Canadian and Latin American startup ecosystems. Top investors, public policy officials, and startups will come together for three days of speakers, panels, workshops, and tours.
On May 29th we start the conference with an amazing program full of valuable content for international startups, scaleups, investors and government representatives.
Followed the conference day, LatAm Startups has designed two startup ecosystem tours (Waterloo May 30th and Toronto May 31st) to visit the best business incubators and accelerators in the second largest tech corridor in the world! These tours proved extremely popular in 2017, and we expect them to sell out quickly.
A select group of startups from across Latin America will be invited to pitch at the Conference Day on May 29th.
TENTATIVE AGENDA
Tuesday May 29, 2018 (Conference Day)
MAIN ROOM
9:00AM Opening Remarks
9:15AM Keynote Interview
9:45AM Panel: Canadian & Latin American tech ecosystems
10:00AM Coffee Break
10:15AM Canada. From Startup to Scaleup presented by Sen Sashi, Director of Accelerator programs at DMZ Ryerson
10:45AM Mexico. Bridging Accelerator Programs through Pacific Alliance by Itzel Villa, National Director Entrepreneurship Programs and Funding at INADEM
11:15AM Brazil
11:45AM Chile
12:30PM Lunch
ROOM #1
1:30PM Pitch Competition Latin American startups
BREAK OUT SESSIONS
ROOM #1
2:00PM Fintech Panel
2:30PM Workshop: Blockchain and the application on new technologies
3:15PM Coffee break
3:30PM Clean-tech/Green-tech panel
4:00PM Workshop: Government grants and tax credits for tech companies
ROOM #2
2:00PM Artificial Intelligence panel
2:30PM Workshop: Startup Visa and softlanding programs Canada
3:15 PM Coffee Break
3:30PM Angel Investment Canada-LATAM Panel (Israel Ponds, CEO at Angels Nest Mexico)
4:00PM Workshop: Tech companies valuation and investment
6:00PM Cocktail Party

Wednesday May 30, 2018 (Startup Ecosystem Tour - Waterloo)
Communitech/Velocity
Accelerator Centre
Shopify
ClearPath Robotics
Thursday May 31, 2018 (Startup Ecosystem Tour - Toronto)
This tour is sponsored by DUKE Heights Business Improvement Area (BIA). The second largest business improvement area in North America and is one of the last significant employment areas in the City of Toronto with room for growth in manufacturing, retail, and office space.
YEDI
Northspace
CISCO
2:00PM Scotiabank Digital Factory (confirmed)
3:30PM DMZ (confirmed)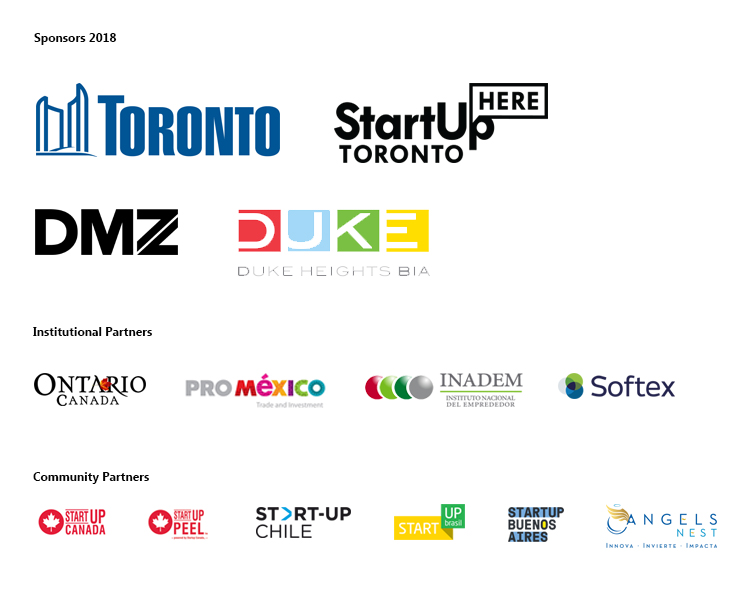 FAQs
How can I contact the organizer with any questions?
Please contact us through email Contact@LatAmStartups.org or use the hashtag #LatAmStartups to have a chat with us on twitter!
What's the refund policy?
We don't have refunds available for any type of tickets.
Do I have to bring my printed ticket to the event?
You don't need to print your ticket, we can locate you through our system. As a backup you can bring a confirmation of your purchase shown in your cellphone or tablet.
Is my registration fee or ticket transferrable?
Yes, in case you cannot attend the conference you can tranfer your ticket to any other person. To do so, please Contact@LatAmStartups.org
I think I may require a visa to travel to Canada. Is LatAm Startups providing an invitation letter?
Depends. First please make sure you actually need a visa, certain countries just need an eTA (i.e. Mexico, Chile and Brazil) This is a much simplier process you can do online with an answer sometimes in a matter of hours!
If you do require a visa, we're happy to send an invitation letter if you have purchased a ticket at least for the Conference Day. We don't send invitation letters for people attending just a workshop or a Startup Ecosystem Tours. Please consider the invitation letter doesn't guarantee a visa will be issued, this process is totally under the control of CIC and you must meet the requirements asked by the Government of Canada in order to obtain your visa.
Payments are not refundable in case the visa is denied, please review carefully your financial situation and obtain the right informatin before you apply for a visa process.