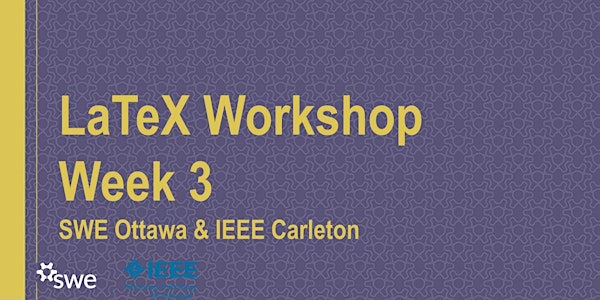 LaTeX Workshop Series - Week 3
This workshop will introduce the widely used and powerful document preparation tool LaTeX. This event will be hosted online and in-person.
By Society of Women Engineers Ottawa
When and where
Date and time
Wed, Feb 8, 2023 7:00 PM - 9:00 PM EST
Location
Minto Centre at Carleton University Minto Centre - Carleton University Room 6030 Ottawa, ON K1S Canada
About this event
Workshop Brief
This workshop will go into greater depth on the inner workings of LaTeX, and investigate using it outside of the overleaf environment.
It will also explore some of the many external tools that can complement LaTeX and facilitate the creation of high quality documents.
For this session there will be no live coding session, but all code shown will continue to be available for participants to review and use at the associated workshop github repo.
https://github.com/humdrumcomet/LaTeXinDifferentEnvironments
While this workshop will explore tools beyond Overleaf, any LaTeX code will continue to work in either Overleaf or any up-to-date LaTeX distribution. The choice is yours!
To participate in the live coding session, all you need is a laptop with internet access!
This workshop will be hosted online and in-person. Pizza will be provided at the in-person event.
Presenter
Aaron English is a PhD student in the Department of Electronics at Carleton University. While his research is primarily in fusion and energy technologies, he is enthusiastic about open source tools, reproducible research and literate programming, automation in high quality document preparation, and LaTeX's role in these spaces.

Schedule of the workshop series
Week 1: January 25, 2023
Week 2: February 1, 2023
Week 3: February 8, 2023
About the organizer
The Society of Women Engineers (SWE) is the world's largest advocate and catalyst for change for women in engineering and technology. SWE helps members reach their full potential as engineers and leaders through networking, professional development and the shaping of public policy. www.swe.org
SWE Ottawa has been a global affiliate of the Society of Women Engineers since February 2020. Our mandate is to promote the retention and advancement of all womxn engineers in the Ottawa area. Our events focus on connecting, networking and career development. Engineering professionals of all genders are welcome at SWE Ottawa events.
We pay respect to the Algonquin Anishnaabe people, on whose traditional and unceded territory we live and work.
La Society of Women Engineers (SWE) est la plus grande défenseur et catalyseur du changement pour les femmes en génie et en technologie. SWE aide les membres à atteindre leur plein potentiel comme ingénieurs et leaders grâce au réseautage, au développement professionnel et à l'élaboration de politiques publiques. www.swe.org
SWE à Ottawa est une filiale mondiale de la Society of Women Engineers depuis février 2020. Notre mandat est de promouvoir la rétention et l'avancement de toutes les femmes en génie dans la région d'Ottawa. Nos événements sont axés sur la connexion, le réseautage et le développement de carrière. Les professionnels de génie de tous les genres sont les bienvenus aux événements SWE à Ottawa.
Nous rendons hommage au peuple algonquin Anishnaabe, sur le territoire traditionnel et non cédé duquel nous vivons et travaillons.