Laugh Out the Year

Saturday, 12 December 2015 from 1:30 PM to 3:30 PM (PST)
Event Details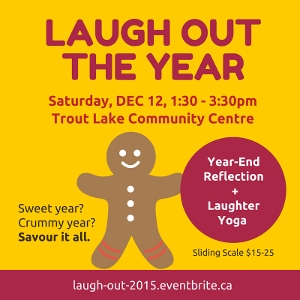 Whether you had a SWEET year or a CRUMMY year, come LAUGH IT OUT!
This will be a jam-packed 2 hour workshop:
Celebrate the highs of 2015
Learn from the lows of 2015
Full 1 hour laughter yoga session
End the year with a smile
Things to bring: 
Pen and paper for year-end reflections
Yoga mat or blanket to lay on
Suitable for all ages and abilities, so bring your friends and family!
Why laugh?
Laughter Yoga is a series of movement and breathing exercises designed to stimulate laughter and cultivate an inner spirit of joy. It is a technique that invites laughter without using jokes or humor. Laughter Yoga is a blend of yoga-based deep breathing, gentle stretching, simulated laughter exercises and playful games and activities. Laughter Yoga was created in 1995 by Dr. Madan Kataria, a family physician in India who wanted to find an alternative way of treating his patients, many of whom were suffering from illness related to stress.
Who you'll be laughing with: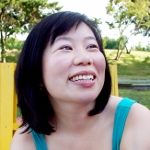 Crystal Lee is an Associate Certified Coach (ACC) and Certified Laughter Yoga Leader. Crystal coaches socially-purposed problem solvers tackling complex issues. She specializes in career transitions, work-life balance, team effectiveness, and shared leadership. Crystal is passionate about combining creative dialogue with playful engagement to inspire people.
Crystal has worked in non-profit, health care, government, research, education, and business. She has applied expertise in cross-sectoral collaboration, community building, and social innovation in the areas of homelessness, mental health, substance use, youth empowerment, and health care for immigrants.
Before training with The Coaches Training Institute (CTI), she received a Master of Public Health degree from the University of California, Los Angeles (UCLA).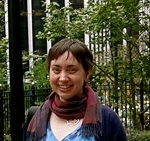 Amy Kiara Ruth is a kinesiologist and somatic movement educator. She has a special interest in working with individuals of various levels of ability to bring out their movement potential by supporting the emergent expression of health inherent in each individual.
Amy was introduced to Laugher Yoga in 2005 and immediately appreciated the benefits of increased playfulness and stress release. Since then, she became a certified Laughter Yoga Leader and offers a weekly Laughter class at Inspire Health Supportive Cancer Care Centre. Amy enjoys sharing Laughter Yoga - offering an opportunity to connect to our full range of embodied expression in such a playful way.
What people are saying:
"Thanks for organizing tonight's event. I really found it motivational and uplifting."
"Crystal's events are not like other meetups. She balances social and learning. And the way she shows up sets the tone for a welcoming and friendly space. We connect more deeply, build relationships, and actually make friends!"
"Your event was one of the most helpful things I've experienced!"
When & Where

Trout Lake Community Centre
3360 Victoria Drive
Vancouver, BC V5N 4M4
Canada

Saturday, 12 December 2015 from 1:30 PM to 3:30 PM (PST)
Add to my calendar
Organizer
Beyond Maybe is a learning & leadership development agency empowering individuals and teams to create social impact. Led by Associate Certified Coach, Crystal Lee (BSc, MPH, CPCC) in Vancouver, BC, Canada (Unceded Coast Salish Territories) since 2013.
beyondmaybe.com | @beyondmaybe | crystal@beyondmaybe.com