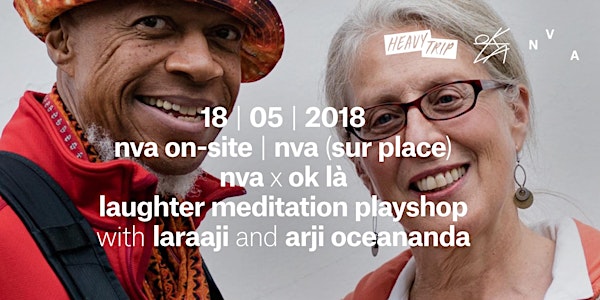 Laughter Meditation Playshop with LARAAJI + Arji OceAnanda
When and where
Date and time
Fri, May 18, 2018 7:00 PM - 8:00 PM EDT
Location
Centre Never Apart 7049 Rue Saint-Urbain Montréal, QC H2S 3H4 Canada
Description
NVA x OK Là present:
A playfully high and delightful educational exploration of our laughter as a medically-documented health therapy, as well as a way to reduce overall stress.
Heavy laughter as a cathartic release will be engaged in as a way to enter deeper states of relaxation and reconnect to our own Beautiful Inner Child.
Guided laughter'cises, gentle live sound/music, deep guided relaxation, and "serious" fun are just a few guarantees in this lively experiential playshop.
Duration 60 minutes. Starts right at 7pm.
This is an intimate and immersive event, there are only 40 spots. You must purchase a ticket via Eventbrite.
$10 / $15 / $20
[le français suit]
About Laraaji
Laraaji Nadabrahmananda is a meditator, laugh-master and cosmic musician who has performed worldwide with his specially designed electric zither—alongside many instruments such as the African Mbire, piano, synthesizers, hand drums, percussions, Tibetan gong, and voice.
He was trained in music composition the 1960s at Howard University (Washington DC), specialising in piano. An early collaboration with producer Brian Eno led to Laraaji's first internationally distributed recording "Ambient #3: Day of Radiance". This album was deemed one of the 50 best ambient albums of all time by Pitchfork. A long awaited retrospective of LARAAJI's solo and collaborative music performance recordings was released in 2013 by All Saint & Warp records entitled "Celestial Music 1978-2011."
In addition to concerts, for many years Laraaji has been an important contributor to healing Arts festivals and conferences as his 'beautiful Celestial sounds' create a warm and soothing atmosphere for both presenters and visitors. The Healing Sounds Intensive with Jonathan Goldman, the Life Spectrums Conference and the Freedom Healing Arts Festival are listed as his annual conferences.
A devotee of the late Shri Brahmananda Sarasvati, founder of the Ananda Ashram in Harriman, New York, Laraaji is the creator and facilitator of Laughter Meditation Workshops throughout the world; empowering workshops that acknowledge and honor the ability of our laughter to take us into deep relaxation and receptivity to meditation.
About Arji OceAnanda
Arjhiroula "Arji" Cakouros (OceAnanda) is a sound healer, musician, Reiki master and Dreamwork teacher based in Niskayuna, NY. Her personal commitment to supporting others in achieving radiant health is rooted in her ancestral Hellenic Asclepian and Pythagorean healing traditions. She has been assisting and collaborating with Sw. Laraaji Nadananda since 2008, offering Healing Sound events and Laughter Immersion experiences in many venues worldwide.
________________________________
NVA x OK Là présentent:
Une exploration ludique et amusante de notre rire en tant que thérapie de la santé médicalement documentée, ainsi qu'un moyen de réduire le stress.
Le rire intense comme une libération cathartique sera engagé comme un moyen d'entrer dans des états de relaxation plus profonds et de se reconnecter à notre Bel Enfant Intérieur.
Des rirexercices guidés, de la musique douce et vivante, de la relaxation profonde guidée et du plaisir «sérieux» ne sont que quelques-unes des garanties offertes dans cette atelier ludique et expérientiel.
Durée 60 minutes. Débute à 19h précises.
Cet évènement est intime et immersif, il n'y a que 40 places. Pour pouvoir assister à cet évènement, vous devez avoir un billet, disponible via le lien Eventbrite ci-dessus.
$10 / $15 / $20
À propos de Laraaji
Laraaji Nadabrahmananda est un adepte de la méditation, un maître du rire et un musicien cosmique qui a joué dans le monde entier avec sa cithare électrique spécialement conçue, aux côtés de nombreux instruments tels que le Mbire africain, le piano, les synthétiseurs, les percussions, le gong tibétain et la voix.
Il a reçu une formation en composition musicale dans les années 1960 à Howard University (Washington DC), spécialisé en piano. Une première collaboration avec le producteur Brian Eno a mené au premier enregistrement international de Laraaji «Ambient # 3: Day of Radiance». Cet album a été considéré comme l'un des 50 meilleurs albums ambient de tous les temps par Pitchfork. Une rétrospective tant attendue des enregistrements solo et collaboratifs de LARAAJI a été publiée en 2013 par All Saint & Warp Records intitulée «Celestial Music 1978-2011».
En plus des concerts, Laraaji contribue depuis de nombreuses années aux festivals et conférences sur les arts de la guérison, ses «beaux sons célestes» créant une atmosphère chaleureuse et apaisante pour les présentateurs et les visiteurs. The Healing Sounds Intensive avec Jonathan Goldman, la conférence Life Spectrums et le Freedom Healing Arts Festival sont répertoriés comme ses conférences annuelles.
Un dévot de feu Shri Brahmananda Sarasvati, fondateur de l'Ananda Ashram à Harriman, New York, Laraaji est le créateur et le facilitateur des Ateliers de Méditation du Rire à travers le monde; des ateliers valorisants qui reconnaissent et honorent la capacité de notre rire à nous emmener dans la relaxation profonde et vers la réceptivité à la méditation.
À propos d'Arji OceAnanda
Arjhiroula "Arji" Cakouros (OceAnanda) est une guérisseuse sonore, musicienne, maîtraisse du Reiki et professeur de Dreamwork basé à Niskayuna, NY. Son engagement personnel à aider les autres à atteindre une santé rayonnante est enraciné dans ses traditions de guérison ancestrales helléniques asclépiades et pythagoriciennes. Elle a aidé et collaboré avec Sw. Laraaji Nadananda depuis 2008, offrant des événements Healing Sound et des expériences Laughter Immersion dans bon nombre de lieux à travers le monde.
About the organizer
Never Apart is a non-profit organization in Montréal, QC, Canada, determined to bring about social change and spiritual awareness through cultural programming with global reach and impact.