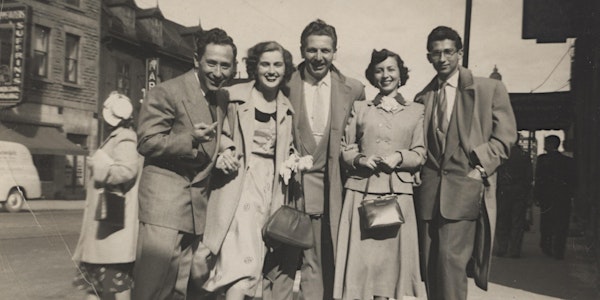 Launch for Refugee Boulevard: Making Montreal Home after the Holocaust
When and where
Location
Compagnie Marie Chouinard (Former Jewish Public Library) 4499 Avenue de l'Esplanade Montréal, QC H2W 1T2 Canada
Description
Please join us for the launch of Refugee Boulevard: Making Montreal Home after the Holocaust, a free downloadable audio walk and accompanying guide and website that tells the stories of child survivors who began to rebuild their lives in Montreal's Mile End / Plateau neighborhood in the postwar period.
Nous vous invitons à vous joindre à nous pour le lancement du Boulevard des Réfugiés : Être chez soi à Montréal après l'holocauste, une promenade audio téléchargeable et gratuite, ainsi qu'un guide d'accompagnement et un site web, qui racontent les récits des enfants survivants qui ont commencé à rebâtir leurs vies dans le quartier montréalais du Mile End / Plateau dans la période de l'après-guerre.
Funding and support provided by the Social Sciences and Humanities Research Council of Canada, Dawson College, Saint Paul University, the Montreal Holocaust Museum, and the Museum of Jewish Montreal.

Le financement et soutien ont été fournis par le Conseil de recherche en sciences humaines du Canada, Dawson College, Université Saint-Paul, le Musée de l'Holocauste Montréal, et le Musée de Montréal juif.