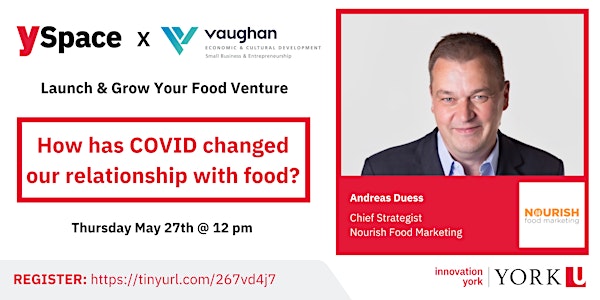 Launch & Grow Your Food Venture| How COVID Changed Relationships with Food
How has COVID changed our relationship with food?
About this event
Launch & Grow Your Food Venture presented by Innovation York & Vaughan Small Business & Entrepreneurship
The COVID Anniversary: Has One Year in a Pandemic Changed Our Relationship to Food Forever?
What has a year of pandemic done to our relationship with food?
In this workshop, we will explore which of our newly adapted behaviours will become permanent and what food and beverage businesses – from producers to retailers to foodservice – should do to profit in the new normal.
What questions should you be asking yourself and what are the answers? Join us to find out.
This workshop is brought to you in partnership with YSpace's York Region Food Accelerator. YSpace is home to one of the first of its kind in the GTA food accelerator program, and is a partnership with YSpace, The Regional Municipality of York Region and the Canadian Agricultural Partnership, a federal-provincial-territorial initiative. YSpace Food Accelerator helps promising food and beverage consumer-packaged goods (CPG) ventures build their strategy, grow their network and scale their business.
ABOUT THE SPEAKER
Andreas Duess, Chief Strategist
"Andreas Duess is one of the founders of Nourish Food Marketing, Canada's only full-service marketing agency that specializes in working with food and beverage manufacturers. From Redpath Sugar to Loblaws, from Maple Leaf Meats to Mc Cormick spices, Nourish works with some of Canada's best-known food and beverage brands.
Within Nourish, Andreas runs Nourish Nurture, supporting food and beverage startups on their journey to success. In 2021 during a global pandemic, Nourish Nurture has helped launch a new bakery, supported a restaurant commercializing their cooking sauces for retail, and introduced a brand of hydrogen water and a gluten-free business introducing Brazilian cheese puffs into the Canadian market.
Organizer of Launch & Grow Your Food Venture| How COVID Changed Relationships with Food
The Small Business and Entrepreneurship Team has the business expertise you need!

The City of Vaughan's Small Business and Entrepreneurship (SBE) office is located at Vaughan City Hall in the Economic Development and Cultural Development Department. During the COVID-19 pandemic, our Small Business & Entrepreneurship team continues to offer one-on-one consultation services via tele or videoconferencing.
Vaughan's SBE office offers information, resources, training and hands-on assistance. Entrepreneurs can access SBE services by booking one-on-one or group consultations, by phone or e-mail, or attending SBE business seminars and events.

SBE Services Include:
Business Consultation and Mentorship
Market Research, Intelligence and Business Information
Entrepreneurship Programs
Business Workshops, Seminars and Events
Contact us at ecd@vaughan.ca or 905-832-8526.