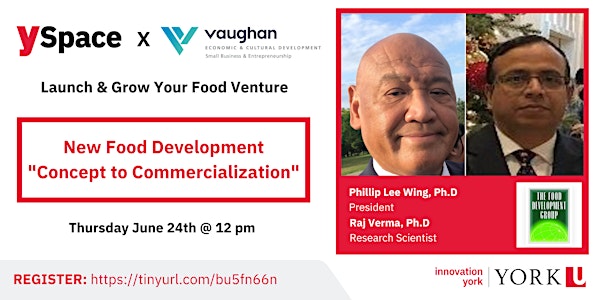 Launch & Grow Your Food Venture| New Food Development
Concept to Commercialization: Create products that will succeed in the marketplace
About this event
Launch & Grow Your Food Venture presented by Innovation York & Vaughan Small Business & Entrepreneurship
Whether beverages, to sauces to bakery, get the information you need on what is required for the development of food products starting from concept to commercialization. The latter portion of the presentation will be an interactive hands-on workshop on the steps involved in the development process.
Learn more about:
What is required prior to the development stage, during the development stage, and leading up to the finalization of the of the product
Nutritional information and label requirements
Sourcing of co-packers
Packaging
Product shelf life
This workshop will be followed by a Q&A period.
This workshop is brought to you in partnership with YSpace's York Region Food Accelerator. YSpace is home to one of the first of its kind in the GTA food accelerator program, and is a partnership with YSpace, The Regional Municipality of York Region and the Canadian Agricultural Partnership, a federal-provincial-territorial initiative. YSpace Food Accelerator helps promising food and beverage consumer-packaged goods (CPG) ventures build their strategy, grow their network and scale their business.
ABOUT THE SPEAKERS
Phillip Wang Lee, Ph.D, President
Phillip Lee Wing Ph.D. is the President of The Food Development Group located in Richmond Hill since 1996. The Food Development Group provides technical support to the food Industry with a fully equipped Product Development laboratory.
Phillip has been the Past President of the Canadian Institute of Food Science and Technology as well as the Past Chair of the Ontario section of the Baking Association of Canada. He manages the group through each stage of the projects and maintains a solid relationship with Industry and the clients.
Raj Verma, Research Scientist
Raj Verma is the Research Scientist at The Food Development Group. He has more than 20 years' experience in Dairy & Food Industry. Of which 10 years' experience in leading team for research & development, new product development, process improvement and delivering cost saving.
His expertise in application of dairy ingredients into various food categories including processed food products. He is also experienced in quality control, production, sanitation & product development of Dairy Products, Dairy-by Products, Beverage concentrates, BBQ sauces, Dips, Mayonnaise, alcoholic drinks, carbonated beverages, & spring water. With in-depth knowledge of HACCP, ISO, SQF and Lean manufacturing.
Organizer of Launch & Grow Your Food Venture| New Food Development
The Small Business and Entrepreneurship Team has the business expertise you need!

The City of Vaughan's Small Business and Entrepreneurship (SBE) office is located at Vaughan City Hall in the Economic Development and Cultural Development Department. During the COVID-19 pandemic, our Small Business & Entrepreneurship team continues to offer one-on-one consultation services via tele or videoconferencing.
Vaughan's SBE office offers information, resources, training and hands-on assistance. Entrepreneurs can access SBE services by booking one-on-one or group consultations, by phone or e-mail, or attending SBE business seminars and events.

SBE Services Include:
Business Consultation and Mentorship
Market Research, Intelligence and Business Information
Entrepreneurship Programs
Business Workshops, Seminars and Events
Contact us at ecd@vaughan.ca or 905-832-8526.