Description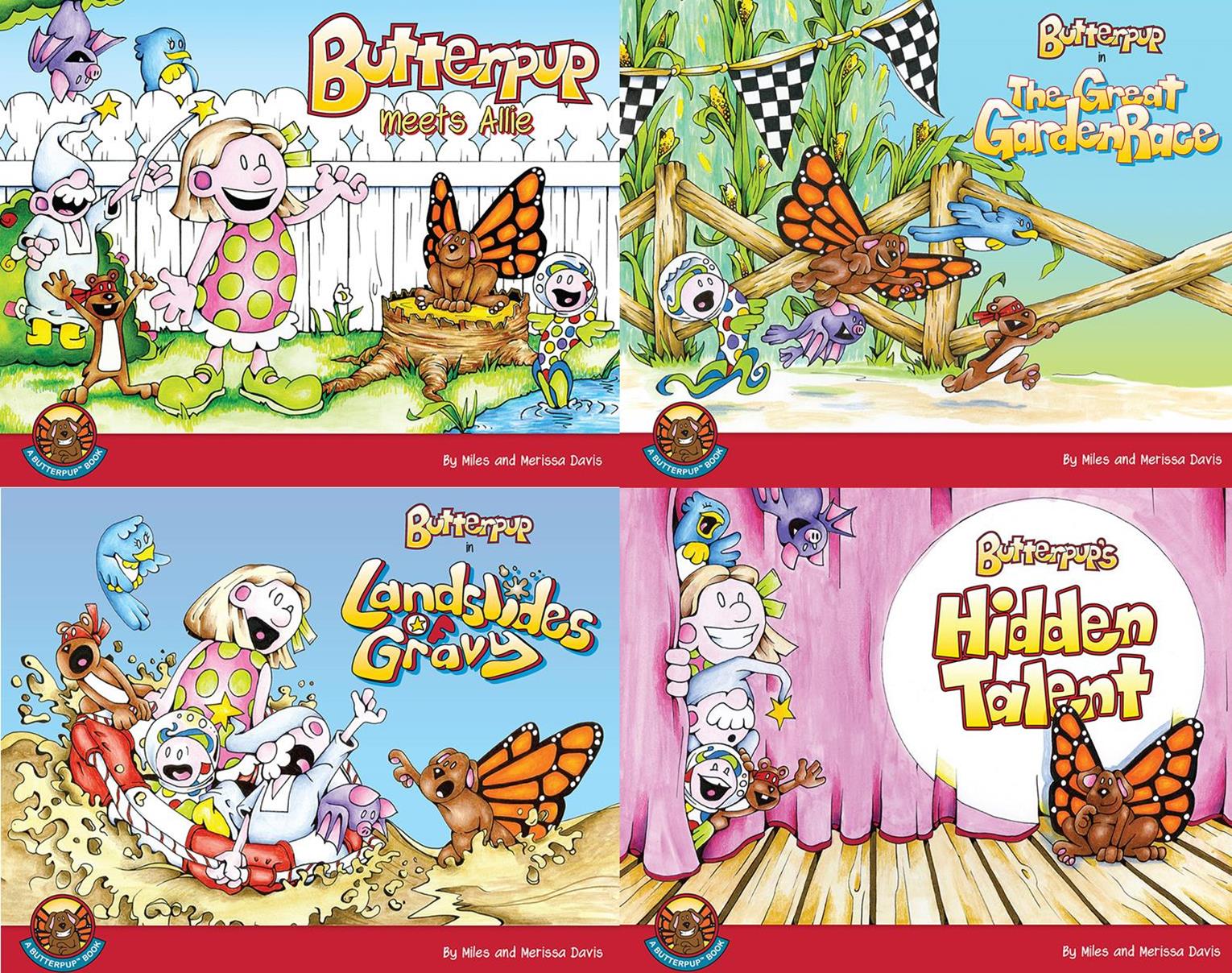 Promontory Press is pleased to announce the publication of the Butterpup & Friends children's book series. Written and illustrated by local couple Miles and Merissa Davis, the four picture books go on sale nationwide on Tuesday, June 20th.
In the four beautifully illustrated books, children are invited to experience the wonders of imagination, fascination, and creative play with Butterpup & Friends! Butterpup and the Backyard Buddies, a host of quirky outdoor characters, live in Grandma's garden. While on a visit with her grandmother, little Allie discovers the magical, imaginative world that is just outside her door. Butterpup, an adorable, pint-sized puppy with butterfly wings, along with his friends Ninja Chip, Splash, Bentley, Gigi, and Nod, show Allie just how fantastic and fun an afternoon at Grandma's can be. Across four fun and exciting stories, Butterpup and the Backyard Buddies uncover adventure and wonder, as they learn the importance and challenges of friendship, self-confidence, and healthy eating.
"Miles and Merissa Davis's beautifully illustrated Butterpup series presents imaginative and relevant stories sure to resonate with young children," says Dorothy Hawes, author of Ogopogo Odyssey.
"A fun and exciting book about taking chances and friendship," says author and artist Roz MacLean, winner of the Gold Medal at the 2016 Benjamin Franklin Awards for her ground-breaking The Body Book. "Butterpup and his friends help us learn that everyone is unique and has something special to give."
A lifelong artist, the award-winning Miles Davis has been a huge fan of picture books since childhood. Moving around in a military family, the Disney Golden Books, Berenstein Bears series, and Beatrix Potter's Peter Rabbit were among his favorites and constantly feeding his imagination. He is a board member of the South Cobb Arts Alliance and teaches youth illustration classes the Mable House Arts Center.
Merissa Davis grew up captivated by the creative arts. From a young age, she enjoyed crafting, music and technology. Her passion for the graphic arts drove her to earn a bachelors degree in fine arts, and she now serves as co-founder of three creative endeavors. Merissa celebrates free time by decorating cupcakes and exploring local parks with Miles and their pup Pica, source of much inspiration for the Butterpup series.
The Butterpup & Friends books are available for order at Amazon.com and at fine bookstores everywhere:
Butterpup Meets Allie ISBN 978-1-987857-73-3
Butterpup in Landslides of Gravy ISBN 978-1-987857-79-5
Butterpup in the Great Garden Race ISBN 978-1-987857-75-7
Butterpup's Hidden Talent ISBN 978-1-987857-77-1
The husband-wife duo are currently scheduling book readings and signings for the series. Inquiries should be directed to Merissa Davis at contact@butterpupandfriends.com.
Butterpup & friends™ is a children's character brand that focuses on teaching valuable life lessons in a fun and friendly atmosphere. The Smyrna-based company aims to strengthen young minds and bodies through imagination, outdoor exploration, and creative play.

For more information, please visit:
Website: www.butterpupandfriends.com
Facebook: butterpupandfriends
Instagram: butterpupandfriends
If you would like more information about this topic, or for images and photos, please call Merissa Davis at 404-642-2091 or email contact@butterpupandfriends.com.