3 Time Schedules of 15 guests each time. PLEASE SELECT YOUR PREFERRED TIME. Tea Tasting and Desserts 3:00 pm - 4:00 p.m; 4-5pm; 5-6pm
About this event
After over 50 years of diligent community service, on Saturday, September 25, 2021, I will be launching my Organic Gem*s Tea and Gem*Star Scholarship Fund to help disenfranchised children in Montreal and Grenada (the land of my birth) to attain higher education and aspire for excellence.
You are cordially invited to attend my private Tea Launch which will be held at Greenz Restaurant, 395 St. Jacques, Lachine, Quebec, from 3:00pm to 6:00pm. By Invitation Only!
Due to the Covid-19 pandemic, 3 time schedules will be available for 15 attendees at a time. You can select your time preference by September 15 and confirmation will be sent to you by September 19.
1) Free Tea Tasting & Desserts 3:00 p.m. to 4:00 p.m.
2) Free Tea Tasting & Desserts 4:00 p.m. to 5:00 p.m.
3) Free Tea Tasting & Desserts 5:00 p.m. to 6:00 p.m.
Please Note:
Attendees are required to show proof of full COVID-19 vaccination, and are to wear masks and maintain social distance.
Look forward to seeing you there.
Best personal regards
Gemma Raeburn-Baynes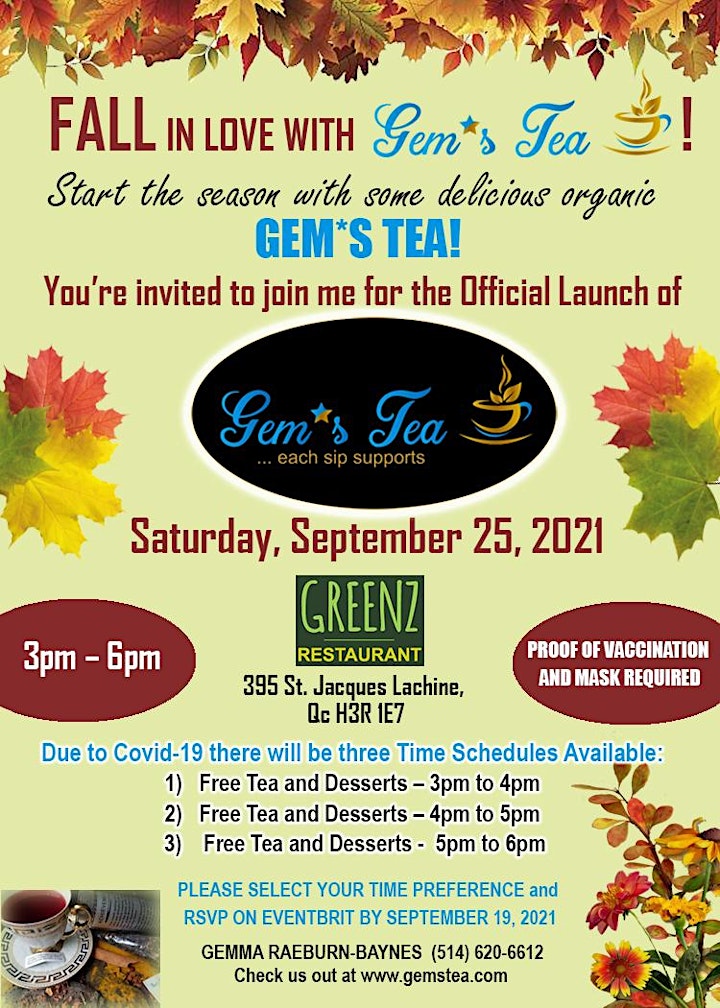 Organizer of Launch of Gems Tea
Playmas Montreal Cultural Association is a Quebec Chartered non-profit organizations founded in 2000 with the mission of promoting Diasporic Caribbean cultures through storytelling, literature, performing arts, fashion, music, food and entertainment to the  greater Montreal area. 
It has as its mandate to  promote multiculturalism through art, spoken word and performing arts while contributing to entrepreneurial multiculturalism. Playmas Montreal also brings a cultural balance to the fabric of Montreal.  It's mandate is also to promote the Caribbean culture in Canada and strength the cultural and social understandings for present and future generations of Black and Caribbean Canadians.