Description
The Business Climate Action Toolkit will help forward-thinking business leaders to adapt to the growing risks of climate change, while improving business performance in energy and greenhouse gas management.
Sustainable Hamilton Burlington, in partnership with the City of Hamilton is proud to announce the launch of their new Business Climate Action Toolkit (BCAT).
A step-by-step guide to efficient, climate-friendly business, the BCAT will explore the business case for sustainable operations, and practical tools for engaging stakeholders, implementing environmental solutions and reporting on achievements. The BCAT will be an online resource hub for a low-carbon & resilient economy, designed to equip businesses with sector-specific resources, practical tools, and support networks to facilitate strategic climate action.
Undertaken in partnership with the City of Hamilton, the BCAT was one of the ten priority actions identified in the Hamilton Community Climate Change Action Plan. BCAT Coordinator Mike Hager has conducted focus groups with stakeholders from various sectors such as Life Sciences, Construction, Accommodation, and Retail, to determine what resources would encourage and facilitate management of greenhouse gas sources. The results directed the development and procurement of those resources to make them available in this free, public online toolkit.
Join us to learn about the Toolkit, the how's and why's of it's creation, see a demonstration of it, and then see several of the principles in action in a tour of the Joyce Centre for Innovation and Partnership at Mohawk College.
Parking Note: parking is available at the Fennell Campus in any of the general parking areas (P5 - P9). Parking will cost $5 per hour, to a daily maximum of $16. As ever, transit and carpooling are encouraged!

Proposed Agenda:
8:30 am
- Registration / networking
9:00 am
- Welcoming remarks
- "Where did this idea come from?"
- "How did this project evolve?"
- Demonstration of the BCAT website
- Q & A and photos
10:15 am
- Tour of the Joyce Centre for Partnership & Innovation
Speakers:

- Mike Hager is the Project Coordinator for the Business Climate Action Toolkit. He joined the Sustainable Hamilton Burlington team in September 2017 and has also been involved in outreach and business development efforts. Mike received his Bachelor's degree in Environmental Studies through the Environment and Business program at the University of Waterloo.

- Andrea McDowell is a Project Manager, Air Quality and Climate Change in Public Health Services at the City of Hamilton. She graduated from the University of Waterloo with a Bachelor of Environmental Studies degree (Honours Co-Op) in 1999, and has worked in the private sector and for all three levels of government.
This event and the Business Climate Action Toolkit is presented in Partnership between SHB and the City of Hamilton

This event will be taking place at the Joyce Centre for Partnership and Innovation, a building with a net zero energy and emissions profile.
Thank you to the Centre for Climate Change at Mohawk College for their sponsorship of this event: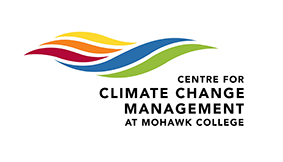 Thank you to our Organizational Sponsors: