Description
You are invited to join the City of Toronto, the Canadian Urban Institute, University of Toronto's School of Cities and the John H. Daniels Faculty of Architecture, Landscape, and Design for the launch of Toronto's first Resilience Strategy.
Toronto's Resilience Strategy builds on a wealth of existing and planned efforts to make Toronto more resilient. It delivers where there are gaps, brings a resilience lens to existing work, and intends to shape future plans coming to Toronto. This Strategy is meant to light a spark – to drive action at the City and from business, academia, non-profit organizations and residents to build a city where everyone can thrive.
Getting to the Event Venue: John H. Daniels Faculty of Architecture, Landscape, and Design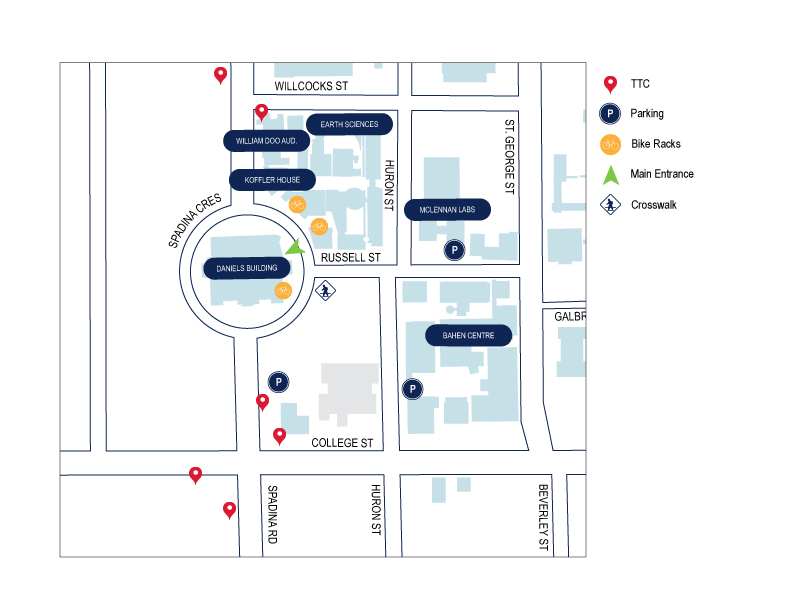 Event Schedule
8:30 am: Registration and Light Breakfast
9:00 am: Welcome and Call to Action.
9:30 am: Keynote: Elliott Cappell, Toronto's Chief Resilience Officer will speak to the development of the strategy, the key findings from the process and the need now to focus on implementation.
10:00 am: Break/Resilient TO Exhibition
This will be an opportunity for participants to view the Resilient TO Exhibition. The first floor hallway of One Spadina will feature an exhibition that supports the launch of the City of Toronto's First Resiliency Strategy. As part of the 100 Resilient Cities Network, the exhibition and launch of the Resilience Strategy is intended to be a celebration of Toronto's resilience as communicated by residents of the city, and the initiation of the work of implementing the Strategy. The exhibition reflects the strategy's 3 focus Areas within which all of its Actions are arranged: Resilient People and Neighbourhoods; Resilient Design and Infrastructure; and Leading a Resilient City. A particular focus will be given to resilient design and urbanism work from students and faculty from across the Daniels Faculty and the University of Toronto's School of Cities network.
10:30 am: Breakout Discussions
Participants will join breakout groups to discuss how to pivot towards implementing the strategy. Topics will include Climate Resilience and Neighbourhood Resilience.