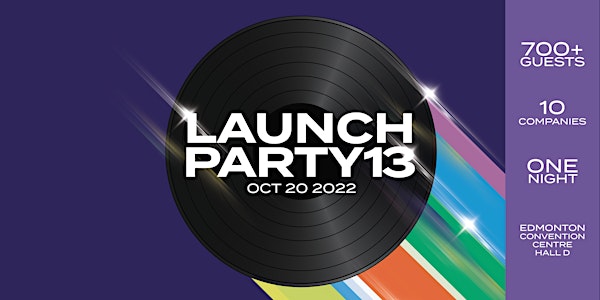 Launch Party 13
Join us for the 13th annual edition of Launch Party, a flagship startup event that celebrates & showcases the hottest startups in Edmonton.
When and where
Location
Edmonton Convention Centre - Hall D 9797 Jasper Avenue Edmonton, AB T5J 1N9 Canada
About this event
Launch Party allows you to meet our city's brightest entrepreneurs, try their products, and celebrate everything our innovation community has to offer. This isn't your typical networking event or trade show. It's a party designed to celebrate and showcase the rockstar entrepreneurs in our community. Drinks, DJs, and great company all await you at Launch Party!
Since 2010, over 100 innovative companies have launched products at the event, including rapidly growing teams like Jobber, Drivewyze, Poppy Barley, and Showbie.
Launch Party 13 is made possible thanks to the generous support of Parlee McLaws.
What's included in your ticket?
Free food all night long!
Incredible live entertainment, from amazing local YEG artists
Free entry into door prize draws, with dedicated prizes for startups, scaleups and students!
Students wishing to attend, please contact csawchuk@edmontonunlimited.com for access to free student tickets!
DOOR PRIZE ANNOUNCEMENT: Launch Party just got a whole lot more adventurous!
Thanks to our very generous Official Travel Sponsor, Flair Airlines, we will be raffling off:
2 ROUND TRIP Flights for 2 people!
*(4 tickets total)
Startup + scaleup companies, along with students, will be eligible to enter the draw when they attend Launch Party 13, October 20, 2022 at the Edmonton Convention Center. Winners must be at the event when the draw takes place, to win.
GET YOUR LAUNCH PARTY TICKETS TODAY!
What to expect
Doors open - 5:00 pm
Champagne and hors d'oeuvre reception - 5:30 - 6:30pm
Join us in celebrating Launch Party 11+12 companies, and catch up on where they are now
Live entertainment!
Signature Cocktails!
Launch Party - 6:30 - 10:30pm
Short Program
Launch Party 13 pitches
Party!
Edmonton Startup Week is produced by Edmonton Unlimited.
About Edmonton Unlimited: 
Headquartered in Alberta's capital city, Edmonton Unlimited leverages, unites and promotes home-grown innovation as a gateway to solving the world's most pressing problems. We harness the power of the private sector, ground-breaking academic research and purpose-driven investment to build a shared prosperity and open international markets. From sustainable climate solutions to public health and digital education, Edmonton is a leading global centre for inspiration, ingenuity and inclusion.
For more information, visit edmontonunlimited.com.
Who Should Come?
Launch Party is for everyone in Edmonton's innovation communities - students, media, government, service providers, investors - students, media, investors, entrepreneurs, designers, and makers - if you're interested in starting, growing and supporting local startups and innovations, then Launch Party is the place to be!
Students interested in attending Launch Party 13—please contact csawchuk@edmontonunlimited.com for access to free student tickets!
Refund Policy
Tickets to Launch Party 13 are fully transferable! If you're unable to attend after purchasing, we encourage you to pass along your tickets to a friend or colleague.
Innovate Edmonton will not issue refunds Launch Party 13. Before purchasing your tickets, it is your responsibility to carefully review all aspects of the event, event restrictions, dates, pricing, and fees. Innovate Edmonton will issue refunds if Launch Party 13 is cancelled. Refunds will be issued using the same method of payment that was used to purchase the tickets via Eventbrite.
Code of Conduct 
Edmonton Unlimited is dedicated to providing a safe, harassment-free environment for all events. We invite you to help us make this space a place that is welcoming and respectful for all participants, regardless of race, gender, age, sexual orientation, disability, physical appearance, body size, national origin, ethnicity, or religion. We expect all participants — attendees, speakers, sponsors, exhibitors, organizers and volunteers — to treat others with respect and abide by the following Code of Conduct at all times. This includes social events at off-site locations, online activities and social media before, during and after the event. Click to read our full Code of Conduct.