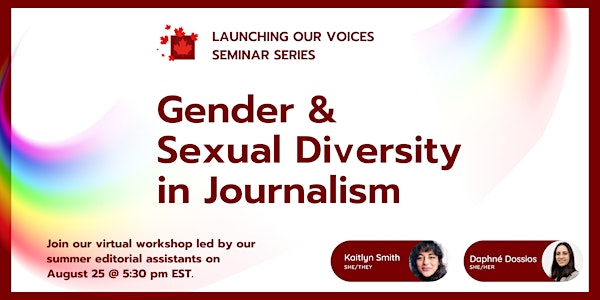 Launching our Voices Seminar Series: Gender+Sexual Diversity in Journalism
Learn about gender and sexual diversity and how to cover gender and sexual identities in journalism and more!
About this event
The first information session in our seminar series will be led by our summer editorial assistants, Kaitlyn Smith and Daphné Dossios. Join their workshop on Gender and Sexual Diversity in Journalism on August 25 @ 5:30 pm EST.
The presentation will cover:
Importance of gender and sexual diversity
Intersections of gender/sexual orientation and ethnocultural communities
History of discrimination against non-heterosexual/cisgender in the media industry
How to cover stories with respect for our sources' gender and sexual identities
Join the workshop here: https://us06web.zoom.us/j/5087909192