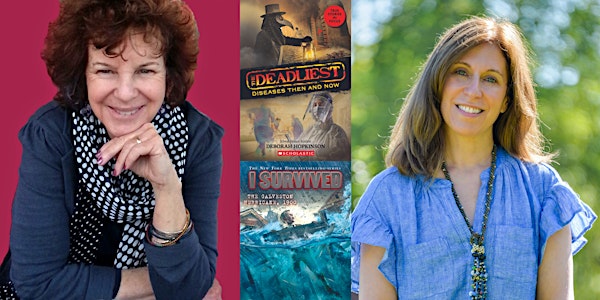 Lauren Tarshis and Deborah Hopkinson | I Survived & The Deadliest Diseases
Join Lauren Tarshis and Deborah Hopkinson as they discuss their books, I Survived the Galveston Hurricane, 1900 and The Deadliest Diseases
Refund Policy
Refunds up to 1 day before event
About this event
Join Lauren Tarshis and Deborah Hopkinson as they discuss their books, I Survived the Galveston Hurricane, 1900 and The Deadliest Diseases Then and Now.
Ticketing
This free event will be streamed live on the Novel Neighbor's Facebook and YouTube pages. Registration is optional, but recommended.
You may buy copies of the books with signed bookplates on our website or add-ons with your free event registration.
Please note that we are not able to process international orders through Eventbrite. If you would like to order from outside the United States, please email hello@thenovelneighbor.com.
About the Books
I Survived the Galveston Hurricane, 1900
More than a century later, the Galveston Hurricane of 1900 is still America's deadliest disaster. Lauren Tarshis's story of one child surviving the horrible event churns with page-turning action and bold hope.
The city of Galveston, Texas, was booming. Perched on an island off the southern coast of Texas, Galveston had been founded in the 1830s. By 1900, it was Texas's richest and most important city. Boats loaded up with American cotton and wheat steamed from Galveston to countries around the world. Arriving ships were crowded with immigrants. The streets, paved with crushed oyster shells, sparkled like they'd been sprinkled with diamonds.
True, this glittering city was prone to flooding. But just a few years before, a weather forecaster had said the idea of a hurricane striking Galveston was absurd.
So when a storm started brewing on September 8, 1900, no one believed it would be any worse than previous storms. They gathered on the beach to cheer on the wild waves. But what started as entertainment soon turned into a nightmare as those wild waves crashed into the city. By morning, hundreds of homes were destroyed. Eight thousand people were dead. The city had all but disappeared.
In this thrilling installment of Lauren Tarshis's New York Times bestselling I Survived series, one child finds safety only to head back into the treacherous waters to make sure his neighbors are safe.
The Deadliest Diseases Then and Now
Perfect for young readers of I Survived and the Who Was series! Packed with graphics, photos, and facts for curious minds, this is a gripping look at pandemics through the ages.
The deadly outbreak of plague known as the Great Mortality, which struck Europe in the mid 1300s and raged for four centuries, wiped out more than 25 million people in the course of just two years. With its vicious onslaught, life changed for millions of people almost instantaneously.
Deadly pandemics have always been a part of life, from the Great Mortality of the Middle Ages, to the Spanish Influenza outbreak of 1918, to the eruption of COVID-19 in our own century. Many of these diseases might have seemed like things to read about in history books -- until the unthinkable happened, and our own lives were turned upside down by the emergence of the novel coronavirus.
As we learn more about COVID-19, we may be curious about pandemics of the past. Knowing how humans fought diseases long ago may help us face those of today. In this fast-paced, wide-ranging story filled with facts, pictures, and diagrams about diseases -- from plague to smallpox to polio to flu -- critically acclaimed Sibert Honor author Deborah Hopkinson brings voices from the past to life in this exploration of the deadliest diseases of then and now. Filled with more than 50 period photographs and illustrations, charts, facts, and pull-out boxes for eager nonfiction readers.
About the Authors
Lauren Tarshis's New York Times bestselling I Survived series tells stories of young people and their resilience and strength in the midst of unimaginable disasters and times of turmoil. Lauren has brought her signature warmth and exhaustive research to topics such as the battle of D-Day, the American Revolution, Hurricane Katrina, the bombing of Pearl Harbor, and other world events. She lives in Connecticut with her family, and can be found online at laurentarshis.com.
Deborah Hopkinson is the acclaimed author of over 40 award-winning books, including Shutting Out the Sky, an NCTE Orbis Pictus Honor Book and a Jane Addams Peace Award Honor Book; Up Before Daybreak, a Carter G. Woodson Honor Award winner; Titanic: Voices from the Disaster, a YALSA Excellence in Nonfiction Finalist and Sibert Honor Book; Courage & Defiance: Stories of Spies, Saboteurs, and Survivors in World War II Denmark, a Sydney Taylor Notable Book and Orbis Pictus Recommended title; Dive! World War II Stories of Sailors & Submarines in the Pacific; D-Day: The World War II Invasion that Changed History; Sydney Taylor Notable Book We Had to be Brave: Escaping the Nazis on the Kindertransport; and We Must Not Forget: Holocaust Stories of Survival and Resistance. Deborah lives with her family near Portland, Oregon.