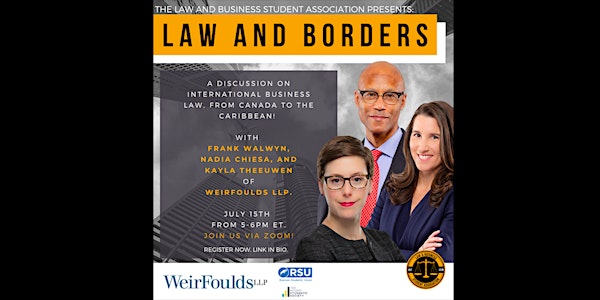 Law and Borders: International Business Law with WeirFoulds LLP
From Canada to the Caribbean: discussing international business law with Frank Walwyn of WeirFoulds LLP.
About this event
Join the Ryerson LBSA in the first of our virtual summer legal speaker series! This highly anticipated event will give students a behind-the-scenes look at the daily operations and casework of international corporate lawyer, Frank Walwyn, and his team.
Speaker Biographies:
Frank Walwyn
Frank Walwyn is a partner at WeirFoulds LLP in Toronto with a multi-jurisdictional practice that focuses on high-stakes business disputes and contentious international investment matters. He is licensed to practise law in Canada and in a number of Caribbean countries. Frank is a Fellow of the American College of Trial Lawyers and has been named one of the Top 25 Most Influential Lawyers in Canada by Canadian Lawyer. He assists clients in a wide range of matters including challenges to restraint orders made pursuant to criminal Mutual Legal Assistance Treaties, forensic investigations into fraud and corruption, and complex offshore trusts and estates litigation. Frank has been recognized often for his significant contributions to the profession and the community including as a recipient of the Queen Elizabeth II Diamond Jubilee Medal (2012) and the Ontario Bar Association Award for Distinguished Service (2016). In May 2019, Frank received a Law Society Medal, the highest honour bestowed by the Law Society of Ontario.
Nadia Chiesa
Nadia is a partner at WeirFoulds LLP and is called to the bar in Ontario, St. Kitts and Nevis and BVI. With the Caribbean Practice Group, she is one of the few lawyers in Canada who litigates complex commercial matters and multi-jurisdictional disputes before all levels of Court in the Caribbean and Canada. Nadia acts in precedent-setting cases across the Caribbean and advises clients on a wide variety of matters, including multi-jurisdictional corporate disputes involving shareholder rights and director's duties, anti-money laundering and regulatory compliance, the registration and enforcement of foreign judgments, commercial disputes, and offshore trusts and estates matters. Nadia also spearheads WeirFoulds' pro-bono human rights litigation initiative in the Caribbean; and she is currently acting in Constitutional challenges to legislation offending fundamental rights in international law.
Kayla Theeuwen
Kayla Theeuwen is a lawyer at WeirFoulds LLP in Toronto, Canada. She helps clients resolve complex commercial and multi-jurisdictional disputes in Canada, Central America and the Eastern Caribbean. Kayla has litigated and advised on a wide range of matters, including those involving urgent injunctive relief, challenges to restraint or forfeiture orders, criminal mutual legal assistance treaties (MLATs), the enforcement of judgments and arbitral awards, complex offshore trusts and estates litigation, and forensic investigations. Kayla also assists a wide variety of clients with their offshore banking and correspondent banking needs, including economic substance issues, and conducting or responding to enhanced client due diligencerequests. Admitted to practise law in Ontario, the British Virgin Islands and St Kitts and Nevis, Kayla has built a diverse international network of trusted contacts including lawyers, financial advisors, asset managers and trust companies.
*Attendees who register using the eventbrite platform will be sent a separate email within 24 hours of the event start time with an invitation and instructions for accessing the zoom conference room.
Organizer of Law and Borders: International Business Law with WeirFoulds LLP