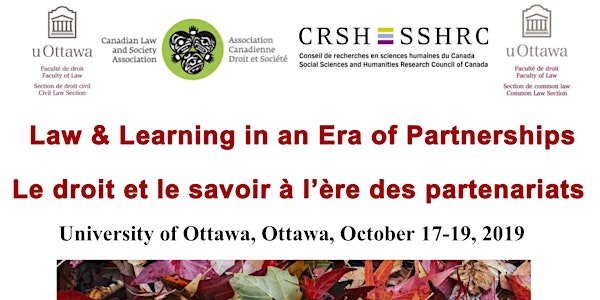 Law & Learning in an Era of Partnerships
Two-day conference discussing the state of socio-legal research in the context of Partnership Grants and other interdisciplinary projects.
When and where
Location
Fauteux Hall (FTX) 57 Louis-Pasteur Private Ottawa, ON K1N 6N5 Canada
About this event
In 1978, only two SSHRC research grants were awarded in law, leading to the creation of the Consultative Group on Research and Education in Law and to the publication of the Harry Arthurs' seminal "Law & Learning" report (Consultative Group, 1983). Forty years after the dismal scenario of 1978, legal scholars today are major participants in SSHRC Partnership Grants, its top funding programs, both as principal and co-investigators.
"Law & Learning in an Era of Partnerships" is a two day conference (Oct. 18-19), preceed by a pre-conference grad student workshop, that will discuss the state of socio-legal research in the current context of such long term, interdisciplinary and collaborative projects. We are bringing together 38 scholars and partners, which are: 9 graduate or postdoctoral students, 4 community members, 7 junior scholars and 18 senior scholars. The conference is designed as an intergenerational knowledge mobilization, dissemination and exchange. It is composed by a pre-conference workshop, seven panels and one plenary session, totaling eight main time slots (breaks not included):
Pre-conference (Oct. 17):
17:00 to 19:00 Workshop on Alternative Careers to Academia
Day 1 (Oct. 18):
9:30 to 10:00 Welcoming
10:00 to 12:00 Reflections on the Past and Future of Socio-Legal Interdisciplinary Research
13:00 to 14:30 Intra- and Inter-disciplinary Collaborations in Research
14:45 to 16:45 Partnerships for Socio-legal research in Africa, a roundtable: Redressing or reproducing inequalities in knowledge economies
17:00 to 18:30 Research and Education Before and After Law & Learning
Day 2 (Oct. 19):
9:00 to 10:15 Healthy Knowledges: Collaborations between Law, Policy and Health
10:30 to 12:00 Interdisciplinarity and the Legal Profession: Partnerships between Socio-Legal Research and Legal Practices
13:00 to 14:30 Social and Common Knowledges: Collaborations between Law, Communities and Social Sciences
14:45 to 16:45 Indigenous Partnerships and the Paradigm of Community Engaged Research
17:00 to 17:30 Closing Remarks and Next Steps