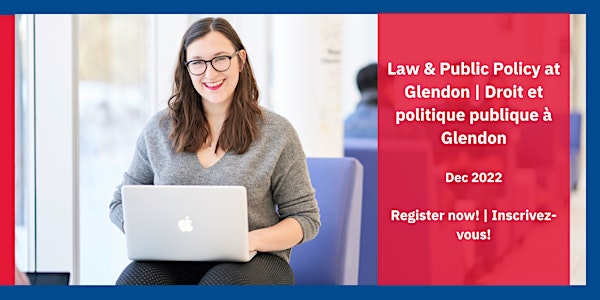 Law & Public Policy at Glendon | Droit et politique publique à Glendon
Programs that put you on the right path | Des programmes qui vous mettent sur la bonne voie
About this event
Bonjour, hello!
Do you have a vision to make your mark in the world? Are you passionate about a career that would lead you to create positive global change? Many of Glendon's programs empower graduates to take on international careers as a diplomat, activist, immigration officer, mediator, children's rights advocate, human rights advocate, international business consultant, politician, mediator, diplomat administrator (with dual degree), public policy writer or analyst, economist, journalist, analyst/strategist, fundraiser, judge/lawyer, non-profit administrator, political advisor, speech writer, human rights specialist. Check out your options.
Looking for an individual appointment to speak with a student in the program that interests you? Click here to easily book through the Glendon Virtual Network.
---
Bonjour !
Vous souhaitez laisser votre marque dans le monde? Vous vous passionnez pour une carrière qui vous amènera à créer des changements positifs à l'échelle planétaire? De nombreux programmes de Glendon permettent aux diplômés d'entreprendre des carrières internationales dans les domaines suivants : diplomatie, activisme, immigration, médiation, défense des droits de l'enfant et des droits de la personne, consultation en affaires internationales, politique, médiation, administration diplomatique, rédaction ou analyses de politiques publiques, économie, journalisme, analyses/stratégies, collecte de fonds, droit/loi, administration d'organismes sans but lucratif, consultation politique, rédaction de discours, droits de la personne. Explorez vos options.
Vous désirez un rendez-vous individuel avec un de nos étudiants dans le programme qui vous intéresse? Cliquez ici pour choisir une date via le Réseau Virtuel de Glendon.