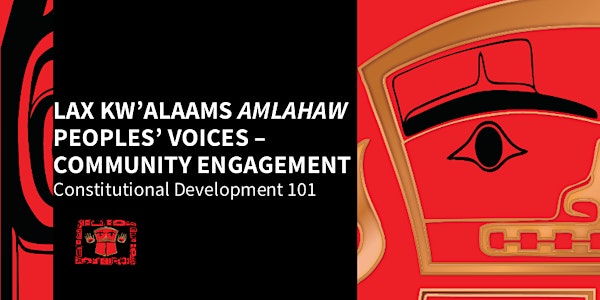 Lax Kw'alaams Amlahaw 'Peoples' Voices' Community Engagement
The purpose of the Amlahaw ' Many Voices' Community Engagement is to give the Lax Kw'alaams membership a voice in reconciliation efforts
Date and time
Sat, Sep 17, 2022 12:00 PM - 4:00 PM PDT
Location
Chateau Victoria Hotel & Suites September 24, 2022 740 Burdett Avenue Victoria, BC V8W 1B2 Canada
About this event
This will be achieved by an approach that incorporates education as well as engagement efforts with members about Lax Kw'alaams governance development work. The term: Amlahaw - 'Many Voices' is inspired by the many unique and powerful voices across Lax Kw'alaams First Nation including our ancestors, our elders, our traditional leaders, and all our people.
Lax Kw'alaams governance work must be member focused & includes developing a Constitution and Central Government under a united Lax Kw'alaams First Nation – beyond the Canadian Indian Act into full lax Kw'alaams self-determination.
Draft Agenda:
12:00pm - Lunch
1:00pm - Introductions
1:30pm - Presentation / Workshop and Engagement Activities
2:30pm - 15 minute Break
3:30pm - Survey discussion
4:00pm - Discuss next steps
Join us for good dialogue.