Description
Ottawa Art Gallery's Annual Art Auction
LE PARTY
Silent Auction & Cocktail Party
In support of the OAG's exhibitions and programming
Thursday, November 8, 2018
Ottawa Art Gallery
50 Mackenzie King Bridge
and
10 Daly Avenue
Join us for the first LE PARTY Art Auction at the new OAG facilties inside the Alma Duncan Salon as we celebrate the Gallery's diamond anniversary!
One of Ottawa's premier social events, LE PARTY is a silent art auction featuring works by over 65 regional artists, ranging from emerging to established. The auction attracts hundreds of guests who have a taste for local art and food.
Your ticket price includes food and drink samples generously provided by a selection of the city's finest cuisine. As the OAG's signature fundraising event for over twenty years, LE PARTY raises funds that allows the Gallery to offer free educational programs, tours, events and free admission to the Gallery every day. Join us in celebrating local artists, food and drink while helping build Ottawa's cultural legacy.
Look for more information as we approach the event on our website oaggao.ca
ART LOVERS TICKET
For those who want to bid or buy early!
The Art Lovers ticket includes:
Admission for one (1) to the Art Lovers Reception, doors at 5:00PM

Access to bid with your own individual bidding number

An exclusive, intimate opportunity to meet and mingle with participating artists

First access to early bidding and our featured Buy It Now option. Buy It Now offers guests the opportunity to end bidding and immediately purchase any work on auction, at market value.

In 2016 nearly 20% of works sold were purchased through the Buy It Now feature.

Cocktails and several courses of hors d'œuvres from Ottawa's top culinary artists

Tax reciept of $75 (early bird) or $125 (regular price)
INDIVIDUAL TICKET
Individual tickets are available at $100.
The Individual ticket includes:
Admission for one (1) to LE PARTY art auction cocktail party, doors at 6:00PM

Access to bid with your own individual bidding number

Cocktails and several courses of hors d'œuvres from Ottawa's best food and drink providers

Tax reciept of $40 (early bird) or $50 (regular price)


Charitable No. 137078960RR0001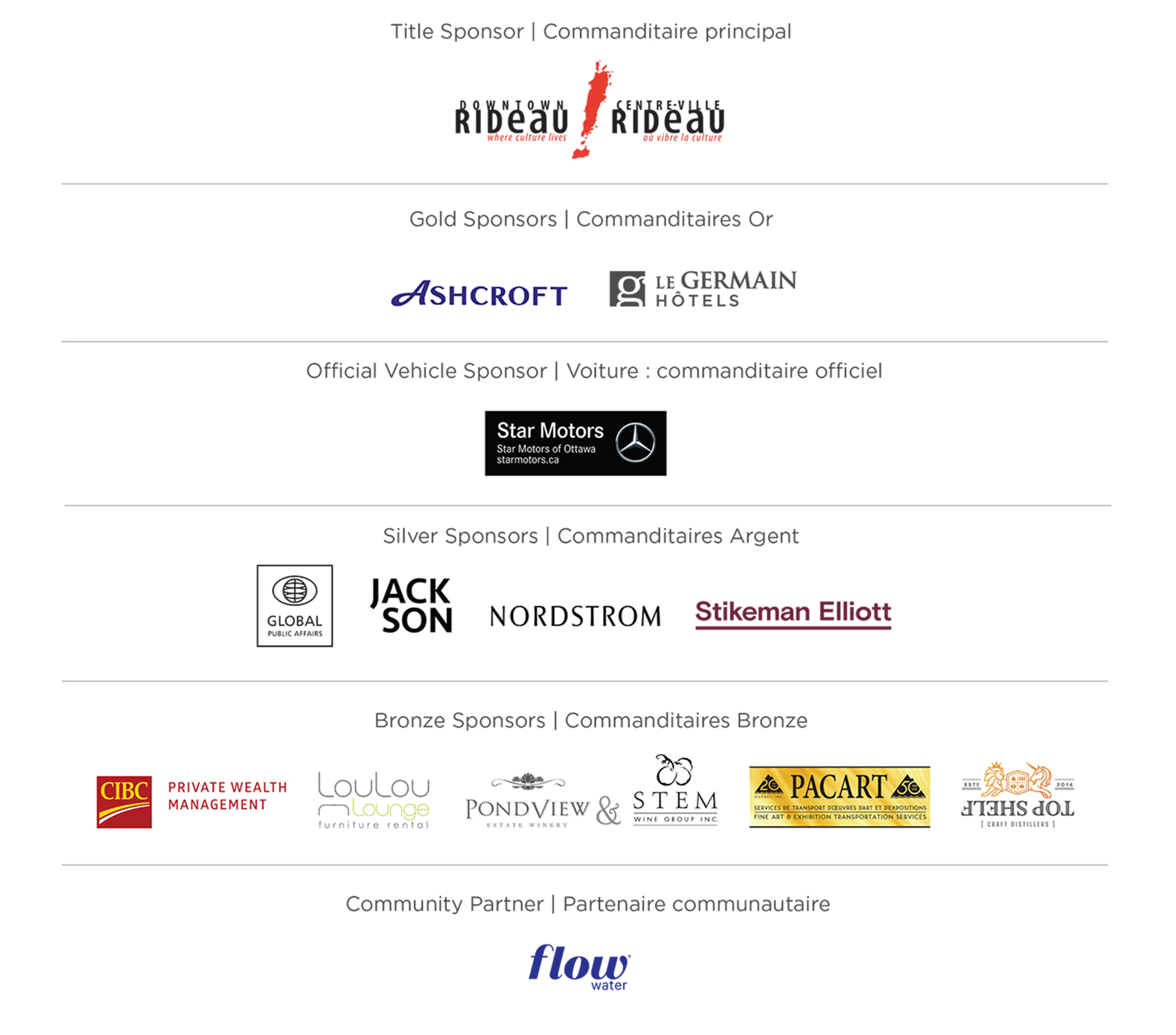 LE PARTY
L'encan d'art annuel de la Galerie d'art d'Ottawa
Encan silencieux et cocktail
Pour appuyer les expositions et la programmation de la GAO
Le jeudi 8 novembre 2018
Galerie d'art d'Ottawa
50, pont Mackenzie King
et
10, avenue Daly
Célébrez avec nous dans le Hall Alma Duncan alors que la GAO souligne le premier encan LE PARTY dans ses nouveaux espaces ainsi que ses 30 ans et son anniversaire de diament !
LE PARTY, l'un des événements-vedettes d'Ottawa, est une vente aux enchères par écrit qui propose des œuvres de plus de 65 artistes locaux émergents et reconnus. L'encan attire des centaines d'amateurs et d'amatrices d'art et de gastronomie de la région.
Le coût du billet comprend des bouchées et des boissons généreusement offertes par quelques-unes des meilleures cuisines en ville. Activité-bénéfice phare de la GAO depuis plus de 20 ans, LE PARTY amasse des fonds qui permettent à la Galerie d'offrir tous les jours plusieurs activités gratuites, comme des programmes éducatifs, des visites guidées, des événements, même le droit d'entrée. Célébrez avec nous les artistes, la nourriture et la boisson de la région tout en contribuant à l'héritage culturel d'Ottawa.
Consultez notre site Web oaggao.ca pour plus de détails au fur et à mesure que la date de l'événement approche.
BILLET AMATEURS D'ART
Pour ceux et celles qui veulent miser ou acheter plus tôt.

Le billet Amateurs d'art comprend :
• Un (1) droit d'entrée à la réception Amateurs d'art à 17 h ;
• La possibilité de déposer une mise avec un numéro de mise individuel ;
• L'occasion de rencontrer et de côtoyer des artistes participants dans une ambiance intime et exclusive ;
• Un accès privilégié aux œuvres afin de déposer une mise anticipée ou de profiter de l'option Achat immédiat. Achat immédiat vous permet de terminer l'enchère en vous procurant à l'instant, au prix de la valeur marchande, n'importe quelle œuvre. À l'encan de 2016, près de 20 % des œuvres vendues ont été achetées grâce à la fonction Achat immédiat.
• Des cocktails et plusieurs services de hors-d'œuvre des meilleurs artistes culinaires d'Ottawa.
BILLET INDIVIDUEL
Des billets individuels sont disponibles pour 100 $.

Ces billets individuels comprennent :
• Un (1) droit d'entrée à l'encan-cocktail LE PARTY, à partir de 18 : 30h ;
• La possibilité de déposer une mise avec un numéro de mise individuel ;
• Des cocktails et plusieurs services de hors-d'œuvre des meilleurs restaurants d'Ottawa


Organisme de bienfaisance : 137078960RR0001