Le Trio Joubran Benefit Concert for MECI and the Social Enterprise Jordan

Wednesday, 30 October 2013 at 8:00 PM (CET)
Event Details
Special Thanks to Our Sponsors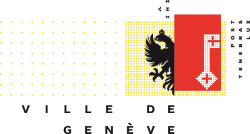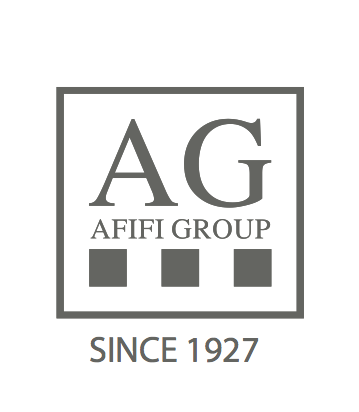 Honorary Committee:
Metin Arditi, UNESCO Goodwill Ambassador and Founder of the Instruments for  Peace Foundation
Wahbe Tamari, Chairman and CEO of Watamar & Partners S.A.
Elias Sanbar, Palestine Ambassador to UNESCO and co-Founder of the Instruments for Peace Foundation 
H.E. Ibrahim Khraishi, Ambassador of the State of Palestine to the United Nations Office in Geneva and Other International Organizations in Swizerland, General Delegate of Palestine to the Swiss Confederation 
"The world is a dangerous place to live; not because of the people who are evil, but because of the people who don't do anything about it." Albert Einstein
Palestinian musical talents, Le Trio Joubran, are three brothers from a family of Oud makers. Their mastery of the instrument, along with heartening triadic harmony and synchronization, have astounded audiences all over the world. 
Get your tickets today via PayPal or by Bank Transfer
IBAN: CH44 0483 5140 1835 3100 1 
SWIFT: CRESCHZZ80A
 Owner: Fondation Middle East Children's Institute International
 Rubrique: Le trio Joubran Benefit Concert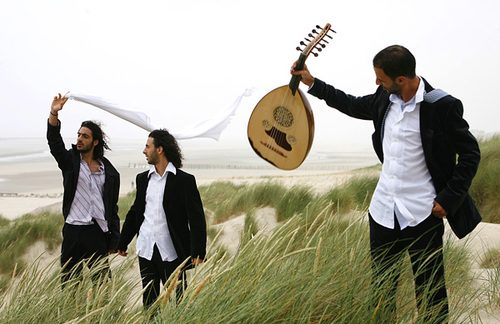 Joining forces with MECI to enhance the lives of Middle Eastern children and women, the trio will transform your senses and guide your musical experience through original compositions of Arabic-infused jazz and flamenco, backed by enchanting percussion rhythms of Youssef Hbeisch.

The Middle East Children Institute (MECI) has created an innovative child-centered community development model.  Our model impacts the whole family through education, health, empowerment and enhances the economic development of the community. Our mission is to address the educational and basic humanitarian needs and improve the chances of survival for Middle Eastern children in war-torn and impoverished areas.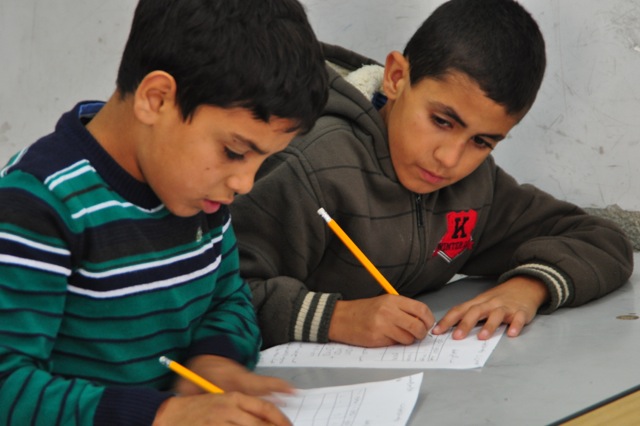 MECI has cooperation agreements and partnerships   with the private sector as well as with the UNRWA, the Palestinian Ministry of Education, Barenboim-Said Foundation, the Palestinian Red Cresent, MercyCorps and others. 
MECI has an ambitious pipeline of new projects for 2013-2015, needing much of your support to see them through.
Following a year-long detailed feasibility study in the Jerash refugee camp, Jordan, the MECI Advisory Board Chairman launched The Social Enterprise Project (SEP - Jordan) to create employment in the camp through manufacturing projects and partnerships. See www.sepjordan.com for more information.
Click here to learn more about MECI
The Concert Organisation Committee (in formation):
Atalanti Moquette
Barbara Deangelis Mengoni
Dina Bseisu
Giovanni Tinella
Imad M. Zuhairi
John Grace
Lola Nashashibi Grace, Founder of MECI USA and Switzerland
Marie-Paule Michel
Mohammad Tarbush
Mona El Isa, Member of the Foundation  MECI Advisory Board
Muwaffak and Rana Bibi
Nada Tarbush
Naseem Merali
Raheek Rinawi Ador, Member of the Foundation MECI Advisory Board
Richard Bussetil
Roberta Ventura, Chairman of the Foundation MECI Advisory Board
Saad Houry: Honorary Member of the MECI International Board, Former Deputy Executive Director UNICEF
Sixtine Crutchfield
Stefano D'Ambrosio
Tania Bajjali
Zohreh Tabatabai,  Member of the Foundation  MECI Advisory Board
Zsuzsa Hutton PhD, Member of the Foundation  MECI Advisory Board
Exhibition by Hani Abbas in the Lobby of the Salle Ansermet, 7.00pm, Facebook Page: Hani abbas cartoon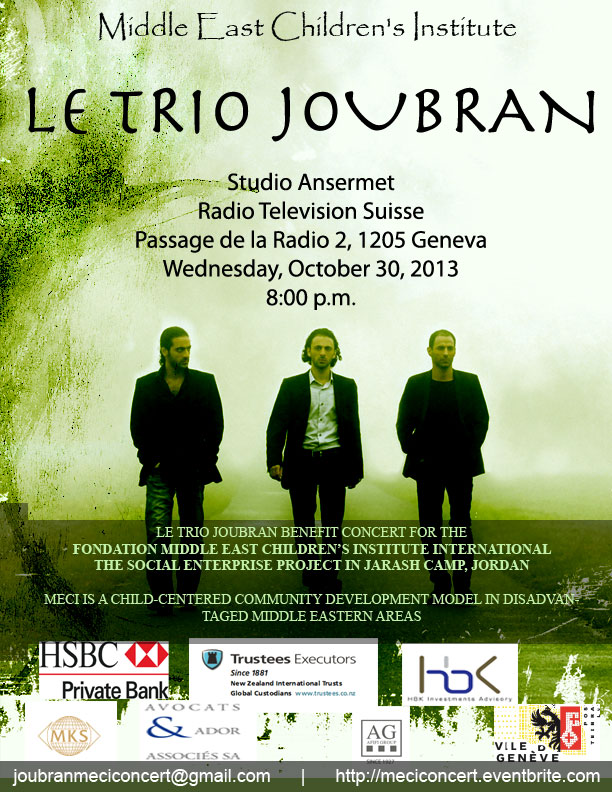 When & Where

Studio Ansermet, Radio Television Suisse
Passage de la Radio 2
1205 Geneva
Switzerland


Wednesday, 30 October 2013 at 8:00 PM (CET)
Add to my calendar
Organizer
Fondation MECI International - Switzerland
MECI's mission is to address the educational and psychosocial health of Middle Eastern children and women in war-torn and impoverished areas.
Aiming to creat a strong, civil socitey, MECI provides children and women a safe haven to develop and thrive.
Contacts:
Roberta Ventura, Chairperson Foundation MECI International
Mobile :  0795 715 427
Email:  joubranmeciconcert@gmail.com
Le Trio Joubran Benefit Concert for MECI and the Social Enterprise Jordan