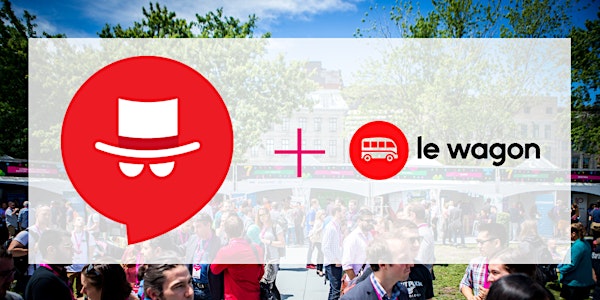 Le Wagon Montréal @HackerFest 2019
When and where
Location
Parc Jean-Drapeau Jardin de l'Angleterre, Parc Jean-Drapeau Montréal, QC Canada
Description
Startupfest July 12-13, 2019
**Please Note: All tickets are non-refundable, non-transferable. ALL PRICES IN CAD$.
**Veuillez Noter Que: Tous les billets sont non remboursables et non transférables. TOUS LES PRIX SONT EN $CAD.

HackerFest kicks off officially at 6PM, but all participants will have access to the Startupfest venue as of 4PM. The event then will continue overnight for anyone who wishes to stay!
Challenge: Le Wagon Montréal
Le Wagon is a coding bootcamp that teaches students to develop web applications from scratch. Our cutting-edge curriculum and world-class teachers give students all the skills and tools needed to kick-start their tech career, land a job as software developers or product managers, or launch their own startup. Some of our graduates from Montréal will be at Hackerfest, looking for your collaboration to help them with 3 web apps:

ParkEZ: Make parking a simple, stress free process for urban drivers.
Inform Ease: an app that helps voters see which party most closely aligns with their values.
FoodMeWell : an app that helps restaurants and customers evaluate easily each dish using the open database license of Open Food Facts (Calories, Fat, Carbohydrates, Protein, Sodium…)
For more information, visit the website at www.startupfestival.com/premium/hackerfest/
Pour plus d'informations, visitez le site web au www.startupfestival.com/premium/hackerfest/

For any questions please contact pascal@archeinnovation.ca or daria@startupfestival.com
Pour toute question, veuillez contacter pascal@archeinnovation.ca ou daria@startupfestival.com

Cancelation Policy: Tickets are non-refundable and non-transferable
Politique d'annulation: Les billets sont non remboursables et non tranférables.