Lead Generation through Social Media for Network Marketers

Sunday, 29 April 2012 from 7:00 PM to 8:00 PM (EDT)
Event Details
Well hello beautiful Network Marketers!
I love that our industry is getting bigger and better by the day!
I've put together this special call because every day I am approached by friends and colleagues in the Network Marketing industry. They want to know how I grow my business online with ease. I want to help everyone experience their business the same way I do mine.
I love that I have more leads then I do time! I have set up my lead generation system so that interested prospects book with me, rather then me chasing them to book with them. I use an online booking tool that notifies me every time someone books a presentation! I LOVE getting notifications every time I have a new presentation!
If you've seen my approach on Facebook or Twitter then you  already know how supportive my network is with my business. I receive 10+ new follows/friend requests a day and many of them are qualified prospects who were drawn to connect with me.
I live in a very small town and every day I enroll associates and customers from around the world, all from my phone and computer! It's awesome!
Take a look at my Facebook profile here...
And friend me so you can see all the daily activity!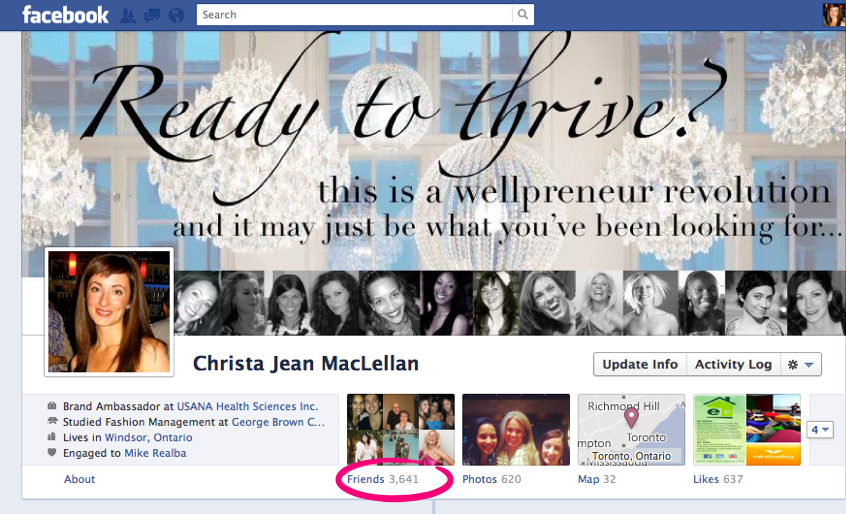 It's a fresh, fun approach!
No awkward prospecting here!
Have fun and be fabulous in your business!
I will NOT be doing this again. After all, I have to concentrate on building my business. It's all about the residual income baby! 
For only $17 you receive a 60minute call, that comes with notes, images and scripts.
+ 
A free follow up call that you can book with me any time within 1 month to answer any questions to apply the advice and get the results!
It doesn't matter which company you are with. This information is not company specific!
Looking forward to teaching you,
Christa Jean
Premium Platinum Pacesetter
Gold Director
I was interviewed and featured in the The Flip Flop CEO, a fun best selling book about Network Marketing and LifeMasters - Social Media Success edition.
Organizer
Christa Realba is a yoga instructor and lifestyle coach.