Description
SEPT 29 UPDATE: Are you interested in the event but unable to attend the entire day? We've finalized a Local Leaders Lunch Panel featuring Marcella Mandeville with aWe, Alyson Hodson with Zag Creative, Stacy Talbot with the RCMP and DeeAnne Riendeau with Holistic Earth to share their experiences with us over lunch. This is included in the cost of a full day ticket, or available to come for just lunch from 12:30PM to 1:45PM. If this interests you, select "Local Leaders Lunch Panel" from the ticket options. Thanks!
JCI Edmonton, in partnership with Leadercast Edmonton, is proud to present Leadercast Women!
Leadercast Women is a unique women's leadership experience featuring top female leaders who are powered by purpose. These speakers will share their experiences and ideas to tens of thousands of leaders like you from around the world, who are ready to learn to recognize and maximize your value, amplify your skills and continue becoming a Leader Worth Following. Attend Leadercast Women to be nourished by these insights, network with fellow leaders, and experience the most dynamic one-day leadership event in the world.
The issue of gender equality is something that needs to be positively changed in a growing effort to make business, and the world, equal for everyone. The vision for Leadercast Women is to create a positive, safe, comfortable, and collaborative environment for women to have an amazing leadership experience. By creating an event where leaders, at all levels and from all walks of life, can hear experts share their experiences, engage in meaningful dialogue, and connect at a deeper level with others who are on the same journey, the world can be changed for the better.
Join us for a full day seminar of learning while hearing the experiences of some amazing Women Leaders. Coffee/tea, breakfast snacks, and plated hot lunch are included.
SPEAKERS VIA BROADCAST: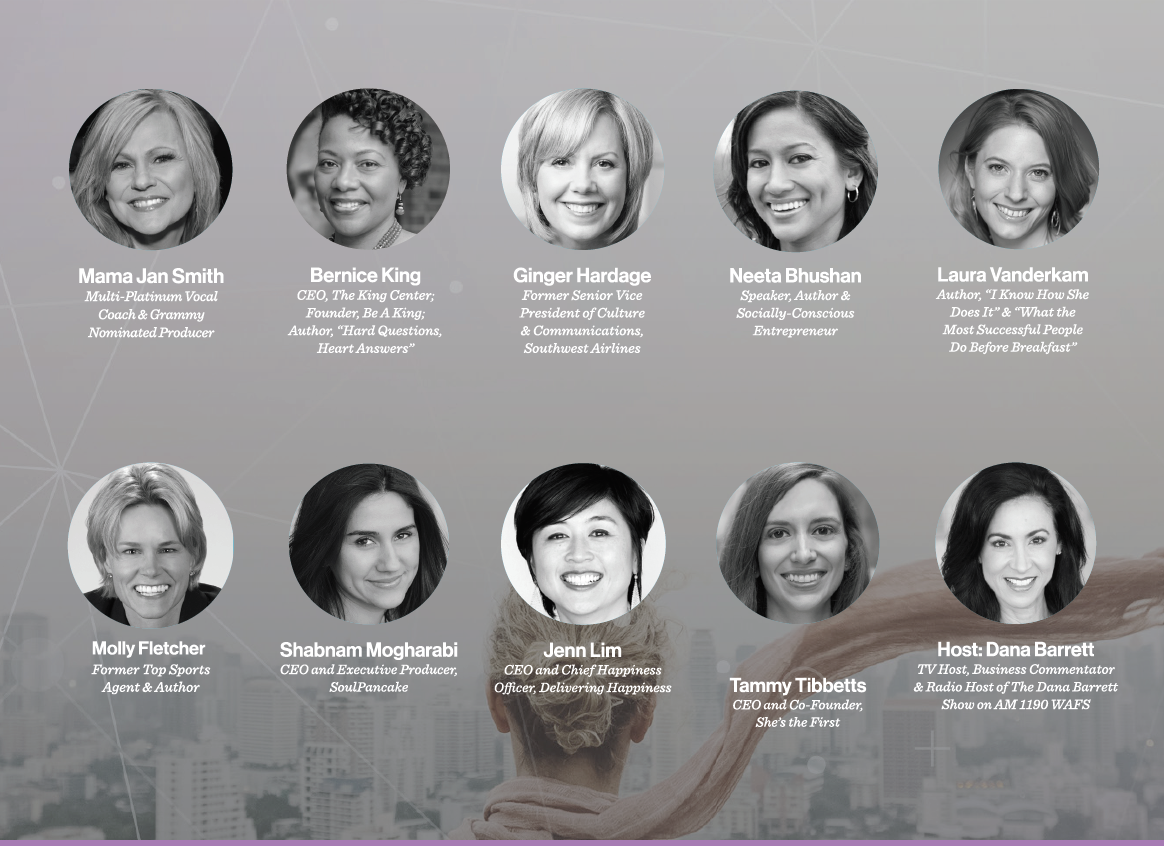 Mama Jan Smith: Multi-Platinum Vocal Coach & Grammy Nominated Producer
Dr. Bernice A. King: CEO of The King Centre, Founder of Be a King, and Author of "Hard Questions, Heart Answers"
Ginger Hardage: Former Senior Vice President of Culture & Communications for Southwest Airlines
Neeta Bhushan: Speaker, Author, & Socially-Conscious Entrepreneur
Laura Vanderkam: Author of "I Know How She Does It" and "What the Most Successful People Do Before Breakfast"
Molly Fletcher: Former Top Sports Agent & Author
Shabnam Mogharabi: CEO and Executive Producer of SoulPancake
Jenn Lim: CEO and Chief Happiness Officer of Delivering Happiness
Tammy Tibbetts: CEO and Co-Founder of She's the First