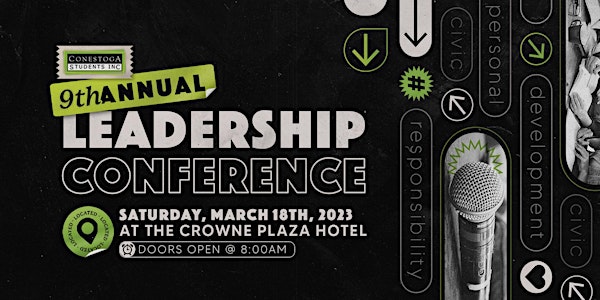 Leadership Conference
Welcome to CSI's 9th Annual Leadership Conference! *READ ALL BELOW DETAILS BEFORE PURCHASING YOUR TICKET*
By Conestoga Students Inc.
Date and time
Sat, Mar 18, 2023 8:00 AM - 8:00 PM EDT
Location
Crowne Plaza Kitchener-Waterloo, an IHG Hotel 105 King Street East Kitchener, ON N2G 2K8 Canada
About this event
Hey Condors! Are you ready for Leadership Conference 2023? Kick off your Leadership Conference experience with inspiring and thought-provoking presentations, interactive sessions and workshops led by other experts in the field. The leadership conference will feature many local keynote speakers showing you how to put your best foot forward!
Additionally, do YOU have a paper that you are proud of? A project you are passionate about and want to present? Here is your chance! We want to feature students from all campuses!
Develop your skills, reflect on current issues, and network with peers and experts in the field during a day full of events!  
Ticket Information
Tickets are $20 - but we've got a code for you! Enter LEAD50 to get 50% off for a $10 ticket.
Need more reason to attend? For those in attendance, you have a chance of winning one of the prizes below!!!!!
MacBook Air
Ipad Air + Apple Pen (2 available)
Apple Watch Series 8
Instax Cameras (3 available)
Please note you must be in attendance to win.
Your ticket will guarantee your entry until 8:30AM. After that, entry cannot be guaranteed. Refunds will not be given for late or absent ticket holders.
Tickets may be available at the door if capacity is not reached.
In addition to your ticket, please bring your Conestoga OneCard. The student number on your ticket and your Conestoga OneCard must match to be admitted.
Ticket holders who are denied entry for failure to have a matching OneCard will not be refunded.
Please make sure you are available to attend the event before purchasing. Tickets are NON-REFUNDABLE.
Ticket sales close Thursday, March 17th. Please note that Guelph & Brantford Bus Tickets close March 13th.
---
Is the event sold out and you didn't get a ticket? Join the Waitlist above for any tickets that may become available!
DO NOT GET SCAMMED. Do not purchase a CSI Event ticket from any source besides Conestoga Students Inc. We will only sell tickets through our official EventBrite, as linked in our event postings.
Content Warning
This event may include coarse language and subject matter.
This event may include potentially triggering subject matter. The below resources are available to you:
Conestoga myWellness Counselling Services are available by phone, virtually, and in-person, Monday-Friday 8:30am-4:30pm, with evening appointments available. Make an appointment by contacting Counselling at counselling@conestogac.on.ca or 519-748-5220 ext. 3679.
Good2Talk Ontario is a free mental health resource available to all Ontario post-secondary students that can access an alternative or if you need support outside regular office hours as 24-hour services are available at good2talk.ca.
For any students residing outside of Ontario, you can access the webpage campusmentalhealth.ca/in-crisis for proper resources in your area.
The Sexual and Gender-Based Violence Prevention and Response Coordinator is available if you have witnessed or experienced sexual or gender-based violence. They can be reached at SGBV@conestogac.on.ca.
Conestoga's Medical Care Clinic at Doon Campus is available for all students and provides STI testing, birth control, and more. Appointments are available on weekdays and can be booked by calling 519-748-5220 ext. 3679.
We are here to help! If you need support at the event, please get in touch with one of the CSI Events Staff.
Disclaimers:
Conestoga Students Inc. does not tolerate discrimination of any form. Students engaging in discriminatory behaviour including, but not limited to, discrimination based on race, colour, gender, gender expression, sexual orientation, age, religion, creed, or disability, will be removed from the event.
If you anticipate any need for accessibility accommodations in the process of claiming/purchasing tickets, getting to or attending and enjoying an event, please email us at csievents@conestogac.on.ca as soon as possible and at any time so that we are most equipped to provide a barrier-free experience.
Know your rights, act responsibly. Conestoga College's student rights and responsibilities outline expectations for how our community interacts. Students can expect to learn and work in an environment that is safe and respectful of their well-being and dignity — these are rights. Students are expected to conduct themselves in a way that treats the college community with respect and dignity — these are responsibilities. Rights and responsibilities are a partnership; you cannot have one without the other. www.conestogac.on.ca/student-rights
Waiver and Liability:
By purchasing a ticket:
You understand that certain risks and dangers are inherent with participating in the event noted above.
You agree to abide by the policies, practices and procedures of Conestoga and Conestoga Students Inc., and standards of conduct of your sponsoring or accompanying Conestoga Students Inc. employee.
To avoid any misunderstanding, you agree to obtain all required clarification regarding such matters from the Conestoga Students Inc. employee when you begin the program.
You will remember at all times that you are a representative of Conestoga and Conestoga Students Inc.
You agree that you are prohibited from selling, using or possessing any drugs or narcotic substances that are illicit or illegal under the laws of Canada.
You further acknowledge that your personal safety is primarily your responsibility and you are fully accountable for your actions.
You will consult with Conestoga Student Inc. representatives in situations which you are unsure of appropriate safety practices or considerations.
You fully understand the statements above and hereby release Conestoga College Institute of Technology and Advanced Learning, its servants and agents, and Conestoga Students Inc., its servants and agents, from any liability arising as a result of your participation in this event.
You understand and agree that by purchasing a ticket, you are consenting to the above, and you will be giving up your legal right to sue Conestoga or Conestoga Students Inc. in the event that you sustain any losses, injuries, or damages because of, arising out of or in relation to your attendance at this event.
Consent:
Pursuant to section 39(2) of the Freedom of Information and Protection of Privacy Act, you as the ticket purchaser, hereby consent to:
the use of personal information obtained during this event; and
the use of any photographs, videos, and/or imaging taken by Conestoga Students Inc. personnel.
You understand that the above stated personal information may be used for promotional purposes which includes Conestoga Students Inc.'s website/publications/broadcasts and/or use by the public media when that media requires your information in connection with the printing/broadcasting of Conestoga Students Inc.-related publicity.
The legal authority for the collection of this information is the Ministry of Training, Colleges and Universities. This information is collected and used under the authority of the Ontario Colleges of Applied Arts and Technology Act, R.S.O. 2002, and regulations thereunder.
Questions about this collection should be directed to:
Director of Marketing
Conestoga College Institute of Technology and Advanced Learning
299 Doon Valley Drive
Kitchener Ontario N2G 4M4
519-748-5220 ext.2491