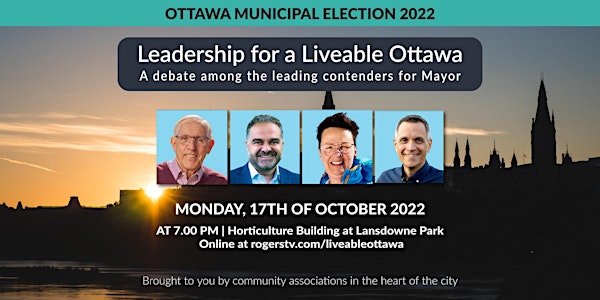 Leadership for a Liveable Ottawa
A debate among the leading contenders for mayor.
When and where
Location
Horticulture Building 1525 Princess Patricia Way Ottawa, ON K1S Canada
About this event
All the seats for this event have now been reserved. Cancellations occur regularly so check back throughout the day to see if a seat has become available OR take your chance as a walk-in, as there may be no shows. We also have standing room for 150 people. The debate will be livestreamed at rogerstv.com/liveableottawa. If you have problems with the link, try https://www.youtube.com/watch?v=SpwHTSOfpyo. The event will also be recorded and a video posted on Rogerstv.com/liveable Ottawa.
Hear four leading Mayoral candidates engage in a debate moderated by CBC Ottawa journalist Joanne Chianello.
Candidates Bob Chiarelli, Nour Kadri, Catherine McKenney and Mark Sutcliffe will debate a wide range of issues that matter to communities including planning, development, transportation, city services and more.
Taking place one week before election day, this event is intended to help you decide who earns your vote to lead our city for the next four years.
Attend in person at the Horticulture Building at Lansdowne Park or watch the livestream at Rogerstv.com/liveableottawa. A video recording will also be available.
Le débat se déroulera principalement en anglais avec quelques questions en français. Les personnes candidates sont encouragées à s'exprimer dans les deux langues officielles.
This debate is expected to attract a large turnout, so reserve your free seat in advance. Doors open at 6:15. You must arrive by 6:45 to secure your seat. The event starts at 7 pm sharp!
Can't make the event? Watch the livestream or the video recording at Rogerstv.com/liveableottawa or at https://www.youtube.com/watch?v=SpwHTSOfpyo
Interested in the 10 other candidates for Mayor? Learn more at https://www.cbc.ca/news/canada/ottawa/ottawa-municipal-election-mayoral-candidates-1.6570919
Brought to you by the Glebe Community Association together with the Carlington Community Association, Centretown Community Association, Champlain Park Community Association, Civic Hospital Neighbourhood Association, Dalhousie Community Associaton, Dows Lake Residents Association, Faircrest Heights Community Association, Hampton Iona Community Group, Heron Park Community Association, Hintonburg Community Association, Lindenlea Community Association, Lowertown Community Association, Manor Park Community Association, Old Ottawa East Community Association, Old Ottawa South Community Association, Overbrook Community Association, Rockcliffe Park Residents Association, Vanier Community Association, Westboro Beach Community Association.