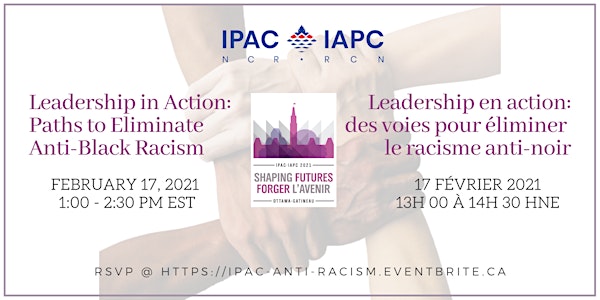 Leadership in Action: Paths to Eliminate Anti-Black Racism
Academics and public servants leading anti-racism, diversity, and inclusion initiatives to share some of the actions currently underway
About this event
A call for dedicated actions to address systemic Anti-Black racism within our institutions, organizations, and communities has generated new pathways to develop and strengthen leadership. Public sector leaders have committed to lead differently and foster diversity and inclusion in their respective departments and agencies as well as in the delivery of their service to Canadians. It is with great pleasure that we invite academics and public servants leading anti-racism, diversity, and inclusion initiatives to share some of the actions currently underway as well as their thoughts on the way forward.
Remarks by:
· Bill Matthews, Deputy Minister of Public Services and Procurement Canada, and Deputy Minister Ally for the United Nations Decade for People of African Descent
· Gina Wilson, Deputy Minister, Diversity and Inclusion and Youth
· Nombuso Dlamini, Assistant Professor, York University
With panelists:
· Peter Flegel, Executive Director, Canadian Heritage, Federal Anti-Racism Secretariat
· Seyi Okuribido-Malcolm, Director, National Defence Anti-Racism Implementation
· Peter Sloly, Police Chief, City of Ottawa
//////
Un appel à des actions dédiées pour lutter contre le racisme systémique anti-noir au sein de nos institutions, organisations et communautés a généré de nouvelles voies pour développer et renforcer le leadership. Les dirigeants du secteur public se sont engagés à diriger différemment et à favoriser la diversité et l'inclusion dans leurs ministères et organismes respectifs ainsi que dans la prestation de leurs services aux Canadiens. C'est avec grand plaisir que nous invitons les universitaires et les fonctionnaires qui mènent des initiatives de lutte contre le racisme, la diversité et l'inclusion à partager certaines des actions en cours ainsi que leurs réflexions sur la voie à suivre.
Allocution de :
• Bill Matthews, Sous ministre, Services publics et de l'Approvisionnement Canada, et Sous ministre allié pour la Décennie des Nations Unies pour les personnes d'ascendance africaine
• Gina Wilson, Sous ministre, Diversité et Inclusion et Jeunesse
• Nombuso Dlamini, Professeure adjoint à l'Université York
Avec les panélistes :
• Peter Flegel, Directeur général, Patrimoine canadien, Secrétariat fédéral contre le racisme
• Seyi Okuribido-Malcolm, Directeur, Mise en œuvre de la lutte contre le racisme du ministère de la Défense nationale
• Peter Sloly, Chef de police, Ville d'Ottawa