Leadership in International Development: From Theory to Career 2019
Event Information
Refund Policy
Refunds up to 30 days before event
Description
Course Description:
This workshop is a intensive program (+ complementary Career Search Bootcamp) designed to help high performing young and mid-level professionals seeking to effectively respond to the world's most pressing challenges and realize their leadership potential by securing a career in international development. In this course, participants will learn how to take their book knowledge of international development, and after identifying their greatest strengths, pin-point the ways that their skill-sets are transferrable to a practice environment. This course will teach participants the best practices for getting "their foot in the door" of government agencies, international institutions, non-governmental organizations, the private sector/foreign firms, and other civil society actors working to expand the political, social, and economic potential of societies currently in development.
Formal university/college degree courses in international development tend to focus on the theoretical side of disciplines/issues/events by teaching students to synthesize scholarly findings and advance arguments through essay-writing and case study analysis. Frequently missing in this learning formula are the concrete experiences and industry networking that students need to leverage in order to secure employment in their chosen fields. In absence of direct industry encounters, students are left to determine how aspects of their formal training can lend themselves to support the practices, cultures, and priorities of real-world development programs. This is a highly fraught and frustrating effort.
This course teaches students how to use the skill-sets and experiences they currently have to land an interview for international development positions here in Canada and abroad in fields requiring practical execution. This workshop will challenge young and mid-level professionals to go inside and explore themselves and their goals while meeting field professionals who can give them insights on the inner workings of the hiring process.
Participant Learning Goals:
Map out the web of partnerships and strategic networks required to make international development careers successful;

Understand how individual skill-sets affect the delivery and capacity of programs, and how power asymmetries in the international development field might affect your progression;

Identify your strengths in your chosen niche and micro-niche areas to assess which kinds of partnerships and strategic networks are necessary for career progression;

Through a debriefing discussion at the complementary Career Search Bootcamp involving guest experts in the field of international development, understand key variables at play in getting "a foot in the door" within key international institutions, agencies and/or organizations.
Who should attend:
Open to mid-career and young professionals pursuing/intending to pursue careers of leadership and transformative change in international business, global affairs, international public policy, global public health/ economic development, journalism (as a foreign correspondent), non-profit leadership, diplomacy, humanitarian work, human resources in foreign government agencies, ethics and anti-corruption, supply chain management, community/civil society development, and peacebuilding. This course is also suitable for people looking to expand their collaborative partnerships in the international arena. Multiple opportunities will be made available for career networking and connection building.
Relevant fields of interest include:
National/ foreign government agencies

(e.g., Global Affairs Canada, Foreign Affairs, Trade and Development Canada [DFATD], American PeaceCorps, USAID; British Council);

Advocacy and human rights organizations

(e.g., Amnesty International, Human Rights Watch, Fair Trade Canada, Doctors Without Borders);

Crisis or disaster relief agencies

;

International organizations

(e.g., United Nation, World Bank, International Monetary Fund, World Health Organization, World Trade Organization);

The private/corporate sector

Educational institutions/ foundations

Intelligence and security agencies
Candidates must have had exposure to basic international development concepts.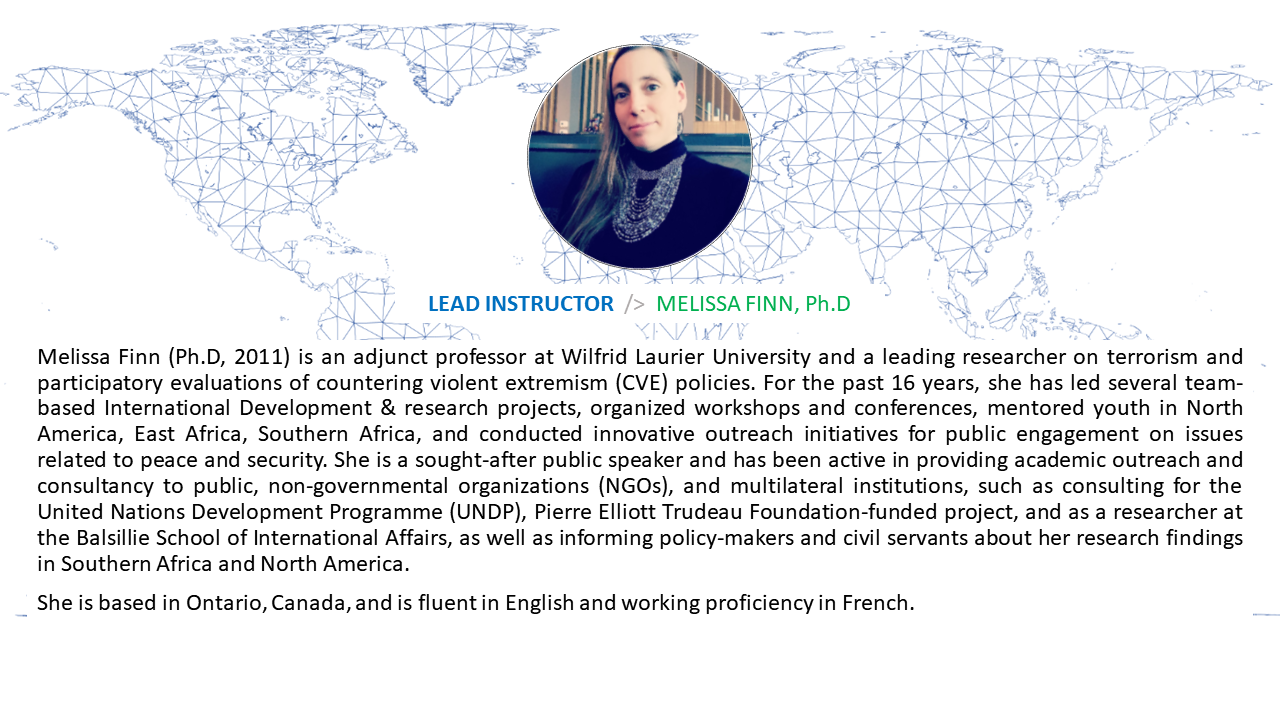 FAQs
How can I contact the organizer with any questions?
Please email us any questions on mail@conflictfrontiers.com

What's the refund policy?
No less than 30 Days to the event

Is my registration fee or ticket transferrable?
Yes. Please notify us in such case

Is it ok if the name on my ticket or registration doesn't match the person who attends?
Yes. Please notify us in such case
Date and Time
Refund Policy
Refunds up to 30 days before event